Finnegan's role up for debate at start of camp
Young lefty will stretch out for rotation, may switch back to bullpen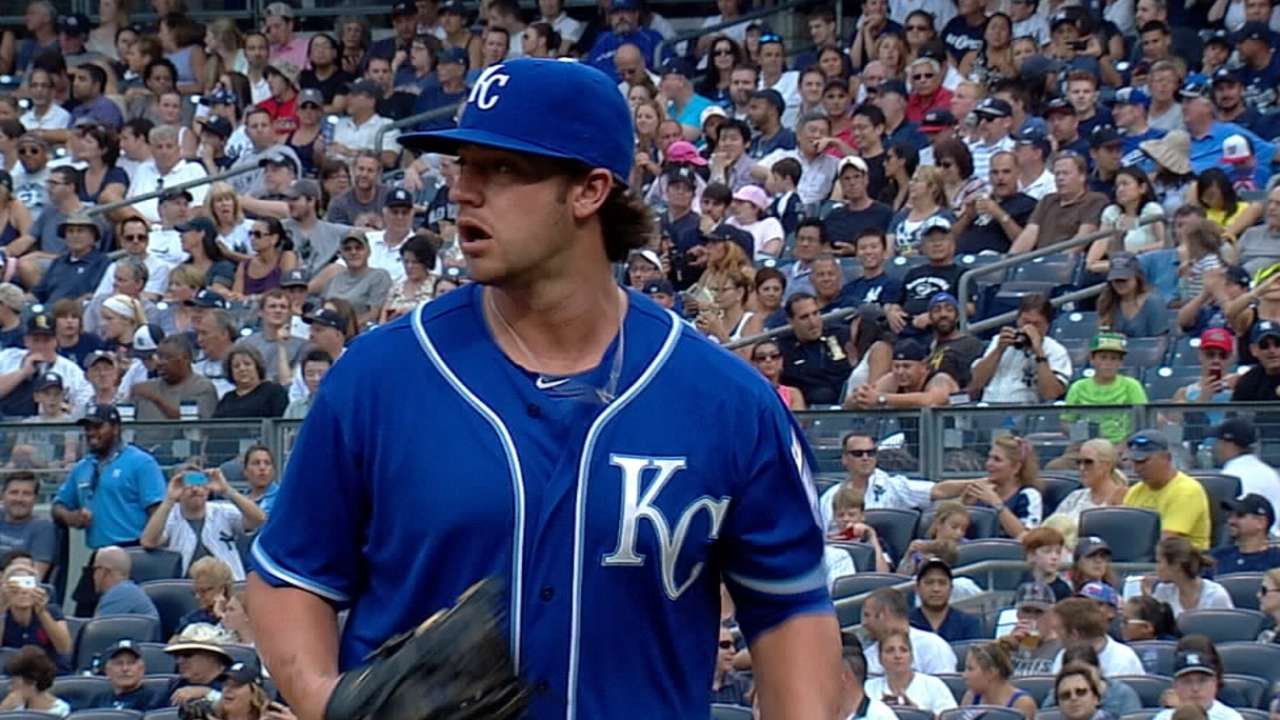 SURPRISE, Ariz. -- The great debate this spring in Royals camp will be what to do with rookie left-hander Brandon Finnegan.
Finnegan, ranked No. 75 among MLB.com's Top 100 Prospects, surprised many observers last season when, just months after being drafted in the first round out of TCU, he was called up in September and pressed into fairly high-leverage situations. He responded brilliantly, posting a 1.29 ERA that month.
"I'll always remember facing Derek Jeter in my debut at Yankee Stadium," Finnegan said of his two-inning debut in which he struck out Jeter.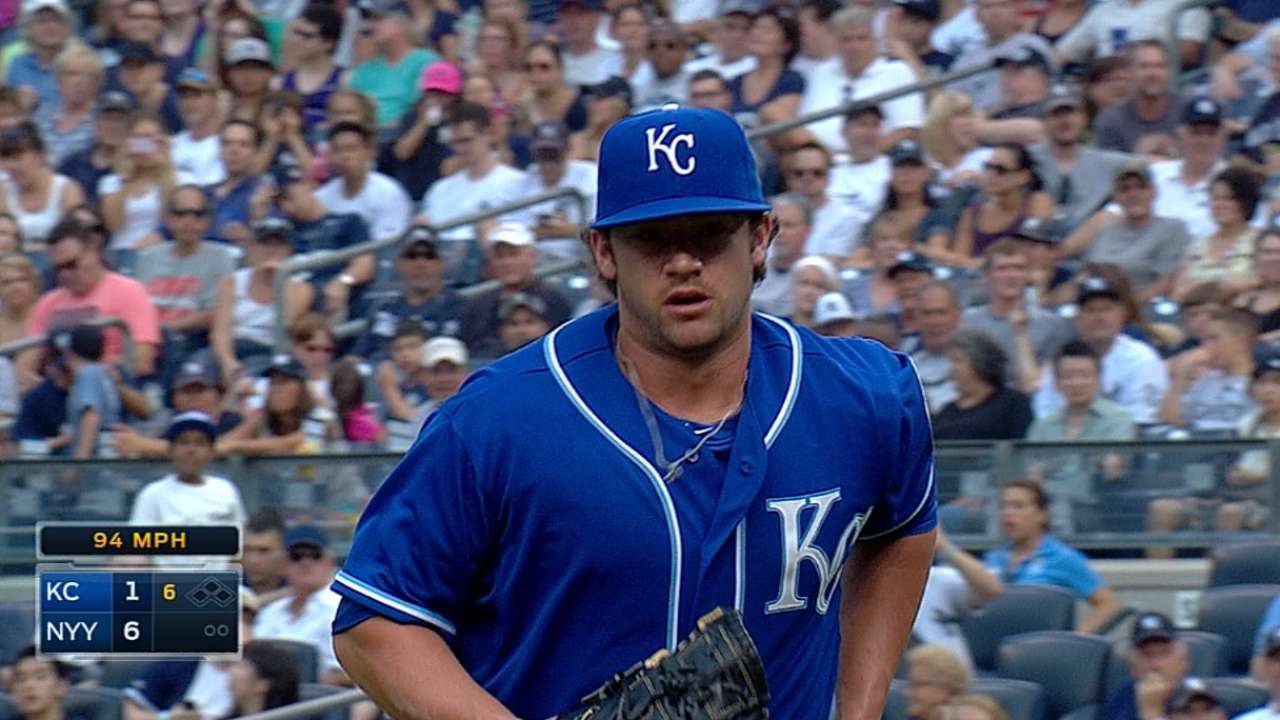 Finnegan hit a few bumps in the playoffs, but, for the most part, he held his own. And now the question becomes: Can the Royals afford to start him at Triple-A this season and groom him as a starter or should they plop him on the 25-man roster and use him as their top left-hander out of the bullpen?
Without question, Finnegan is one of the best seven or eight relievers in the organization. And if the Royals truly are in win-now mode, the answer would seem simple.
But it's not, manager Ned Yost said.
"We'll just have to see how it plays out this spring," Yost said.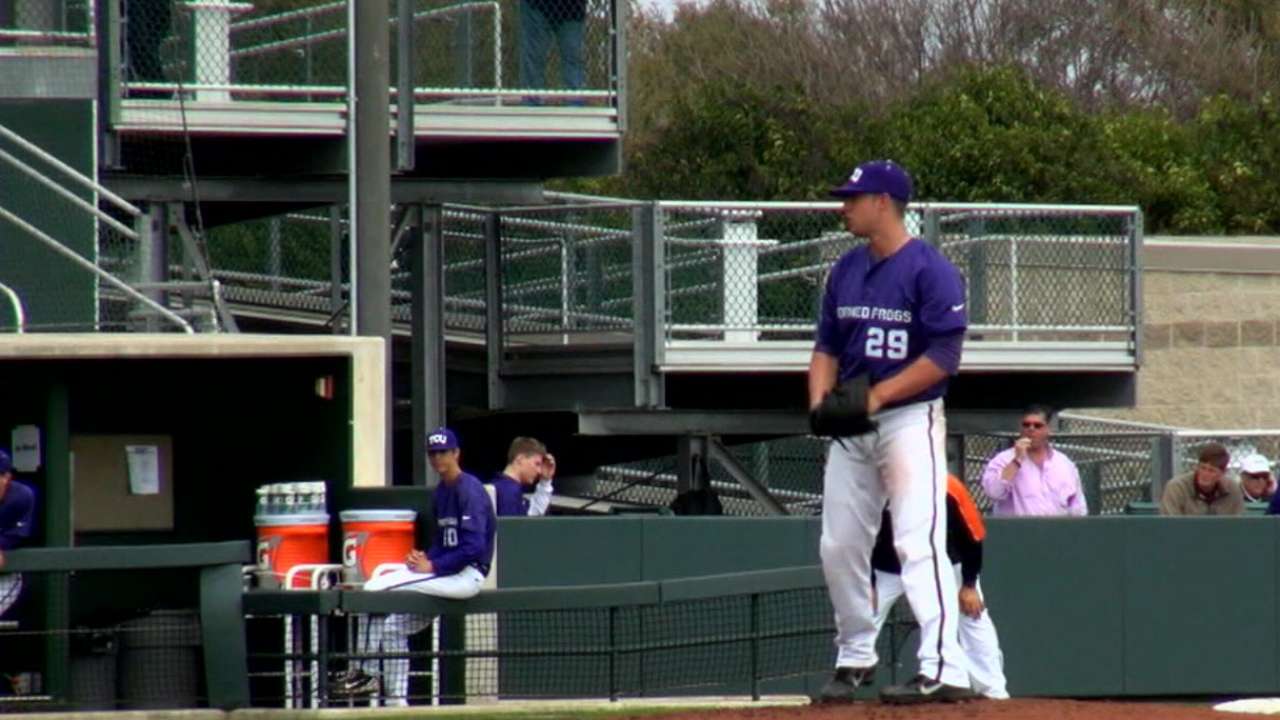 Royals general manager Dayton Moore said he isn't sure yet what is best for Finnegan or what is best for the organization in terms of his role.
"We just don't know yet," Moore said. "We have to see how he pitches this spring. We have to see how the other guys pitch. Everyone has an opportunity to make the team right now and he is one of them.

"But it's a decision we don't have to make now."
Not surprisingly, Finnegan has a preference on where he'd like to pitch.
"Definitely with the big league team," he said as the team prepared for its first official workout with pitchers and catchers. "Anybody would say that. The Minor Leagues aren't fun for a reason. Everybody wants to be up here."
Though he will start camp by stretching out as a starter, Finnegan said it will be no problem to adjust to life as a reliever again.
"It's not hard at all," he said. "You just come in for an inning and shove. It's harder probably to go the other way around, going from a reliever to a starter."
Yost says he has no concerns about flopping Finnegan back and forth between the two jobs.
"No problem at all," Yost said. "He's young."
Jeffrey Flanagan is a reporter for MLB.com. Follow him on Twitter at @jflanagankc. This story was not subject to the approval of Major League Baseball or its clubs.