Royals extend qualifying offer to Gordon
Moore: 'We want Alex, and Alex wants to be here'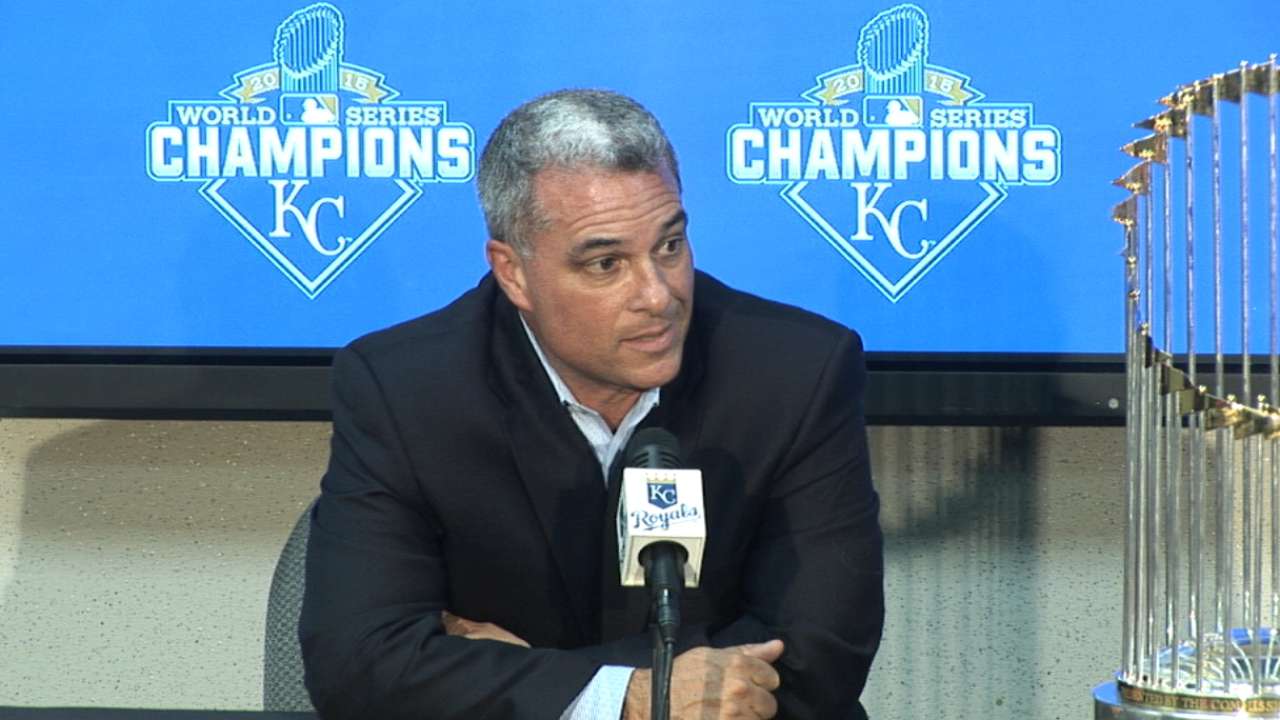 KANSAS CITY -- On Thursday, the Royals extended a one-year qualifying offer, valued at $15.8 million, to left fielder Alex Gordon, who on Wednesday declined a player option valued at $13.75 million.
Gordon will have until Nov. 13 at 4 p.m. CT to accept the offer.
The Royals also exercised team options on shortstop Alcides Escobar and closer Wade Davis, while declining an option on outfielder Jonny Gomes. According to a source, Escobar is signed for $5.25 million next year and Davis for $8 million.
But now the major decision of the offseason -- whether or not Gordon remains a Royal -- awaits. Gordon, 31, is the longest-tenured Royal and was the No. 2 overall pick in the 2005 Draft.
• Shop Royals World Series champions gear
"There's no doubt in any of our minds that we want Alex, and Alex wants to be here," Royals general manager Dayton Moore said. "But again, we're not going to take advantage of any relationship. Alex has done everything for us each and every day, and we've given him everything we possibly could.
"From the very beginning, when we signed him to a long-term contract, people said, 'You need to let him have another year [before offering a long-term deal].' … Sometimes it works, sometimes it doesn't. This time it did."
It's no secret that Moore and Gordon share a special bond. Moore admires Gordon's work ethic and family-first nature, and has said so repeatedly through the years, often referring to Gordon as the model baseball player. Gordon has always spoken highly of Moore and wrote the foreword for Moore's book, "More Than A Season: Building A Championship Culture."
But Moore indicated Thursday he would try to leave their personal relationship out of any negotiations.
"I never take advantage of a personal relationship," Moore said. "Business is business. It's about the Kansas City Royals.
"Alex is family. I want Alex to have all 30 teams interested in him. That's what I want for him. And then he'll have an opportunity to make a very informed decision, what's best for Jamie [his wife] and the boys.
"We are going to be as fair as we can, and hopefully it's good enough. It's the first time in my career that I've had this situation presented."
The toughest part for the Royals will be determining Gordon's market value.
"Those are things we just don't know," Moore said.
The Gordon decision is just one of many this offseason for Moore as he tries to put together another team competitive enough to reach the World Series, as he has done the last two years.
Utility player Ben Zobrist, an important key to the Royals' championship season this year, is also a free agent, but wants to return to the Royals.
"Gordo is their top priority, and he should be," Zobrist told MLB.com. "He is the face of the franchise. But we would love to come back, too."
Right-handers Chris Young and Ryan Madson were also keys to the team's success, but they are now free agents. Left-hander Franklin Morales was effective out of the bullpen for most of the regular season and is a free agent, too.
Center fielder Lorenzo Cain, third baseman Mike Moustakas and reliever Kelvin Herrera all likely will get huge raises through salary arbitration, which could hamper financials for free-agent signings. First baseman Eric Hosmer is under contract for 2016, but he could be a candidate for a long-term extension.
"We'll see what the market brings," Moore said. "Obviously, our goal is to bring back the players who are most impactful to us. We'll do everything we can to operate efficiently and get them back.
"Are we going to win the negotiations for the top guys? We'll try. But we're not going to put ourselves in a position where we're reckless, and then we're not in a position to sign our young players to long-term contracts. We don't want to be hamstrung in that."
The Royals also will have a decision to make on reliever Greg Holland, who underwent Tommy John surgery in September and will miss 2016. Holland made $8.25 million this season and is arbitration-eligible again, meaning he almost surely will be non-tendered so that the club can work on a two-year deal that is backloaded toward 2017.
"We're open to that," Moore said. "He's a homegrown player. Right now, he just needs to get the right medical care to heal him. He's on that course."
Even Moore's and manager Ned Yost's future is somewhat cloudy. They both are under contract only through 2016.
"That's not something we're very concerned about right now," Yost said. "We both want to be here in the extended future. Those things all take care of themselves."
Jeffrey Flanagan is a reporter for MLB.com. Follow him on Twitter at @FlannyMLB This story was not subject to the approval of Major League Baseball or its clubs.