Hosmer headlines list of 11 Royals in WBC '17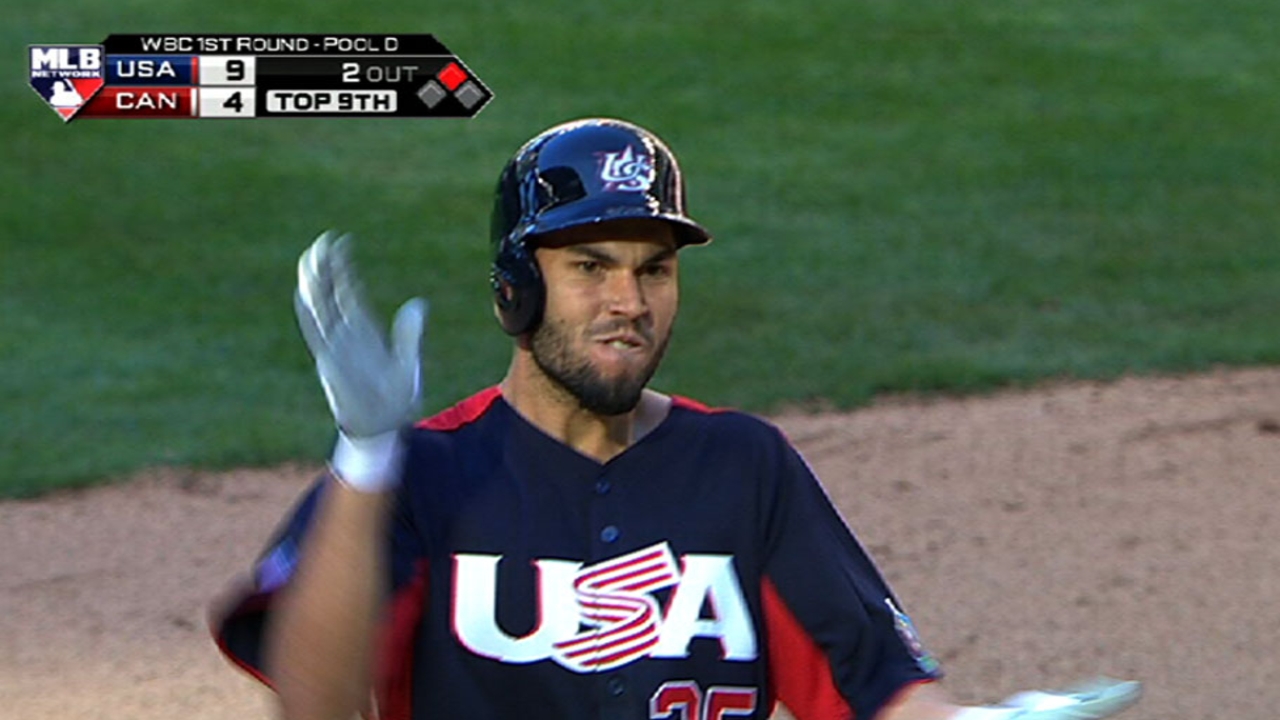 KANSAS CITY -- Royals first baseman Eric Hosmer has a special goal while playing again for Team USA in the World Baseball Classic: Win it all.
"I've taken pride in winning championships at every level, and it's happened at every level except for playing for [Team USA]," Hosmer said. "This will be my fourth time playing for them through high school and the Minors.
"We've taken third and fourth place but never won it. I want to change that."
The World Baseball Classic runs from March 6-22. In the U.S., games will air live exclusively in English on MLB Network and on an authenticated basis via MLBNetwork.com/watch, while ESPN Deportes and WatchESPN will provide the exclusive Spanish-language coverage. MLB.TV Premium subscribers in the U.S. will have access to watch every tournament game live on any of the streaming service's 400-plus supported devices. Internationally, the tournament will be distributed across all forms of television, internet, mobile and radio in territories excluding the U.S., Puerto Rico and Japan. Get tickets for games at Marlins Park, Tokyo Dome, Gocheok Sky Dome in Seoul, Estadio Charros de Jalisco in Mexico, Petco Park, as well as the Championship Round at Dodger Stadium, while complete coverage -- including schedules, video, stats and gear -- is available at WorldBaseballClassic.com.
Hosmer is one of 11 Royals who will take part in the World Baseball Classic. With 11 participants, the Royals are tied for second most in the American League Central with Cleveland behind Detroit's 15.
Of the 11, six of the Royals are on their team's 40-man roster.
Shortstop Alcides Escobar and catcher Salvador Perez will play for Team Venezuela. Catcher Drew Butera will play for Team Italy and right-handed reliever Joakim Soria will play for Team Mexico. Left-hander Danny Duffy will play for Team USA and is listed under the roster designation of DPP, which stands for designated pitcher pool.
• World Baseball Classic tickets
Each team has the option of using the designated pitcher pool, which works like this: A team can use up to 10 designated pitchers but can't have more than two on its active roster at a time. Those "active" designated pitchers can be replaced at the beginning of each of the next two rounds, but only by another designated pitcher.
Once a designated pitcher has been replaced, he cannot return to the active roster for a subsequent round. Using Team USA as an example, Duffy and Tanner Roark are the active designated pitchers for the first round of pool play, so they can be replaced on the roster before the second round or the championship round, but only by one of the team's other designated pitchers. And if a designated pitcher joins for the second round, he can be replaced for the championship round, but only by another designated pitcher.
• World Baseball Classic rules
Other Royals who will participate are right-hander Gabe Cramer and left-hander Jake Kalish for Team Israel; catcher Allan de San Miguel will play for Team Australia; and shortstop Mauricio Ramos and catcher Meibrys Viloria will play for Team Colombia.
Jeffrey Flanagan has covered the Royals since 1991, and for MLB.com since 2015. Follow him on Twitter @FlannyMLB. This story was not subject to the approval of Major League Baseball or its clubs.