O'Brien giving Royals something to think about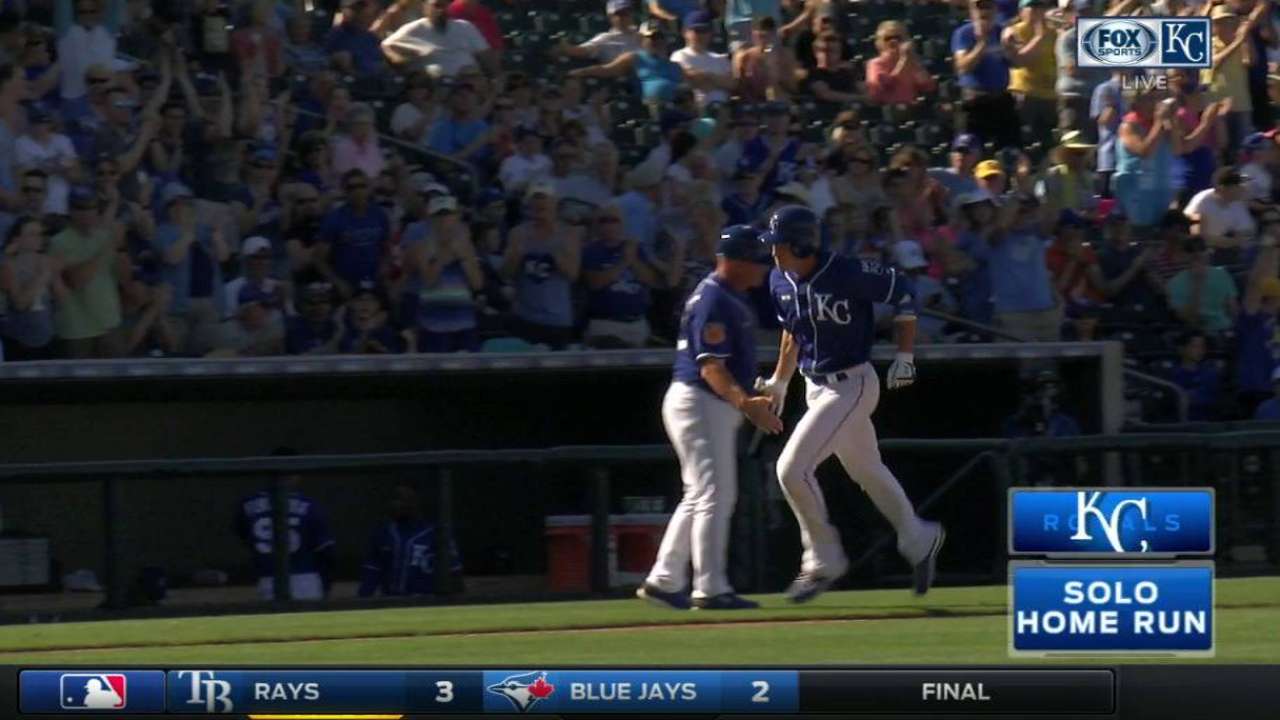 MESA, Ariz. -- It's a bit of a long shot for Peter O'Brien to make the Royals' Opening Day roster in two weeks. But long shots have come to be O'Brien's specialty. His game-tying homer in the ninth inning against the Indians on Saturday was his Cactus League-leading sixth, sending the game to extra innings and an eventual 4-4 draw.
It was O'Brien's second pinch-hit home run of the spring -- his first came in the Cactus League opener in February -- and for a 26-year old trying to make his first Opening Day roster, the ability to come off the bench with that kind of pop is a selling point.
"That's why we pinch-hit him," Royals manager Ned Yost said. "He's got home run power."
• Spring Training: Info | Tickets | Schedule | Gear
O'Brien's power has been compared to Mark McGwire's by Tony La Russa, who got a good look at him the past 2 1/2 years as a promising player in the Diamondbacks organization. In January, the Royals traded right-handed pitcher Sam Lewis for him, and O'Brien set his sights on sticking on the 25-man roster.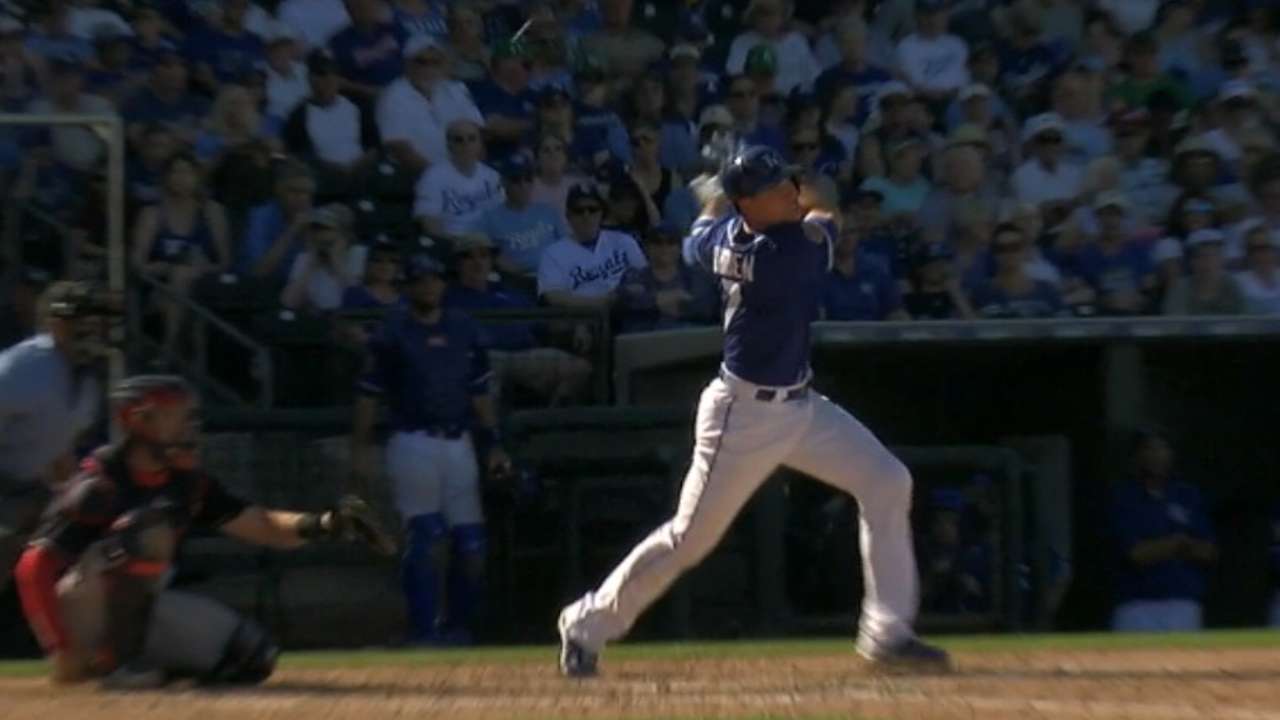 "Expectations for me have definitely been set high this spring," O'Brien said before Sunday's night game with the Cubs in a battle between the last two World Series champions. "It was a big offseason for me. I really wanted to get after it. I was just trying to keep things simple and set my goals, whether they be lofty or not, then go out there and just try to get a little bit better every day."
O' Brien is hitting .341 (14-for-41) with three doubles, six homers, and 12 RBIs, and he's played four positions in the field in addition to logging at bats as a designated hitter.
"Most of my work has come in the outfield, but I take ground balls at first base pretty much every day," O'Brien said, noting he was drafted as a catcher. "I try to do my catching stuff a couple times a week at least."
That versatility could be a decisive factor as O'Brien tries to hit his way onto a roster that is essentially set at all of his primary positions. It's not likely that the Royals would want him sitting on the big league bench, considering he still has two options left and can play every day at Triple-A Omaha while awaiting an opportunity in Kansas City. But O'Brien's persistent power and consistent swing have forced the Royals to weigh a tough decision.
"It's hard to go by Spring Training numbers, but he's been really, really good," Yost said. "He hasn't shown a huge propensity for swing and miss. He's handled all pitchers, all pitches pretty darn well. He's not a guy that they're just hammering offspeed or jamming him inside. He's had a great spring."
O'Brien doesn't lack confidence. He knows how well he's swinging, and he know he's done everything he can to put himself in the best position possible.
"It has been my best spring so far, for sure," O'Brien said. "I'm just trying to go out there and keep things simple and have fun. I think I've been rewarded for that, so I'm going to keep building on that and stay with that mentality and hopefully keep moving forward from here."
Owen Perkins is a contributor to MLB.com. This story was not subject to the approval of Major League Baseball or its clubs.