Bats come up empty, spoiling Duffy's gem
Lefty, Yost confident KC offense will come around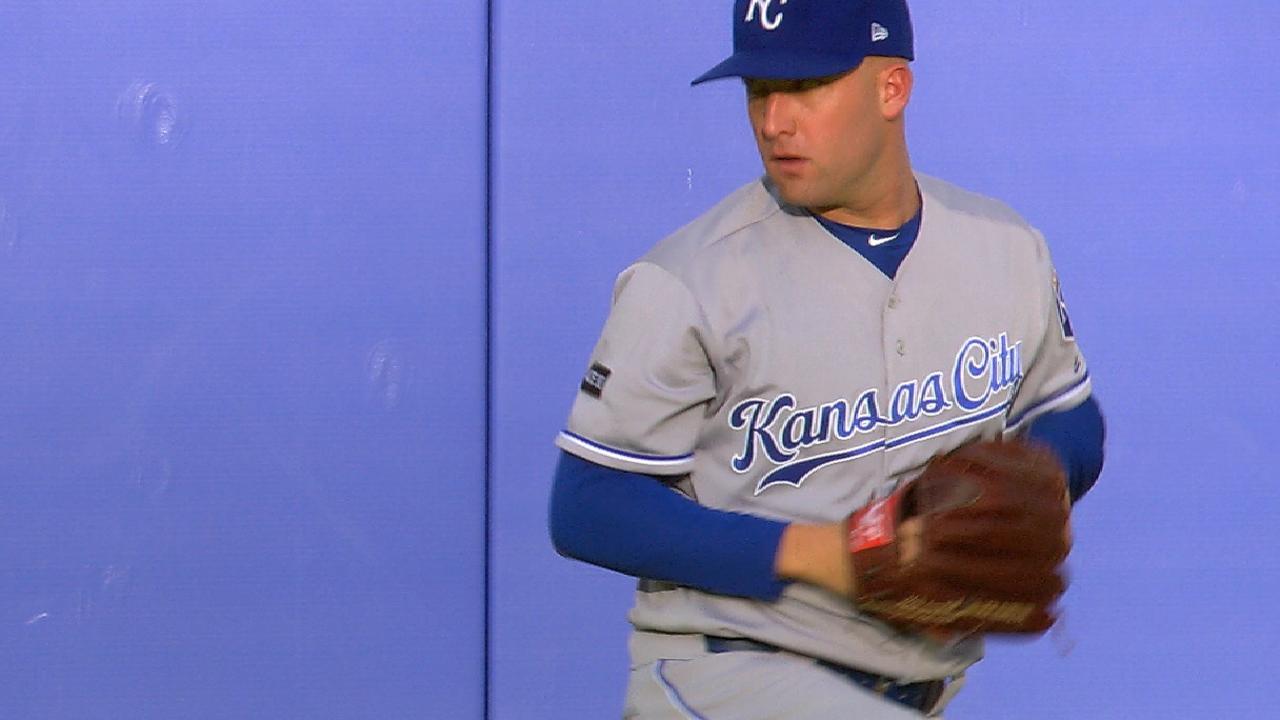 ARLINGTON -- Royals lefty Danny Duffy hung a bunch of zeros on the scoreboard Thursday night against the Rangers. Just not as many as his offense did.
In a 1-0 loss to the Rangers, Duffy's 7 1/3 workmanlike innings faded into almost an afterthought in an offense-starved, 13-inning affair that featured only 10 combined hits. Two of the AL's least productive lineups thus far this season lived up to their stats -- especially the Royals, who went 0-for-7 with runners in scoring position and are now 15-for-101 (.149) in those situations, the lowest among all Major League clubs.
Manager Ned Yost said there's "no stock way" to get out of a lean stretch like this, but he's confident his hitters will.
"You just have to stay patient, keep working and hope it turns quick," Yost said. "The bottom line is, we can come up with all the excuses in the world, but right now, we're just not producing. But we know what this club's capable of, and it turns, and we'll just keep grinding it out until it does."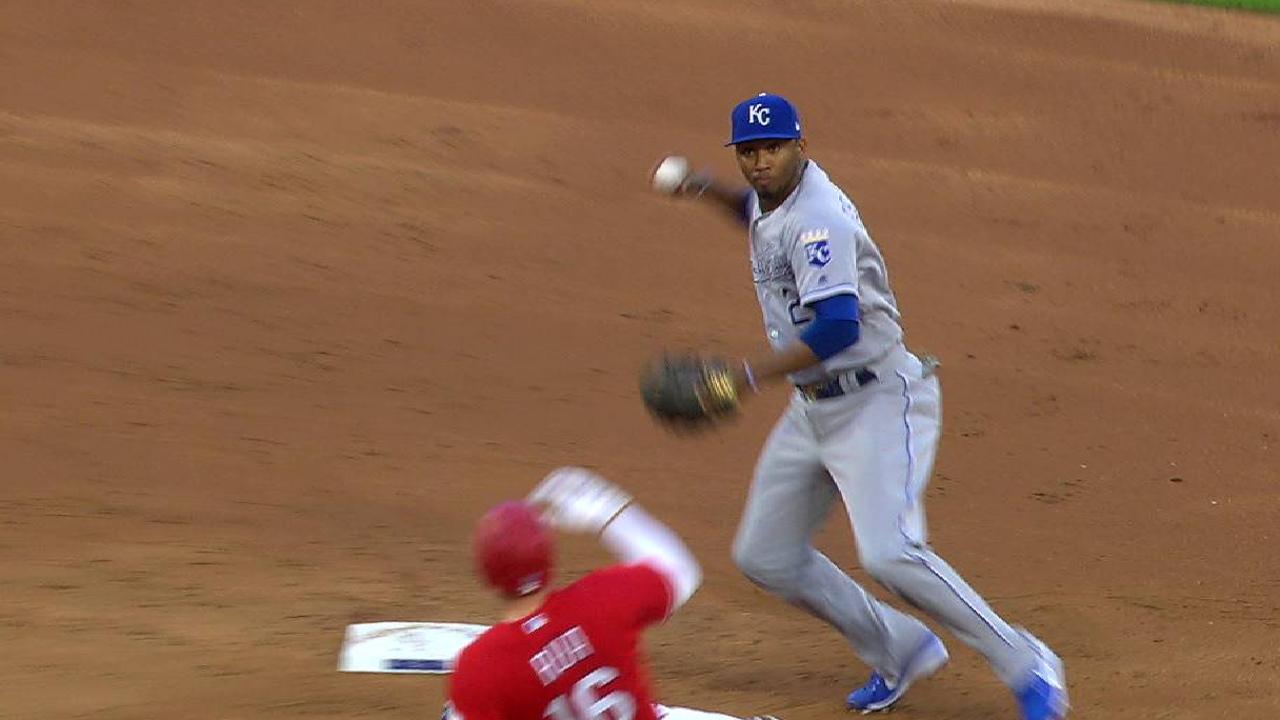 There's also solace in the fact that right now the Royals are getting the kind of pitching that can win plenty of ballgames. After Jason Vargas shut out the Giants for seven innings Wednesday, Duffy allowed four hits, walked three and struck out five while pitching into the eighth and throwing 100 pitches.
"My sinker was working when I really needed it," Duffy said. "I felt good. I felt like I could have been more efficient, I felt like my pitch count could have been more limited had I not walked three. I don't have any business walking three people."
Duffy's ERA dropped to 1.32 after his fourth turn, all quality starts, and Kansas City's starting rotation has a remarkably low 1.91 ERA through 15 games. That's almost a run lower than any other MLB team.
After Duffy's strong outing, Peter Moylan picked him up with two outs in the eighth and Mike Minor logged three scoreless innings before Travis Wood entered. Wood escaped the 12th unscathed, retiring all three batters, but allowed a one-out double to Joey Gallo in the 13th before Delino DeShields won the game with a single to left.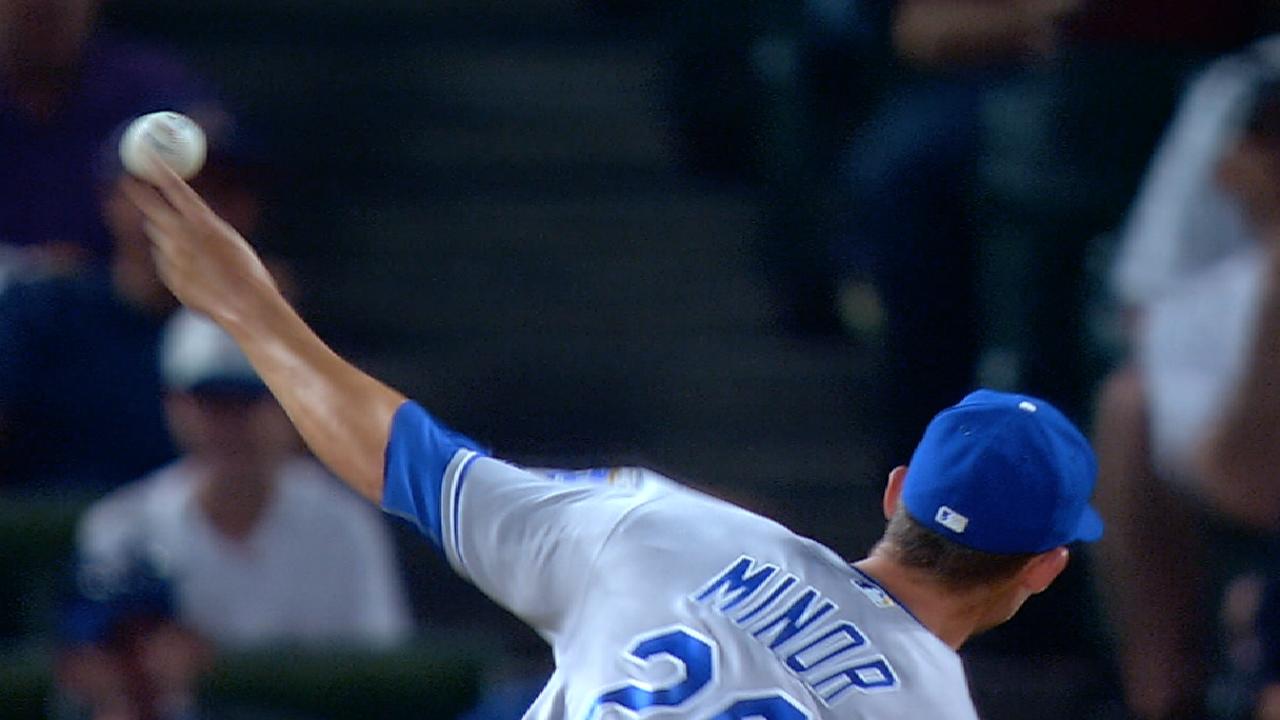 "They just did a great job," Yost said of his pitchers. "They held the fort right there giving us an opportunity to win, we just couldn't muster anything offensively."
The Royals had a chance to strike early after a one-out double from Mike Moustakas in the first; Lorenzo Cain followed with a walk and Rangers starter Andrew Cashner already looked to be in a jam. But Moustakas was picked off at second and Eric Hosmer flied out to left, ending the threat as quickly as it began.
Baserunning foibles struck again in the third, as Raul Mondesi walked with one out but was caught stealing at second base.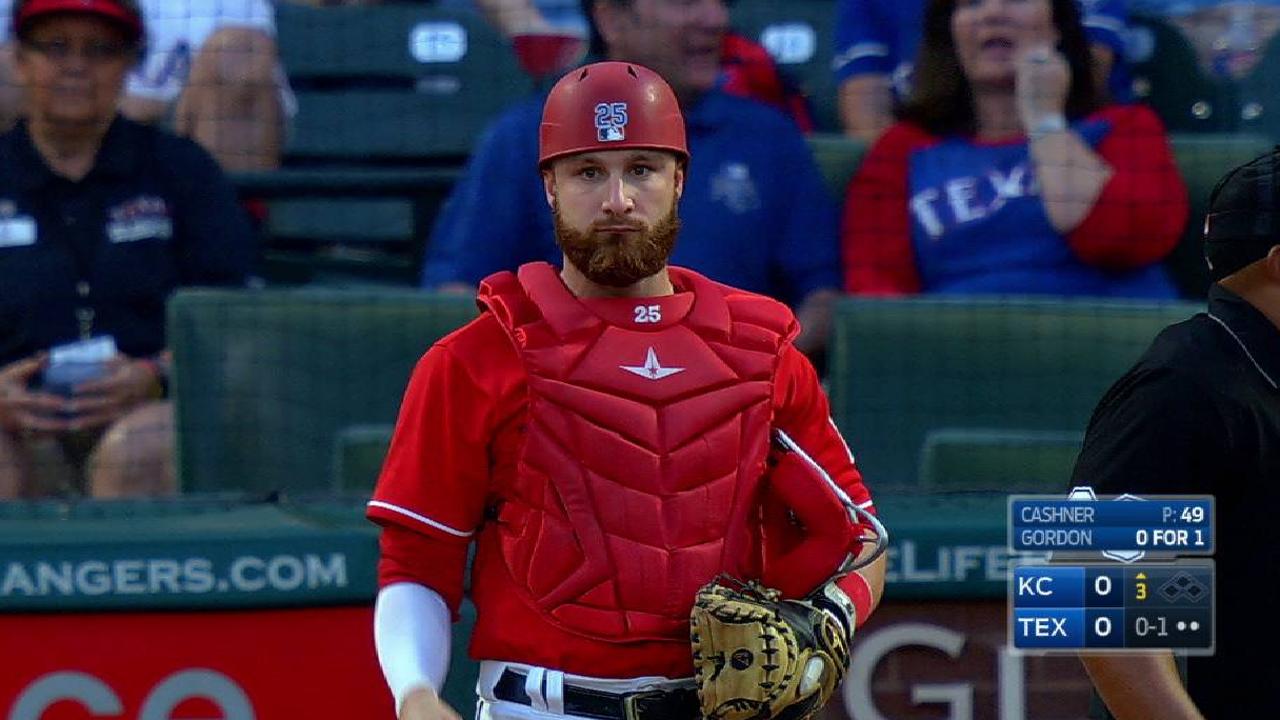 The Royals didn't push a man into scoring position again until the fifth, when Alcides Escobar doubled to lead off the frame, but Cashner retired three hitters in a row.
With a single and a stolen base, Cain got as far as second base in the sixth inning, Cashner's last.
After Cashner's six shutout frames, six Rangers relievers, including winner Dario Alvarez, retired 21 of the 23 batters they faced.
Still, Duffy said he doesn't doubt his team's ability to back him up going forward.
"Our offense has the guns that it takes to get the job done," Duffy said. "Tonight was one of those nights."
Dave Sessions is a contributor to MLB.com and covered the Royals on Thursday. This story was not subject to the approval of Major League Baseball or its clubs.