Moustakas T-shirts honor Ventura's memory
Proceeds from each limited-edition item benefit ACE 30 Fund
Royals third baseman Mike Moustakas has partnered with Charlie Hustle Clothing Company and Pepsi to create a "MOOSE" T-shirt in honor of his commitment to the Kansas City community and in memory of late Royals pitcher Yordano Ventura.
The proceeds from each limited-edition shirt sold will go to the Royals Charities ACE 30 Memorial Fund, which was founded to commemorate Ventura. The organization helps promote youth baseball projects in the Dominican Republic, Ventura's native country.
"Yordano was an extraordinary teammate and friend," Moustakas said. "It is important to me that his legacy lives on forever, and proceeds from the MOOSE T-shirt sales will help make that happen. I am proud to work with partners like Pepsi and Charlie Hustle who are wonderful supporters of this initiative and the Kansas City community."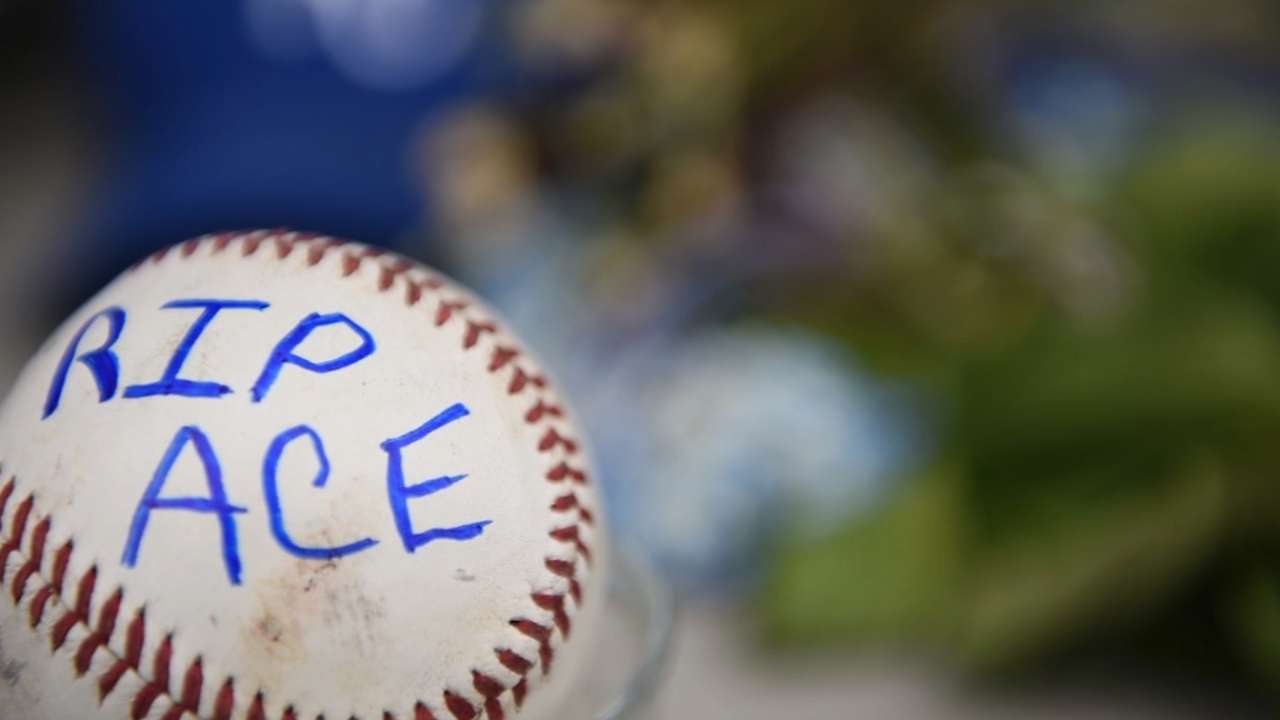 The shirt, which features an old-school design containing Moustakas' No. 8 and a moose logo inside an enlarged baseball, encompasses the city's unique traditions, culture and history. Charlie Hustle, a Kansas City-based company, prides itself on further establishing its local roots while contributing to a good cause.
"We felt honored that Pepsi and Mike Moustakas looked to us for this project," Charlie Hustle CEO Chase McAnulty said. "This collaboration is a perfect representation of what our brand is about: regional pride, especially as it relates to sports, and philanthropic initiatives."
Pepsi is a longtime partner of the Royals and Moustakas, who is an essential part of the club's prosperity both on and off the playing field.
"Pepsi is thrilled to support Moose, the Royals and the Kansas City community through the purchase of 1,000 MOOSE Charlie Hustle T-shirts," Pepsi senior manager of marketing Melissa Duhaime said. "The collaboration between Mike Moustakas, Pepsi, and Charlie Hustle brings the nostalgia of the glory days to life, while allowing today's fans to create unforgettable memories of their own."
The "MOOSE" shirts are available both online and at the Charlie Hustle plaza store throughout the entire 2017 regular season. Fans can also keep an eye on Pepsi retail partner locations, Royals Charities events and Pepsi social media outlets for an opportunity to win the limited-edition shirt.
Oliver Macklin is a reporter for MLB.com based in Washington, D.C. This story was not subject to the approval of Major League Baseball or its clubs.