New-look rotation is a hit at Royals FanFest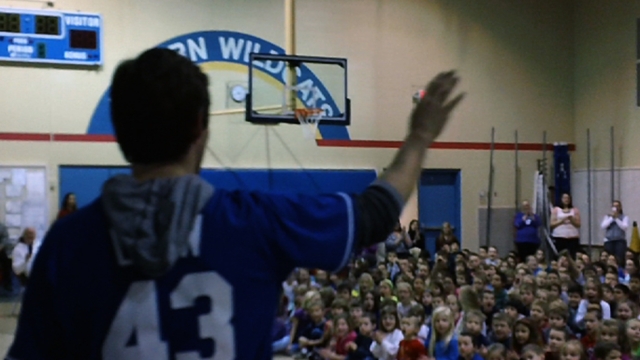 KANSAS CITY -- James Shields was dressed in black and fighting the flu, but the right-hander seemed like a healthy ray of sunshine to the folks attending Saturday's Royals FanFest. Spirits were high, primarily due to Shields and the refurbished Royals rotation, as fans flocked to the Overland Park Convention Center. "We had a good turnout today, it was an amazing FanFest," Shields said. "I think there was probably close to 10,000 people out there. The fans seem real excited about this year. I'm excited to be here."
Shields wasn't far off. Attendance was put at 9,121 for the one-day event by Toby Cook, Royals vice president of community affairs and publicity. He said attendance hovered around 10,000 combined for the two days at the previous four FanFests. By acquiring Shields and Wade Davis in a trade with the Rays, landing Ervin Santana in a deal with the Angels and re-signing Jeremy Guthrie, the Royals were intent on pumping new life into their starting rotation and establishing a winning atmosphere. "I think mentality has everything to do with it," Davis said. "You've surrounded the team with a good group of guys and you've got someone like James Shields, who has been on a team that was the worst of the worst and helped that team become one of the best in baseball. I think it's going to be beneficial to have someone who's already done it ... and knows everything that goes into that." If there was a prevailing theme of this FanFest, it was Shields and his rotation buddies. "Our starting pitching is a strength now," designated hitter Billy Butler said. And it starts with Shields. "I don't enjoy going to the plate against him. He's got four plus-pitches, a real good two-seamer, throws in the mid-90s, a real good cutter and a really good curveball," Butler said. "And I didn't even mention his best pitch, a changeup. He has one of the best right-handed changeups I've ever faced." (NOTE: Butler still managed to go 7-for-21, .333, against Shields in 2012.) The 20 players who mingled with the throng didn't need much encouragement from the fans. They were already on board. "It seems like we've got all the pieces and everybody's saying the same thing so I think that's a good thing," Davis said. "I got excited when the players got excited," manager Ned Yost said. "They were tremendously excited by the new additions and they feel the same as we all do -- that this is going to give us an opportunity to compete on a daily basis. It all starts with starting pitching, and we've made tremendous upgrades in that department."