Royals prepping for Spring Training Surprise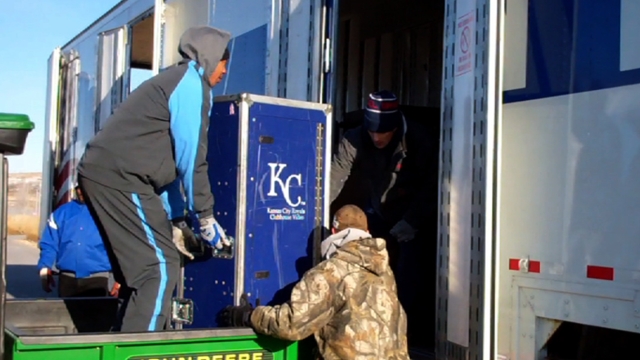 KANSAS CITY -- In the midst of a cluster of boxes, bags and baseball paraphernalia in the Royals' clubhouse, a small pile of locker name placards rested on a table. On top: 5 George Brett.
Wait a minute, what year is this anyhow? Well, it's 2013 all right, and on Friday a busy contingent of clubhouse attendants and stadium workers were loading up an 18-wheeler with the team's equipment for Spring Training.
Brett hasn't played since 1993, but the Hall of Famer is not only a Royals vice president but a regular instructor at the camp in Surprise, Ariz. Along with Royals fans everywhere, he'll have an especially keen interest in the proceedings of an amped-up roster that officially begins work in 10 days.
On a 17-degree, albeit sunny, morning at Kauffman Stadium, with snow still dappling the grounds, the clubhouse was being emptied and the truck jammed with all the camp essentials, plus some.
"We have more this year because of all the Opening Day stuff," said Chuck Hawke, visiting clubhouse manager who was supervising the loading. "We have to have hats, uniforms, light and heavy jackets and all the cold weather stuff that we don't use in Arizona because we open in Chicago and then go to Philadelphia. And we have to take all the road trunks, too."
Indeed, after the Royals wrap up their Cactus League play on March 29 against the Indians, they'll fly directly to Chicago for a day off followed by a workout day before the April 1 opener against the White Sox. That three-game series will be followed by an Interleague visit to Philadelphia before the Royals finally reach Kansas City for the April 8 home opener against the Twins.
The boxes that Hawke, Pat Gorman, Tom Walsh, Jake Van Oeveren and others wrestled onto carts carried such labels as "O.D. 2013 cold gear" or "jerseys to be autographed" or "staff shoes." There were medical supplies, video machines, energy bars, sweats, hoodies and even a bicycle, a rocking chair and broadcaster Denny Matthews' golf clubs. Hey, after calling games since day one in 1969, you earn some privileges.
The truck filled up fast.
"We'll be tight but we'll make it," Hawke said.
Next stop: Surprise, Ariz.