Even Royals coaches can't spell 'Francoeur'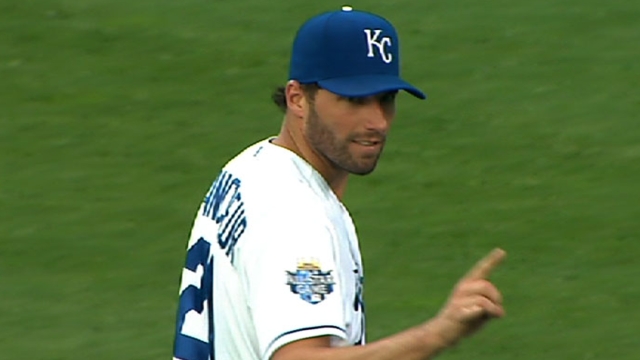 GOODYEAR, Ariz. -- This is the Royals' Thursday batting order as written on the lineup card posted in the clubhouse by coach Eddie Rodriguez: Godon, Johnsan, Butlet, Moustakois, Peraz, Francoir, Caind, More, Giavotillis.
Filling out the lineup card is Rodriguez's daily duty and you'll notice he was 9-for-9 in misspelled names. Let manager Ned Yost explain:
"That was in tribute to Jeff Francoeur, because Eddie spelled his name wrong twice and Frenchy got all over him, so he spelled every name wrong today so Frenchy wouldn't feel so alone," Yost said.
It seems that Rodriguez was putting the o-e-u in Francoeur's name in an incorrect order.
"'Bout time he gets it right," Francoeur said.
Or, in Thursday's case, every name wrong.
Dick Kaegel is a reporter for MLB.com. This story was not subject to the approval of Major League Baseball or its clubs.