Yost sees several bullpen options for retiring lefties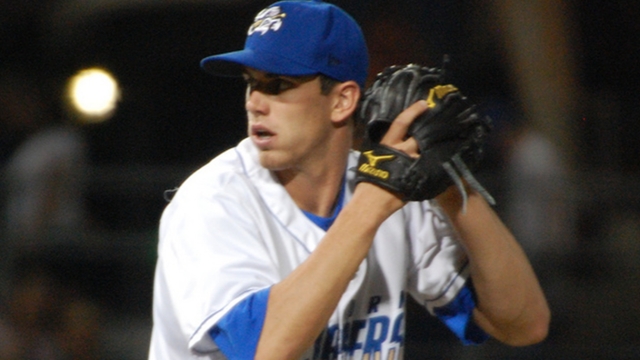 GOODYEAR, Ariz. -- How important would it be for the Royals to have a situational left-hander in the bullpen?
"It's important but it's a little less important for us, because we've got [Kelvin] Herrera and [Aaron] Crow that can get lefties out," manager Ned Yost said. "It's still a luxury, but it's a really nice luxury to have."
He listed Everett Teaford, Atahualpa Severino, Francisley Bueno and Donnie Joseph as lefties in camp that might fit the bill as a left-handed specialist.
The only southpaw locked into a bullpen role is Tim Collins, and Yost doesn't view him as a pitcher to use against lefties only.
"I like to use Timmy in spots in the lineup where there are lefties and switch-hitters, but if there's righties mixed in there, I don't worry about it, because Timmy gets righties out good, too," Yost said. "These other guys would be more apt to come in and face Prince Fielder in a tight situation or Ryan Howard when we play Philadelphia, Chase Utley, [Joe] Mauer, [Jason] Morneau -- to get you out of an inning."
So far, Yost hasn't had much of a chance to see Teaford, who missed time with a sore shoulder, or Severino, who left to play for the Dominican Republic in the World Baseball Classic.
After two perfect innings on Thursday, Bueno has pitched in six games, giving up three runs and eight hits in 8 1/3 innings. Last season he appeared in 18 games with a 1.56 ERA and he held left-handed batters to a .263 mark but was even better against righties, at .222.
"Bueno did a nice job of coming in last year and getting righties and lefties out. He wasn't just a situation guy," Yost said.
Joseph has been in six Cactus League games, surrendering just one run with 11 strikeouts in six innings. He's given up two hits and no walks.
"The word on Donnie is that at times he could pitch himself into trouble but always pitched himself out. He hasn't shown that here," Yost said. "He's shown he can pitch himself out, but he hasn't shown he can pitch himself in. He hasn't pitched himself into trouble yet."
Dick Kaegel is a reporter for MLB.com. This story was not subject to the approval of Major League Baseball or its clubs.