Ventura tested by hot-hitting LA prospect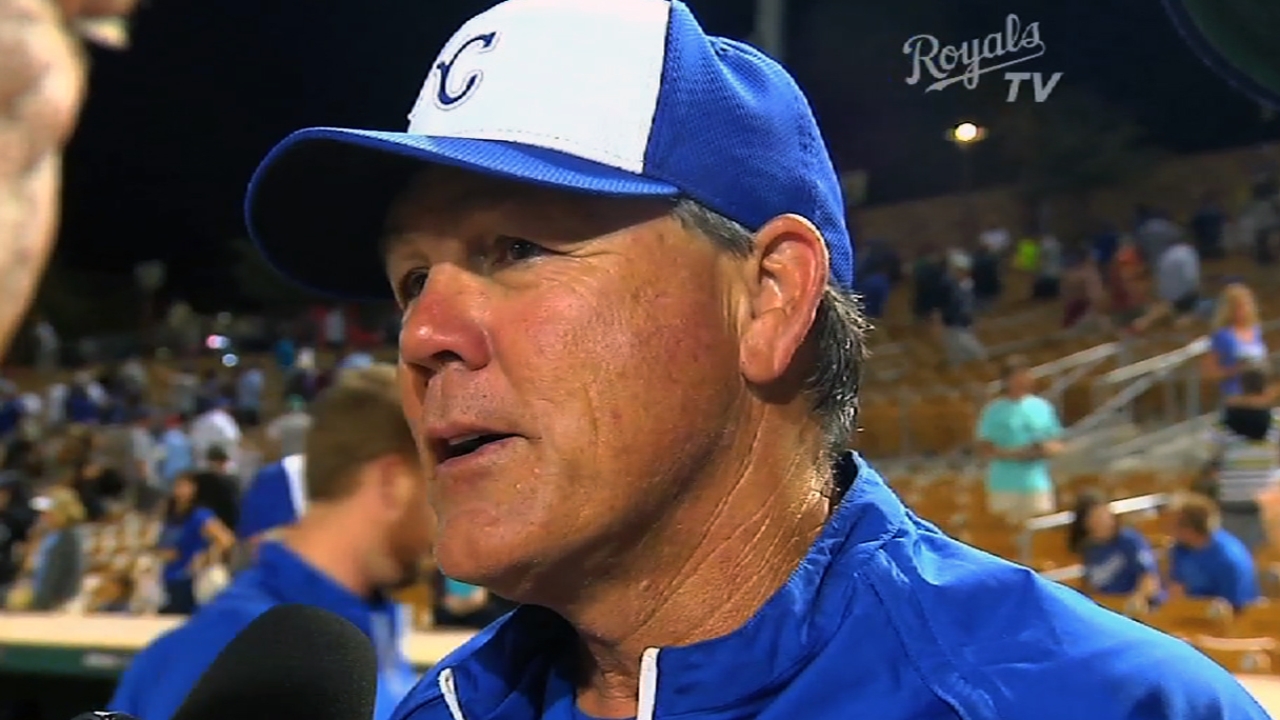 GLENDALE, Ariz. -- Yasiel Puig, the Dodgers' $42 million Cuban signee, slugged a two-run homer, singled twice, stole a base and scored three runs and Juan Uribe went 4-for-4 as Los Angeles handed the Kansas City Royals only their fourth loss of the spring Friday night, 8-1, in a split-squad game for both clubs at Camelback Ranch.
After winning 16 of their previous 19 games, perhaps the Royals were due for a clunker. They made four errors and their pitchers gave up 14 hits.
"It happens once in a while. Tonight was the night I guess," manager Ned Yost said.
Stephen Fife, the Dodgers' starter, allowed one run in 4 2/3 innings with two walks and four strikeouts for the win.
Puig homered in the first inning off highly touted Royals prospect Yordano Ventura after Mark Ellis was hit by a pitch.
In the third inning, Puig lined a one-hop single to right fielder Jeff Francoeur, then had to beat out Francoeur's strong throw to first base. Puig then stole second and was doubled home when Uribe's line drive was lost in the lights by Francoeur.
The Dodgers added a two-out run in the fourth inning when Brian Barden was hit with a pitch and Fife doubled him home.
The Royals scored in the fifth inning on a single by Willy Taveras and a two-out double by Alex Gordon that chased Fife.
The Dodgers scored three more in a three-error fifth inning, and again it was Puig starting the rally with a line shot up the middle for a single. Mark Ellis doubled home a run in the sixth.
Up next: Left-hander Bruce Chen, now positioned as the leading contender for the No. 5 starting job, will make his fourth start at 3:05 p.m. CT on Saturday (live on MLB.TV and an exclusive free webcast on royals.com against the Cubs at HoHoKam Park in Mesa, Ariz. He'll also be the first Royals pitcher to bat in a game this spring. Catcher Salvador Perez will get the day off as he concentrates his efforts on catching starters Wade Davis (Friday) and James Shields (Sunday) in Minor League games. Rookie Michael Mariot, who's made a strong impression this spring, will be among the Royals' pitchers. He gave up a three-run homer to the Mariners' Casper Wells but, in his five other innings, Mariot has held opponents to no runs and one hit and been been credited with three saves.
Ken Gurnick is a reporter for MLB.com. This story was not subject to the approval of Major League Baseball or its clubs.