Joseph bringing some serious heat in Royals camp
Left-hander looking to land a spot in Kansas City's bullpen for 2013 season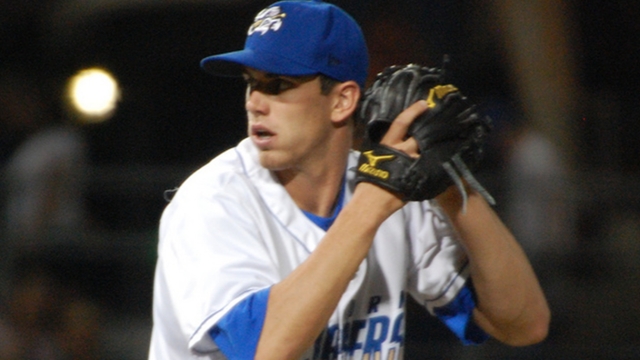 MESA, Ariz. -- Left-hander Donnie Joseph is one of those Spring Training long shots who catches fire early and doesn't want to be put out.
Joseph struck out the first seven batters he faced in the Cactus League and is still going strong. So far in seven games, with one inning in each, he's given up just one run (1.29 ERA) and three hits.
He joined the Royals with the reputation of having good stuff and marginal control or, as manager Ned Yost put it, the ability to pitch himself into trouble and then out of it.
"From day one, I've been working on mechanics and trying to eliminate walks and getting behind on the guys. I think that's something that's just helped me -- trying to get ahead and it limits putting myself in situations where I can get 2-0, 3-0 and walk a guy and give up a hit or something like that," Joseph said. "That's just kind of the mentality I have every time I got out there: Just get ahead of the hitter and hope I have the opportunity to get him out."
So far he's notched 12 strikeouts and, ta-da, zero walks. The only run came on a solo homer by the Giants' Brandon Belt.
"Ever since I've been in pro, what was kind of on me was I have a tendency to walk guys. So that's one thing I've really tried to concentrate and focus on this spring is eliminate these walks and get the inning over as quickly as possible. Three up, three down is always the goal," he said.
Joseph, 25. came to the Royals last July 21 with pitcher J.C. Sulbaran from the Reds in exchange for reliever Jonathan Broxton. After joining Triple-A Omaha, he relieved in 11 games with 19 strikeouts but with 21 hits and 13 walks in 17 1/3 innings.
He needed to change something for better command.
"Just trying to get my arm out quicker. That was the biggest thing; I had a tendency of letting my arm drag so this spring, from day one, we're trying to quicken up my arm and get my arm out front so it can allow me to throw strikes, locate better and get ahead of the hitters," he said. "It's really the only thing we've done mechanically to change and I think it's made a huge difference with how I'm pitching."
Yost certainly noticed.
"He came in throwing strikes," the skipper said.
There are only a couple of possible open spots in the Royals' bullpen and one might be for a situational left-hander. Yost, though, thinks Joseph could be more than that.
"He's tough on righties, too. He's got that back-foot slider, he's got some deception in his delivery, throws strikes," Yost said.
Joseph, the Royals' seventh-ranked prospect by MLB.com, is a long shot to make the club but his Arizona showing has him a lot closer.
"Obviously it's a dream come true to even be in this locker room or hopefully make the team," he said. "But I don't worry about that. I just look and see when I pitch next and I try to focus on that day alone. The thing that's helped me is right after I pitch, that day I tell myself that outing is over with whether I give up a run or not. Move on the next one and focus on my next outing."
That's scheduled for Monday night against the Rangers.
Dick Kaegel is a reporter for MLB.com. This story was not subject to the approval of Major League Baseball or its clubs.