Chen looking at bright side after rough outing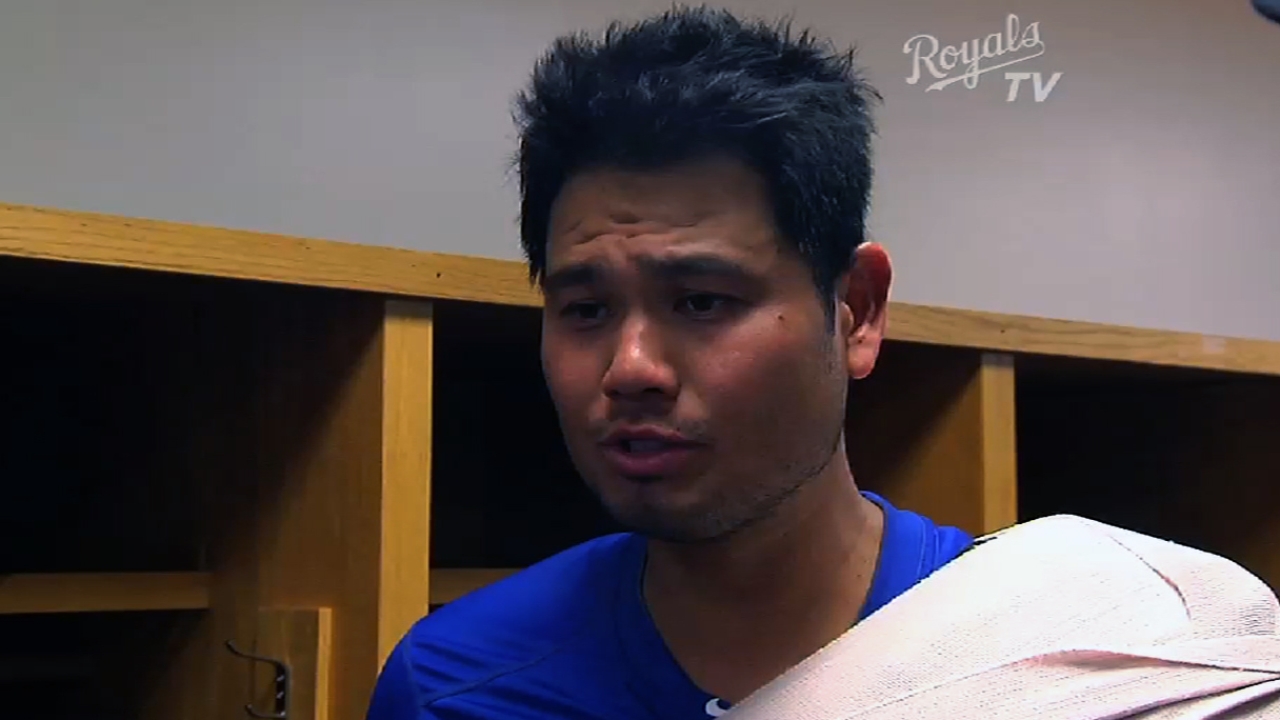 MESA, Ariz. -- Could Royals left-hander Bruce Chen find a positive from an outing in which he surrendered five home runs in five innings? Yes, he could.
"This is the best I've felt arm-wise and body-wise in Spring Training," Chen said. "Obviously the results weren't there. I made some adjustments after the first inning and I'll keep working towards that. I felt like a made some good pitches, I felt like I made some bad pitches. Overall, I need to improve, I need to make sure I make better pitches, but I'm very happy with the way my arm is feeling."
Chen was tagged for three home runs, including a leadoff shot by ex-Royal David DeJesus, and a double in the Cubs' four-run first inning. He gave up seven runs, nine hits and walked one in Saturday's 8-3 loss.
He got a 92-pitch workout including 59 strikes.
"I felt I made much better pitches after the first inning," Chen said. "If you take that first inning away, I actually pitched much better. But if you add the first inning, I pitched horrible."
This was Chen's first start since the Royals shifted Luke Hochevar into the bullpen and out of competition with Chen for the No. 5 rotation spot. Now, Luis Mendoza is considered his primary competitor although Will Smith and Yordano Ventura haven't been ruled out either.
"He was lacking arm speed early, like he did on occasion last year," Royals manager Ned Yost said. "He left some balls up, and they ended up hitting some homers off him. For me, the positive was that he got better as the game went on in terms of getting his arm speed back and being more aggressive with his pitches."
This is the second straight game in which Chen has been cuffed around. Last Sunday, the Angels touched him for five runs, including two homers, in 3 2/3 innings.
"My last outing I was feeling a little tired, but this one I felt really good," he said. "I want to see how I bounce back after four or five days. I want to see where my arm is, but today, stamina-wise, was good."
Yost was asked if the back-to-back thumpings would have an impact on the selection of the fifth starter.
"Well, of course, it does," Yost said. "We're in competition for a spot and we're getting down to the time where we're going to have to make a decision. But, for Bruce and Mendy, they've got proven track records we can fall back on which improves the process, but it was just a bit of a rough day for Bruce today."
Dick Kaegel is a reporter for MLB.com. This story was not subject to the approval of Major League Baseball or its clubs.