Yost could announce rotation order by Friday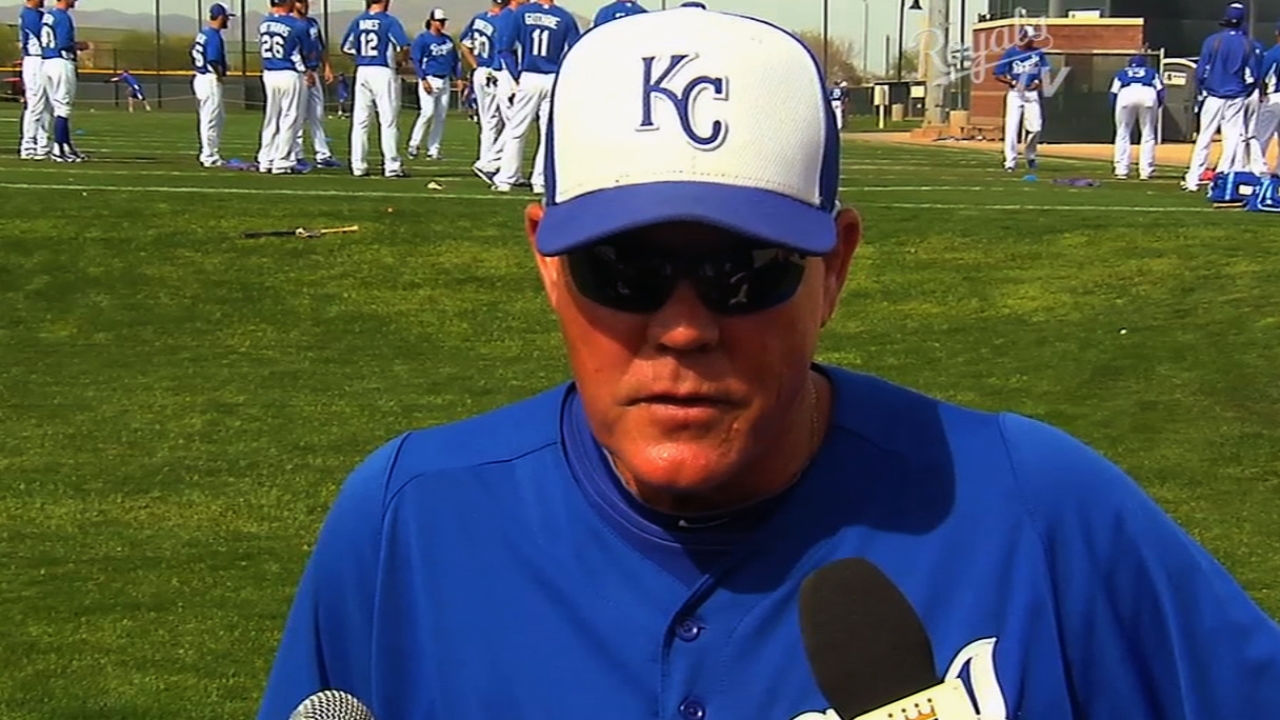 SURPRISE, Ariz. -- Manager Ned Yost is about ready to let fans know how the Royals' rotation will shake out when the season begins.
Yost indicated he'd list the order of his rotation on Friday, following Thursday's off-day. He's leaning toward starting the year with five starters rather than four, generally possible in April due to several open dates during the first month.
"I'm probably going to roll five," Yost said. "Because, I think these guys are all going to throw 200 innings and I don't want them all worn out at the end. I want to give 'em their breaks when they get their breaks, I don't want to pound them too much early."
He's still pondering the fifth spot behind James Shields, Ervin Santana, Jeremy Guthrie and Wade Davis. It's between left-hander Bruce Chen and right-hander Luis Mendoza, with one going to the bullpen as a long reliever.
"I think Luis Mendoza is a perfect long guy, but he's a great starter, too," Yost said. "Even though we haven't seen Bruce as a long guy like we've seen Mendy as a long guy, I think he's capable of handling that spot well, too. We just have to look at all of our options Who fits better in the 'pen? Who fits better as a starter? There are a lot of things to consider."
Yost is also leaning toward seven pitchers in the bullpen, rather than eight, and a 12-man staff.
"That's fairly firm," he said.
With Greg Holland, Aaron Crow, Tim Collins, Kelvin Herrera, Luke Hochevar and either Mendoza or Chen locked in, that leaves just one open spot.
The 12-man pitching staff also means there will be three bench spots for infielders and outfielders plus one backup catcher, and those final selections must be made.
Yost also has to decide on his second baseman between Chris Getz and Johnny Giavotella.
Those decisions likely will come next week before the Royals break camp after the game on Friday. Yost doesn't want to hurry, though.
"I saw an interview one time with a fighter pilot, and they asked him: 'If your plane was crashing and you had 15 seconds until you hit the ground, what would you do?' The fighter pilot gave what I thought was a great answer," Yost said. "He said, `I'd consider all of my options for the first 13 seconds, then I would act.' That makes sense to me. You take your time. If you have time, to consider all of your options, then you make a decision."
Dick Kaegel is a reporter for MLB.com. This story was not subject to the approval of Major League Baseball or its clubs.