Butler likely set at No. 3 spot in lineup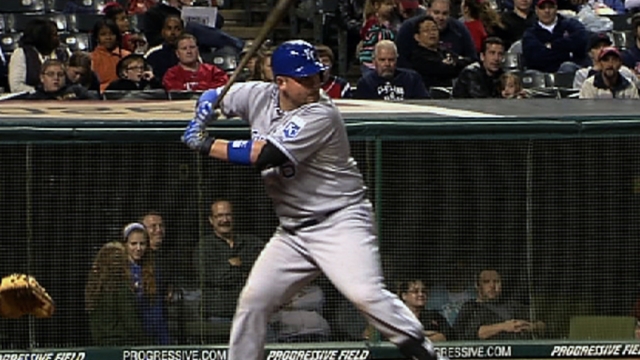 TEMPE, Ariz. -- Manager Ned Yost is still tinkering with the Royals' batting order, but it appears that designated hitter Billy Butler might start the season in the third spot.
Butler most often batted fourth last season. He was in the cleanup spot 102 times, as opposed to 56 starts in the No. 3 position.
On Friday against the Angels, it was Alex Gordon leading off, followed by Alcides Escobar, Butler and Mike Moustakas, with Salvador Perez fifth and Eric Hosmer sixth. The important consideration here is that Moustakas and Hosmer are left-handed batters.
"We're trying to find ways to protect Billy. We're trying to split our lefties," Yost said.
By stacking the heart of the lineup with Butler (right), Moustakas (left), Perez (right) and Hosmer (left), Yost not only is alternating sides of the plate but avoiding one possible strategy by opponents.
If the Royals had Moustakas third, Butler fourth and Hosmer fifth, in a tight situation the other team could bring in a left-handed reliever to face lefty Moustakas, walk Butler intentionally and pitch to lefty Hosmer.
In that event, as Yost pointed out: "You've got one of your best hitters on the club not getting pitched to and you don't want that. You want to stay away from that as much as you can. So that's why we slip Billy into the three out of the four."
He also noted that Moustakas and Hosmer could be switched between the fourth and sixth slots, depending on how they're hitting.
On Friday, he had Lorenzo Cain batting seventh, Jeff Francoeur eighth and Chris Getz ninth. Francoeur could move up if and when he emerges from his spring slump.
"The last week, we're just going to get a feel for things and look at it and see if guys get a little comfortable in those spots," Yost said.
But he saw pluses in the lineup he used on Friday.
"It's got good flow, it's got good sequence on it. I like it," Yost said.
Dick Kaegel is a reporter for MLB.com. This story was not subject to the approval of Major League Baseball or its clubs.