Moose keeps flashing leather to match hot bat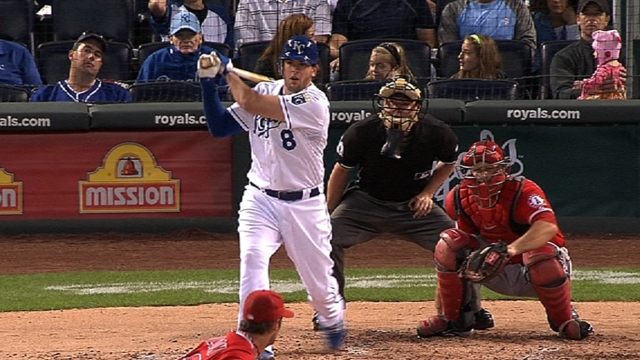 TEMPE, Ariz. -- There hasn't been any falloff in the defensive dash of Royals third baseman Mike Moustakas. Continuing a spring-long trend, he pulled off sterling plays in back-to-back innings against the Angels on Friday.
In the third inning, along with left fielder Alex Gordon and shortstop Alcides Escobar, Moustakas rushed deep into foul territory and caught Vernon Wells' high popup. When Alberto Callaspo tried to advance to second base after the catch, Moustakas quickly fired the ball to second baseman Chris Getz, who applied the tag for a double play.
"It was a foul ball that started off in the stands and the wind was blowing pretty good so it came all the way back in. I didn't give up on it, Gordo didn't give up on it, Esky didn't give up on it and I was just the one that came down with it," Moustakas said.
Both Gordon and Escobar yelled to Moustakas that Callaspo was breaking off first base.
"They helped me out tremendously over there," Moustakas said. "Telling me where the wall's at and letting me know the guy's going, so that's one of those plays that doesn't show up on the scorecard. Our shortstop and our left fielder don't get an assist, but they helped me out."
Moustakas opened the fourth by soaring to his left for a diving stab of Mike Trout's hard line drive.
"I was fortunate enough to catch it and not let my glove rip off," Moustakas said.
In the fifth, he was back at it, making a diving down-the-line stab of Wells' sharp grounder. However, he had to throw from his knees and the ball skipped past first baseman Eric Hosmer. Moustakas was charged with an error that allowed an Angels run for a 9-9 tie. The Royals ultimately won, 13-9.
"Our defense was phenomenal today," starting pitcher James Shields said. "You've got Gordon throwing out a runner at home, and Moose had some really, really good plays that you don't see that often so that was impressive. If we can have that kind of defense all season, we're going to be in business."
Dick Kaegel is a reporter for MLB.com. This story was not subject to the approval of Major League Baseball or its clubs.