Francoeur's long homer adds to minor groove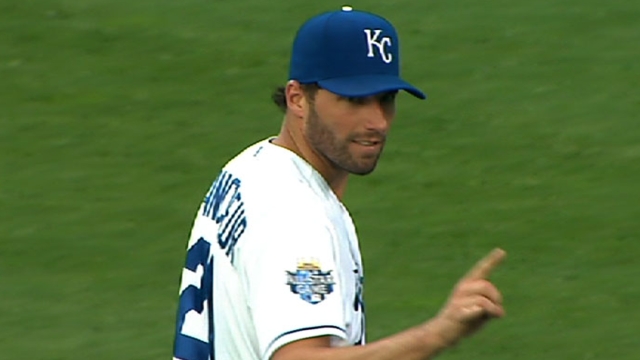 TEMPE, Ariz. -- Eric Hosmer smashed a three-run homer off the Angels' C.J. Wilson in Friday's 13-9 Royals victory but Jeff Francoeur out-distanced him.
After Hosmer's blast sailed over the center-field wall, Francoeur hoisted a solo blast over the towering batter's eye that looms 30 feet or more over center field.
"I got jammed," Francoeur joked.
The two homers, helped by a brisk wind that was blowing out, were part of a seven-run third inning that wiped out a 7-1 Angels lead.
"That was great of the team to do what we did today," Francoeur said. "We got behind a guy like C.J. Wilson and confidence-wise -- it is Spring Training, but to come back the way we did and hit balls hard, I thought that was really good."
Francoeur was asked if he was able to follow the flight of his blast.
"No, but it felt really good, I'll just let it at that," Francoeur said. "I had to show Hoz."
Francoeur, fighting to get in a hitting groove, is 3-for-6 in his last two games, and his average is up to .237.
"I'm starting to see it, so that's the key for me," Francoeur said.
Dick Kaegel is a reporter for MLB.com. This story was not subject to the approval of Major League Baseball or its clubs.