Guthrie doesn't back away from White Sox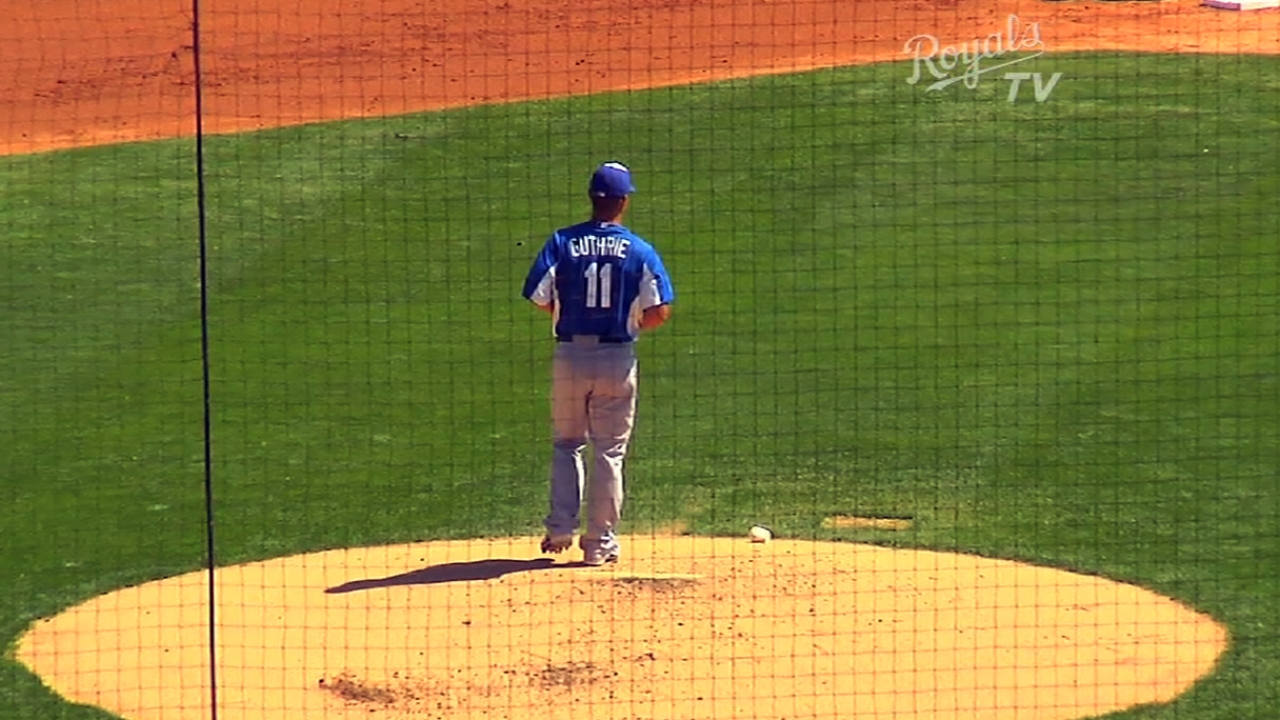 GLENDALE, Ariz. -- A week ago when the Royals faced the White Sox, James Shields opted to skip that assignment and pitch in a Minor League game instead. He didn't want to face the same team that he'd oppose on April 1 on Opening Day at Chicago.
Fellow starter Jeremy Guthrie had the same decision to make on Sunday but opted to face the White Sox.
"Guthrie wants to pitch in a big league game," Royals manager Ned Yost explained. "He doesn't like pitching in a Minor League game. He feels he gets more accomplished in a big league game. He doesn't care if they see him or not. If he executes his pitches, he said, `I don't care.'"
So it was that Guthrie, who'll face the White Sox in the season's third game on April 4, pitched six innings against them at Camelback Ranch and bagged an 8-2 victory.
Guthrie was asked if he'd pitch the White Sox any differently in the real season.
"No, hopefully, I'll get 'em out both times," he replied. "That's the goal. I faced 'em four times in a month and a half last year, so if they don't know what I'm going to throw them by now ... "
So there was no trickery on his part, no subterfuge to confuse the White Sox, no tomfoolery?
"Oh, everything I threw today was the exact opposite of what I'll throw next game," he said, planting his tongue firmly in his cheek. "If I threw a changeup today, it'll be a fastball. If I threw a curveball, it'll be a fastball. If I threw a slider, it'll be a slow curveball. Every single one of the pitches I throw will be the exactly opposite of what I threw today."
OK, OK.
"No, I just try to go out and work and make sure everything feels good and go out there and pitch," he said seriously.
Yost liked what he saw in Guthrie's fifth start, counting a rainout effort.
"He threw the ball great. I guess the best way I could describe it is he pitched," Yost said.
Guthrie insisted that he's very pleased about his training pace.
"I feel like the progression has been really good, both the way I feel as well as the number of pitches. The last two starts, the work in between has been really helpful in feeling comfortable and getting in the groove and throwing the pitches," he said. "So I've felt good about the last two starts and I've got one more and I'll continue to work in the side sessions to get crisper."
Crisper, like the veggies in a refrigerator drawer?
"No crisper like in an oven on broil," he said.
There's no beating him in a word game, either.
Dick Kaegel is a reporter for MLB.com. This story was not subject to the approval of Major League Baseball or its clubs.