KC options Lough, cuts Nady and Sherrill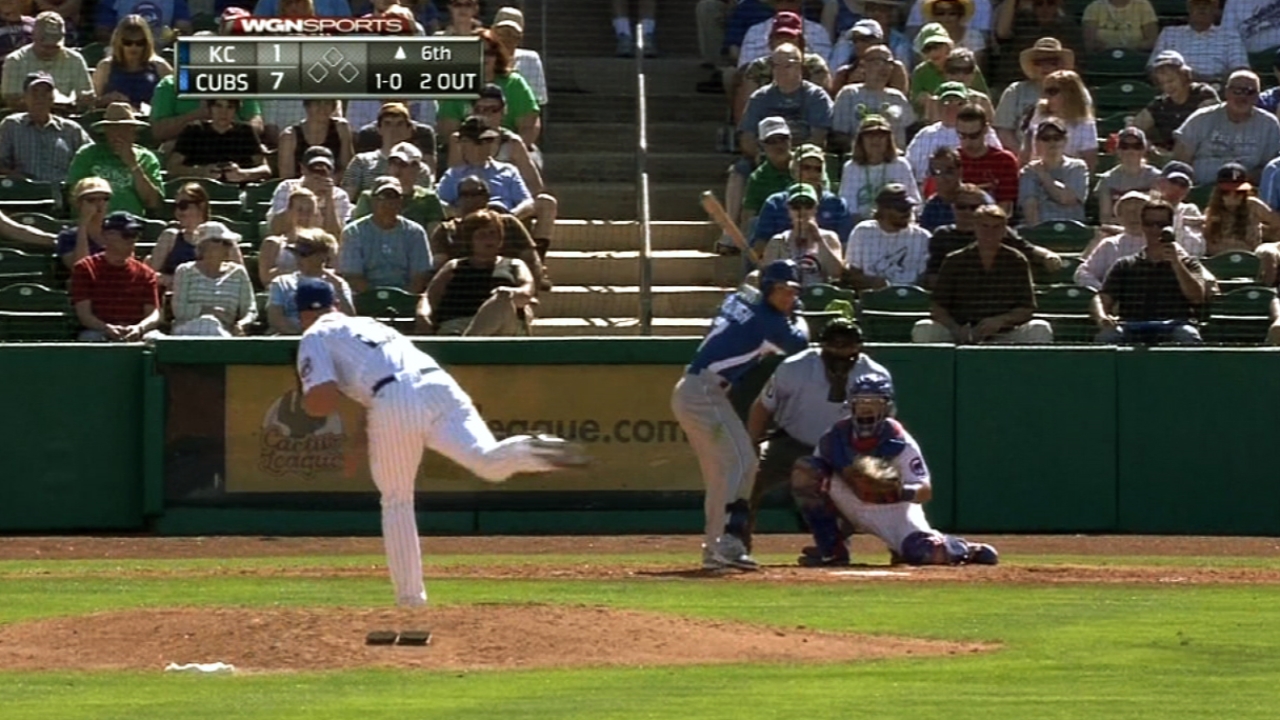 SURPRISE, Ariz. -- Outfielder David Lough is the Royals' leading hitter in Spring Training, but his next at-bats will come for Triple-A Omaha.
Lough, who hit .455 in the Cactus League, was optioned to Omaha after Monday night's game.
The Royals also released left-handed reliever George Sherrill and outfielder Xavier Nady, both of whom were in camp on a Minor League contract.
The moves dropped the camp roster to 33 active players, not including pitchers Felipe Paulino and Danny Duffy, who are recovering from Tommy John surgery.
Lough finished camp with 20 hits in 44 at-bats with six doubles, a triple and five RBIs. Last season, Lough hit .275 in 130 games for Omaha and finished the season with Kansas City, hitting .237 over 20 games.
"I tried to make some adjustment and I feel that just getting some time [in the Majors] last year gave me a lot of confidence going into this year," Lough said. "That's the great thing about it. I'm excited where the team's going and excited about where my career's going. I feel like I'm getting better every day as a player and I won't stop working hard. We'll go down to Omaha and do our thing down there and hopefully I can get back up here with the team and help 'em win games."
Lough's departure leaves Jarrod Dyson as the team's only backup outfielder.
"[Lough] had a great camp," manager Ned Yost said. "But we want him playing every day and we're going to take four outfielders. Couple that with his progression over the beginning of last year to where we are now, he's getting very close. He had a phenomenal camp, he really did a nice job. You can see him getting close to being a solid big league player."
Dyson is one of the Majors' fastest outfielders and can play all three positions.
"Dyson is a huge weapon," Yost said. "There's something to being fast, but Dyson is more than fast -- he's fearless. And that combination is very, very dangerous for the opposition."
Sherrill, 35, is coming back from May 4 Tommy John surgery. He made just two relief appearances for Seattle before undergoing the elbow surgery. He had not appeared in any Spring Training games.
Nady, 34, a right-handed hitter with 11 years in the big leagues, had been hampered by plantar fasciitis during camp. He got into just 13 games and batted .346 (9-for-26) with six RBIs.
Dick Kaegel is a reporter for MLB.com. This story was not subject to the approval of Major League Baseball or its clubs.