Davis feeling good despite sluggish final inning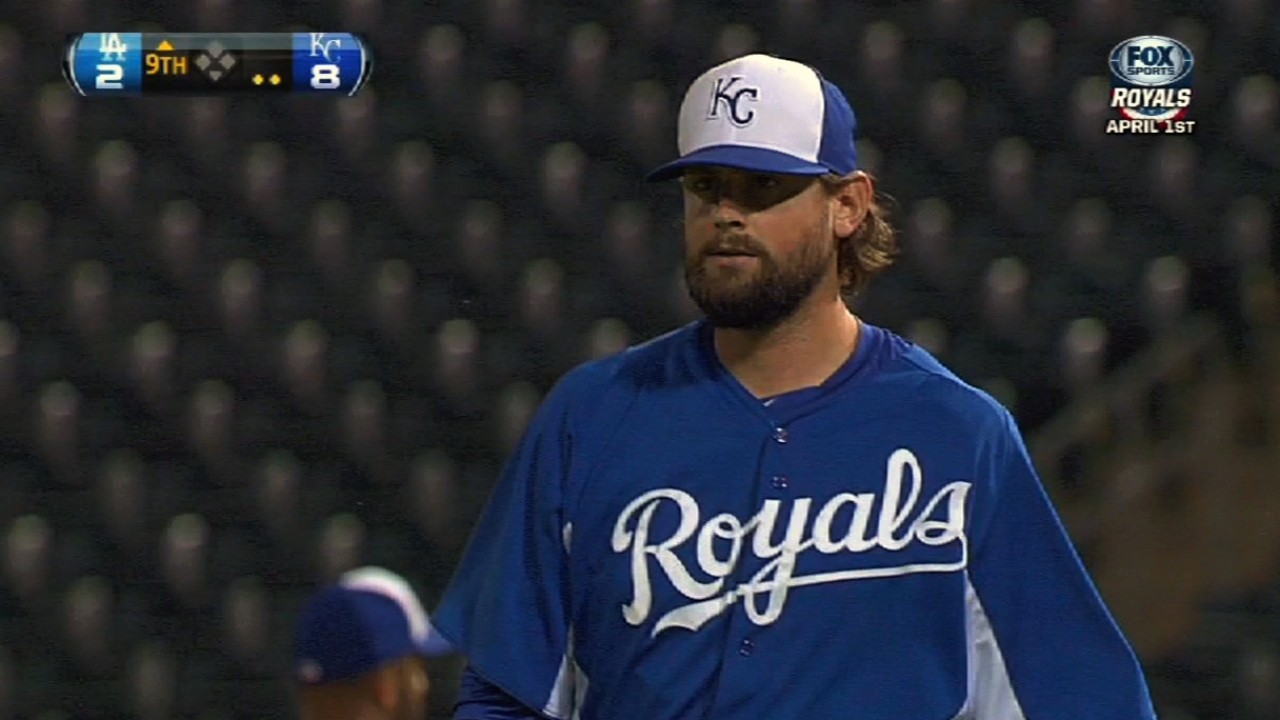 SURPRISE, Ariz. -- Royals starting pitcher Wade Davis got a bit tired in his fifth and last inning of work during Monday night's 8-2 win over the Dodgers, but his right shoulder remained sound.
"I just peeled off a little bit at the end," Davis said. "It took me almost every pitch to the last one to find it again. That long delay from them boys hittin' so much kind of threw me off a little bit."
Davis had to sit through the Royals' four-run fourth inning.
"He started to fatigue a little bit," manager Ned Yost said. "He went to little periods in the game where he was up, up, up and that's more getting into your workload a little bit. He got to 78, 79 pitches and that was good enough for us."
Davis had missed time in camp due to slight shoulder soreness but says he's feeling just fine now. Scheduled to start the season's fourth game on April 5 at Philadelphia, he'll make one more start in Arizona after the Royals break camp on Friday.
"I'll have another start on the Minor League side the day after they leave," Davis said. "But I felt pretty good. We executed some pretty good pitches. The fastball was so-so but it'll be there."
Yost liked Davis' outing but was even more impressed with two of his relievers, J.C. Gutierrez and Luke Hochevar.
"I thought the eye-poppers tonight were Gutierrez and Hoch -- double-eye-popping with Hoch," Yost said. "I knew that once he got into that role and got comfortable that he would excel."
Hochevar, moving from the rotation to a relief role, worked the ninth inning with a groundout and two strikeouts.
"He's got his fastball up to 97 mph, he's got a phenomenal breaking ball that he's throwing for strikes and he's super on the attack and that's great news for the Kansas City Royals," Yost said.
Hochevar said he's feeling very comfortable in his new role.
"The transition hasn't been forced. I haven't gone down there and sat and said, 'I just need to do this and this and this,' " Hochevar said. "It just kind of happens. You get that shot of adrenaline and you know you're going to face them one time and so you don't have to worry about facing them multiple times or established a pitch. So you just go out there and give 'em your best stuff."
Gutierrez had two baserunners, one who reached base on a strikeout and wild pitch, but pitched out of the jam with a groundout and two strikeouts. He's battling to win the final bullpen opening.
Dick Kaegel is a reporter for MLB.com. This story was not subject to the approval of Major League Baseball or its clubs.