Hayes bolsters backup catching chances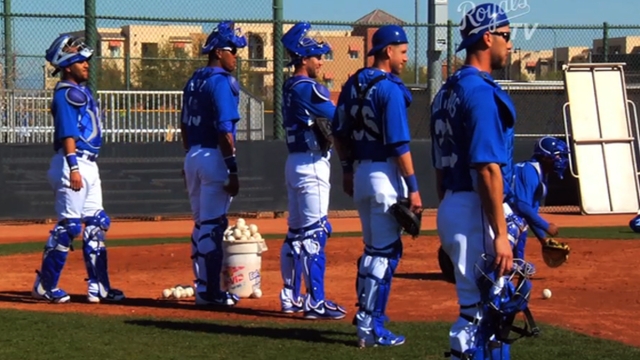 PEORIA, Ariz. -- The scrap over the Royals' backup catching job is likely to go down to the wire, and Brett Hayes certainly made it interesting Tuesday.
Hayes went 4-for-5 with a triple and two RBIs in an 11-6 win over the Mariners, boosting his average to .306 (11-for-36) with 10 RBIs. That compares favorably with the .313 (10-for-32) with six RBIs by rival George Kottaras.
"Four hits, he swung the bat well and handled the pitching staff real nicely," manager Ned Yost said.
Both catchers are out of options, which means the loser in the competition will be exposed to waivers and could wind up elsewhere.
Hayes, 29, was claimed off waivers from the Marlins, and his strength is regarded as defense. Kottaras, 29, was claimed off waivers from the Athletics, and his strength is seen as offense. But Yost says he has seen each catcher improve in his supposed weaker category.
While Jarrod Dyson will be the backup outfielder, Yost has not announced his two backup infielders, with Elliot Johnson, Miguel Tejada and Irving Falu still in camp.
Tejada played the entire game Tuesday and was 3-for-5 with two doubles and two RBIs. He is hitting .333 but has been limited to 13 games because of playing for the champion Dominican Republic in the World Baseball Classic.
Falu, playing for runner-up Puerto Rico, was gone for the same period. He is hitting .250, also in 13 games. Johnson has a .289 mark in 23 games.
"We're getting down to the end and we have to make some decisions, and they're going to be tough decisions," Yost said.
Dick Kaegel is a reporter for MLB.com. This story was not subject to the approval of Major League Baseball or its clubs.