Nady provides versatility, right-handed power bat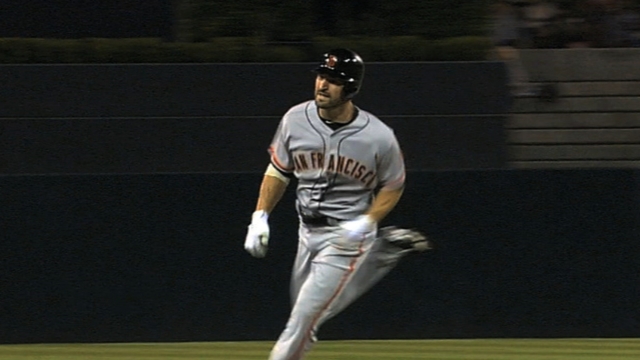 SURPRISE, Ariz. -- Xavier Nady's return under a Minor League contract gives the Royals a possible right-handed power source at the corners of the outfield or infield.
Nady, 34, will start the season with Triple-A Omaha and will be one of several players who'll move between positions as the Royals put more emphasis on versatility.
"We like Nady because he's a multiple position guy, a right-handed bat with power that can play first and third," manager Ned Yost said.
He could provide a right-handed alternative to the left-handed-hitting regulars at those spots, Eric Hosmer and Mike Moustakas. Nady has even more experience in the outfield, either right or left.
He won't be the only player switching positions for Omaha.
"Everybody's going move around," Yost said. "Like even with Gio [Johnny Giavotella]. He's going to play some second, some third, some outfield."
The idea is to provide more strategic options.
"Versatility is important," Yost said. "You look at us and it opens up a whole new realm of possibilities."
At the Major League level, he sees the versatility value of backup players Elliot Johnson and Miguel Tejada. That will enable Yost to utilize swift Jarrod Dyson as a late-inning pinch-runner for almost anyone in his lineup.
"Because I've [got] Elliot Johnson that can play anywhere in the outfield, anywhere in the infield, I've got Tejada that can play just about anywhere in the infield so I don't feel like I'm losing defensive coverage because I've got to pinch-run somebody to take a chance to win a ballgame in the ninth," Yost said.
"I can use Dyson [as a pinch-runner] and then [have] the ability to put a defender in the field, and I don't feel like we're going to lessen our defense if it doesn't work out."
Dick Kaegel is a reporter for MLB.com. This story was not subject to the approval of Major League Baseball or its clubs.