Butler has adventurous day at first, at plate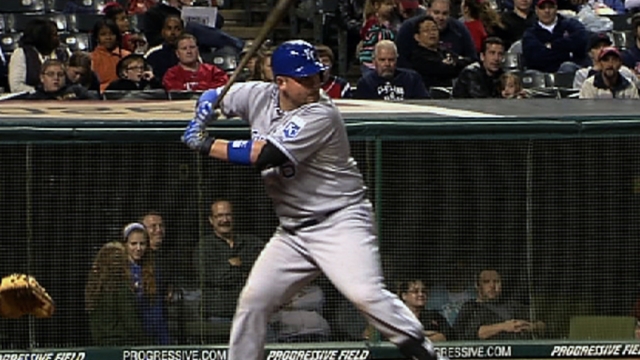 GOODYEAR, Ariz. -- The good news when the two giant-sized first basemen collided on Thursday was there were no injuries.
The Reds' Joey Votto socked a liner to the left-field corner in the first inning, and as he was rounding first base, plowed into Royals first baseman Billy Butler and both went tumbling. The umpires ruled obstruction against Butler and awarded Votto second base for a double. Butler begged to differ, noting that the contact occurred far out of the base line, rather near the outfield grass.
"There's got to be a stopping point," Butler said, noting that Votto rounded first base abnormally far. "Never did I make a move to get in his way, but it's the defender that gets the obstruction.
"When it was hit, I actually went toward the outfield to clear more of a lane. I was watching the ball and, usually what happens, is I wait for him to go by and I trail him to second. Votto was watching the ball and wasn't even looking where he was running."
Votto didn't go past Butler, but into him.
That wasn't Butler's only conflict with the rule book. In the fourth inning, he took a strike down the middle to allow Elliot Johnson to steal second base. But the umpire interfered with Reds catcher Ryan Hanigan's throw and, when things were sorted out, the play was called dead and Johnson had to return to first. Initially, the press box was informed that Butler committed the interference.
Nope, Butler told reporters. It was the ump's fault and, in Butler's view, Johnson should have been given the stolen base because he was already there. Didn't happen.
"He has to go back to first base and I still take the strike," Butler said, looking perplexed.
At least nobody got hurt.
Dick Kaegel is a reporter for MLB.com. This story was not subject to the approval of Major League Baseball or its clubs.