Hosmer returns to lineup Sunday; Moose gets breather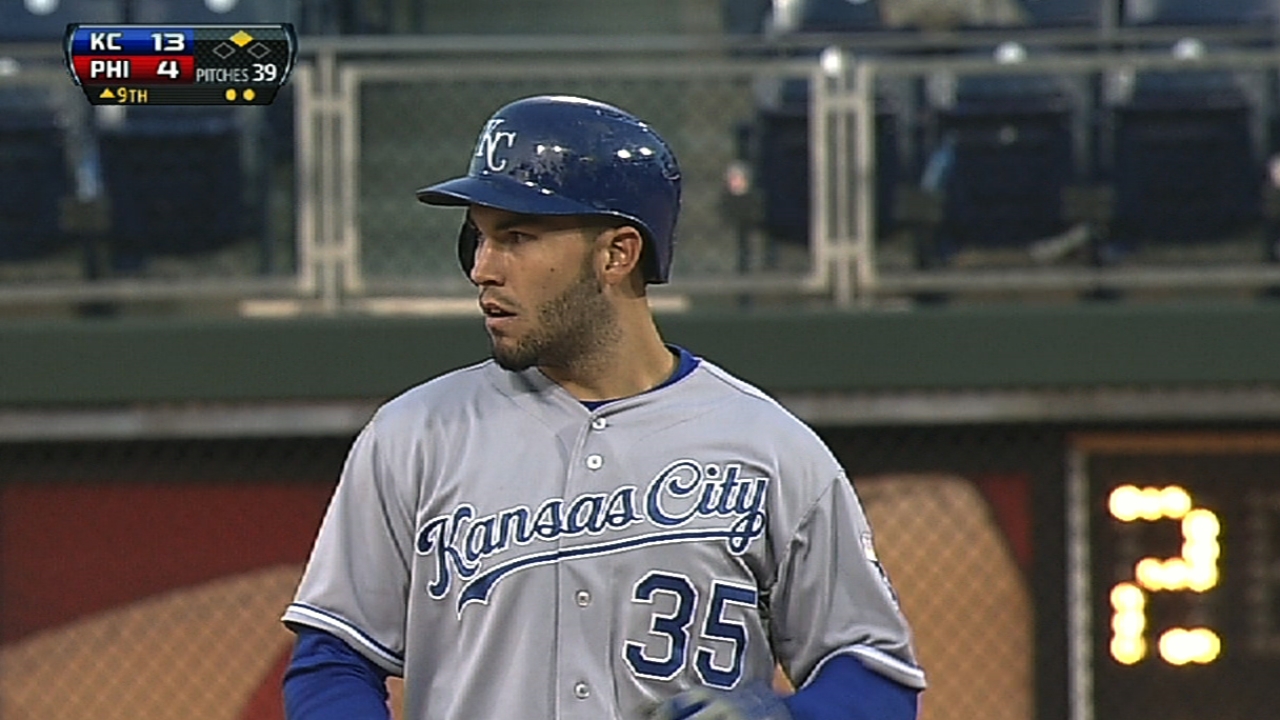 KANSAS CITY -- First baseman Eric Hosmer was back in the Royals' lineup on Sunday, but third baseman Mike Moustakas was out.
Hosmer sat out the first two games of the Blue Jays series to rest a tight right quadriceps muscle. It first bothered him during the World Baseball Classic in March, and manager Ned Yost also gave him breaks during Spring Training.
"Ned and I had talked about it in Spring Training, that he was going to give a couple of days early in the season just so that, in the cold weather before the summer starts, we can get it fully healed and I can get back in there every day," Hosmer said before Sunday's game.
"Cold weather is not the best thing for it and it's an injury that usually takes four to six weeks to fully recover. That's to get it back to 100 percent and it feels good, but we wanted to give it a couple days to rest it just so there are no setbacks later in the season."
Moustakas, who began the season as the No. 4 hitter, was dropped to fifth and then sixth in the previous two games. Finally, on Sunday with his average at .158 after a 0-for-13 skid, he was on the bench.
"There's never been anybody more desiring of victory than him," Yost said. "This kid lives to win baseball games and he lives to be productive, offensively and defensively, and when he starts to struggle a little bit he goes that extra distance to try to keep that from happening. He's a phenomenal competitor, but every once in a while when he gets struggling, it's good to take a step back."
Sitting on Sunday affords Moose two days off, because the Royals are off Monday before a two-game series at Atlanta.
"Let him crank it back up at Atlanta on the road," Yost said.
Elliot Johnson took over for Moustakas at third base.
Right fielder Jeff Francoeur, down to .238 after a 1-for-13 slide (the lone hit was a home run), also was out of Sunday's starting lineup. Lorenzo Cain moved over to right and Jarrod Dyson was in center field, getting in the lineup two days in a row.
Dick Kaegel is a reporter for MLB.com. This story was not subject to the approval of Major League Baseball or its clubs.