Dyson, Cain express gratitude to Jackie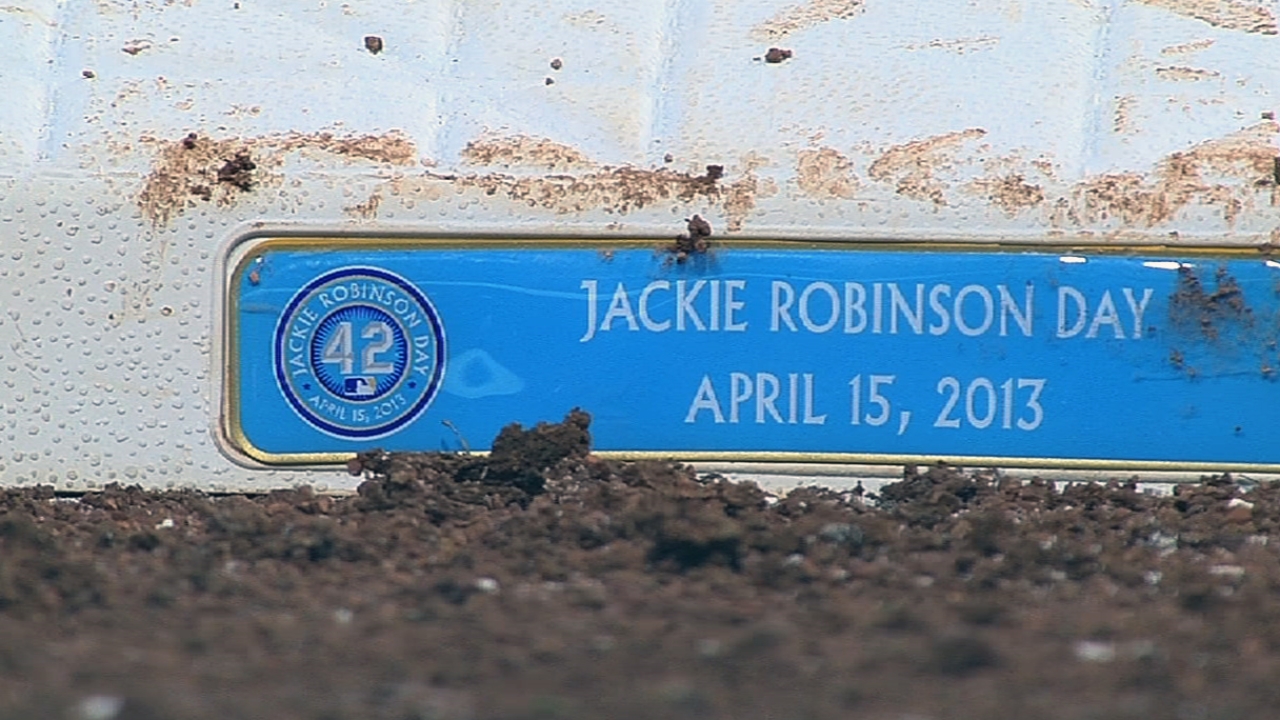 ATLANTA -- Every player and coach wore No. 42 Tuesday evening at Turner Field to commemorate Jackie Robinson's legacy as the Royals took on the Braves. In 1997, under the direction of Commissioner Bud Selig, Robinson's No. 42 was retired across all of Major League Baseball in an unprecedented tribute.
For Royals outfielders Jarrod Dyson and Lorenzo Cain, donning No. 42 hits close to home.
"It means a lot," said Cain. "We got a chance to go to the premiere [of '42'] and get a little insight of what he went through to give us a chance to go out and play this great game of baseball. I'm glad that he was able to go out and do such a thing, and I'm going to try to represent well today on the field."
"It's a blessing to be able to put on a guy's jersey that had to go through a lot to get into baseball, and not just for himself but for the people behind him," said Dyson. "I just want to give thanks to him for going through the things he had to go through on and off the field just to stay on the field. I'm sure it was tough, and I'm sure every African-American that is playing the game of baseball today really appreciates that. It probably helped more than just baseball. It helped all the sports.
"It helped everybody," Dyson added. "You have people coming from all countries to unite as one. It's a great thing for baseball to be able to look on a team and see Latin guys, Mexican guys, black guys, white guys all playing as one. It's truly a blessing. It's something great to be a part of."
Attending the screening of "42" reminded everyone of the extent of Robinson's sacrifice and what a special person he was.
"I didn't get a chance to meet him, but I really wish I could have had the chance to shake his hand and just get to sit down and talk with him," said Cain. "The things that he did and the things that he went through were huge for a lot of African-Americans today. I'm glad that he was able to do that and to allow us to go out and represent on the field."
The Royals will commemorate Robinson again on Tuesday when they host the Detroit Tigers. He played his one year in the Negro Leagues in Kansas City as a member of the Monarchs.
Jon Cooper is a contributor to MLB.com. This story was not subject to the approval of Major League Baseball or its clubs.