Smith warmed by return to bullpen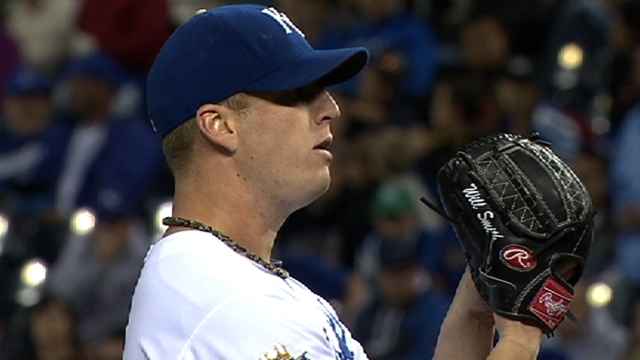 BOSTON -- Left-hander Will Smith returned to the Royals on a cool but sunny Sunday, the 26th player permitted for the doubleheader against the Red Sox. He was warmed both by getting back to the Major Leagues and by leaving chilly Omaha behind.
"It's cold down there, I know that," Smith said. "This is summertime compared to that. It's snowing down there and everything, and we're getting snowed out."
Smith pitched in three games for the Storm Chasers.
"I threw the first game against Albuquerque at home, and it was the nicest day. It was 41 [degrees], I want to say, and the next day we got snowed and rained out, and the next day we got snowed out," he said. "So we had two off-days, but everybody stayed inside and didn't move."
On Sunday, Smith joined fellow lefties Bruce Chen and Tim Collins in the bullpen. Going into the doubleheader, the Red Sox were vulnerable to left-handed pitchers, batting just .200 against them, compared with .282 versus righties.
"He's a guy that gives us another left-handed arm that we can go long or we can go short with," manager Ned Yost said.
Dick Kaegel is a reporter for MLB.com. This story was not subject to the approval of Major League Baseball or its clubs.