Yost trying to get Tejada, Johnson into mix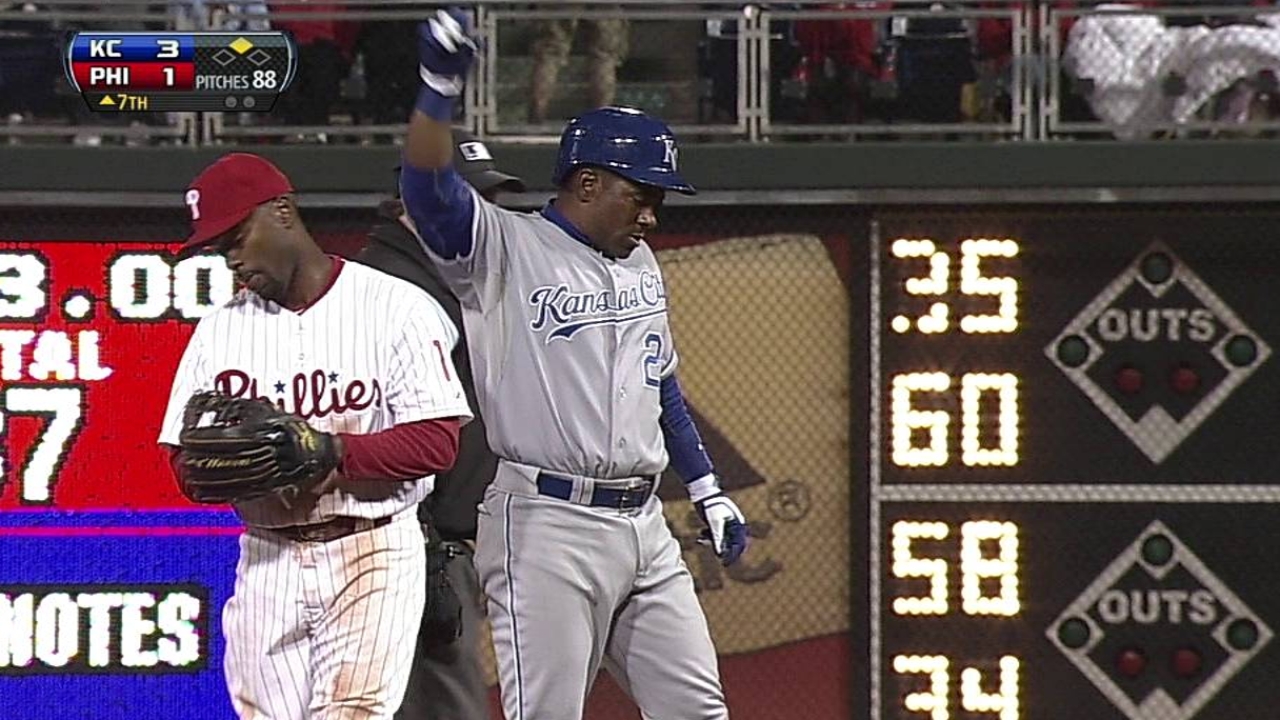 KANSAS CITY -- Before rain caused a postponement of Friday night's game, Royals manager Ned Yost had written two different names into his lineup for the scheduled game against the Indians: Miguel Tejada at third base and Elliot Johnson at second base.
They replaced a couple of left-handed batters, Mike Moustakas and Chris Getz respectively, to give a more right-handed slant against the Indians' lefty starter, Scott Kazmir. Although Moustakas has a .154 average, that's not the primary reason that he was taken out of the lineup.
"If I had my druthers, I wouldn't want Moose sitting today, because I thought he had a real good day yesterday and he's starting to get where he needs to be," Yost said. "But with the lefty going today it gives us an opportunity to get Tejada and Johnson some at-bats."
Kazmir was held over as Saturday's starter, but no word on if Yost would alter his lineup.
Previously, Tejada had played in just five games, going 2-for-9. In his prime, he played all 162 games in six seasons. Now it's entirely different.
"I prepare every day for any moment that they might need me," Tejada said. "Right now, the team is doing real good. We're in first place and everything has been good. I'm trying to help the other guys in the dugout, but when the manager needs me, I'm prepared."
Johnson had appeared in eight games, going 2-for-13, but coming off the bench is something he's done most of his career.
"It's hard to be exactly perfect game-ready, to feel you haven't missed a beat," Johnson said. "It doesn't happen a whole lot like that."
During a game, the reserve players can keep ready by taking swings in the batting cage behind the dugout. But that's not like being in the game.
"It's 100 percent different," Johnson said. "You don't know what's coming and they throw harder, the ball's not straight, etcetera, etcetera. But we've done it plenty; you just want to get a strike and put it in play."
Yost didn't utilize Tejada in Thursday's 10-inning, 8-3 victory at Detroit, but came close to pinch-hitting him for Jarrod Dyson, then the designated hitter, in the ninth inning with two outs and two on. But with the score, 3-3, and extra innings looming, he decided against it.
"Because then I'm totally out of players," Yost said. "I thought, 'Well, can I do it? And then if something happens, I can insert him into the game and have my pitchers hit?' I almost went that way but, you know what? I had a little feeling -- [Dyson] has really been swinging good in early BP, really swinging good. I felt like he was going to get a hit."
As it turned out, Dyson flied out to left.
Dick Kaegel is a reporter for MLB.com. This story was not subject to the approval of Major League Baseball or its clubs.