Smith gets the call to start night half of doubleheader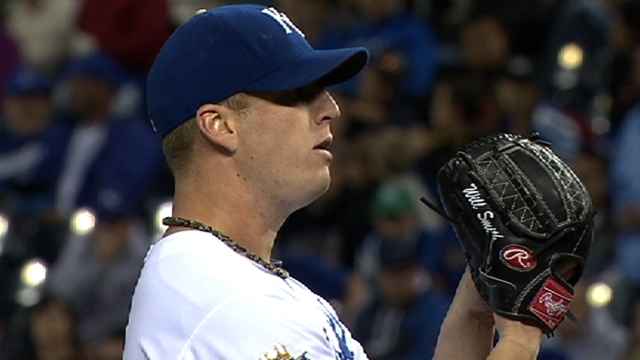 KANSAS CITY -- He's not Billy Sunday, the 1880s National League outfielder who became a famous evangelist, but the Royals have their own Will Sunday.
OK, it's really Will Smith, the left-handed pitcher who's being called up as the 26th player allowed for Sunday's doubleheader. He'll start the night game of the split twin bill against the Cleveland Indians at Kauffman Stadium.
Smith was also the 26th man last Sunday when the Royals played two games at Boston. He sat in the bullpen, but wasn't used in either game.
So this will be the first Major League game this year for Smith, who made 16 starts for Kansas City and finished with a 6-9 record and a 5.32 ERA last season. He faced the Indians three times with a 2-1 record and a 5.63 ERA. The victories came 8-2 on May 29 when he went six innings and 5-3 on Sept. 22 when he went seven innings, giving up two runs each time.
Jeremy Guthrie will start the afternoon game of the first separate-admission, day-night doubleheader in Royals history. Being skipped is right-hander Luis Mendoza who, instead, will start on Wednesday night against Tampa Bay.
"Mendoza was supposed to throw the second game of this series," manager Ned Yost said. "If Mendoza was going to throw Sunday with Guthrie, that puts me in a bind on Wednesday."
He could have started Ervin Santana on three days' rest instead of the usual four, but decided against that as well as dipping into the bullpen.
"I could use Bruce [Chen] or [Luke Hochevar] but they're not built up for that right now," Yost said. "So we'll take advantage of the 26th man."
For Omaha this year, Smith is 2-1 with a 2.45 ERA in four starts. He has 31 strikeouts against six walks in 22 innings, allowing 22 hits including one home run.
"He's been throwing well at Triple-A and they've got a bunch of left-handed hitters over there so it just all works out. Plus I feel good about bringing Will up and starting the game," Yost said.
"I thought he had a real good spring. If we hadn't have done what we did through the trades and signing Guthrie, he would've stood a real good chance of making this rotation. But there's just no room for him with the guys we've got."
Except on Sunday.
Dick Kaegel is a reporter for MLB.com. This story was not subject to the approval of Major League Baseball or its clubs.