Yost enjoying new rotation of his pitchers
Royals manager adjusting relief strategy with starting staff's success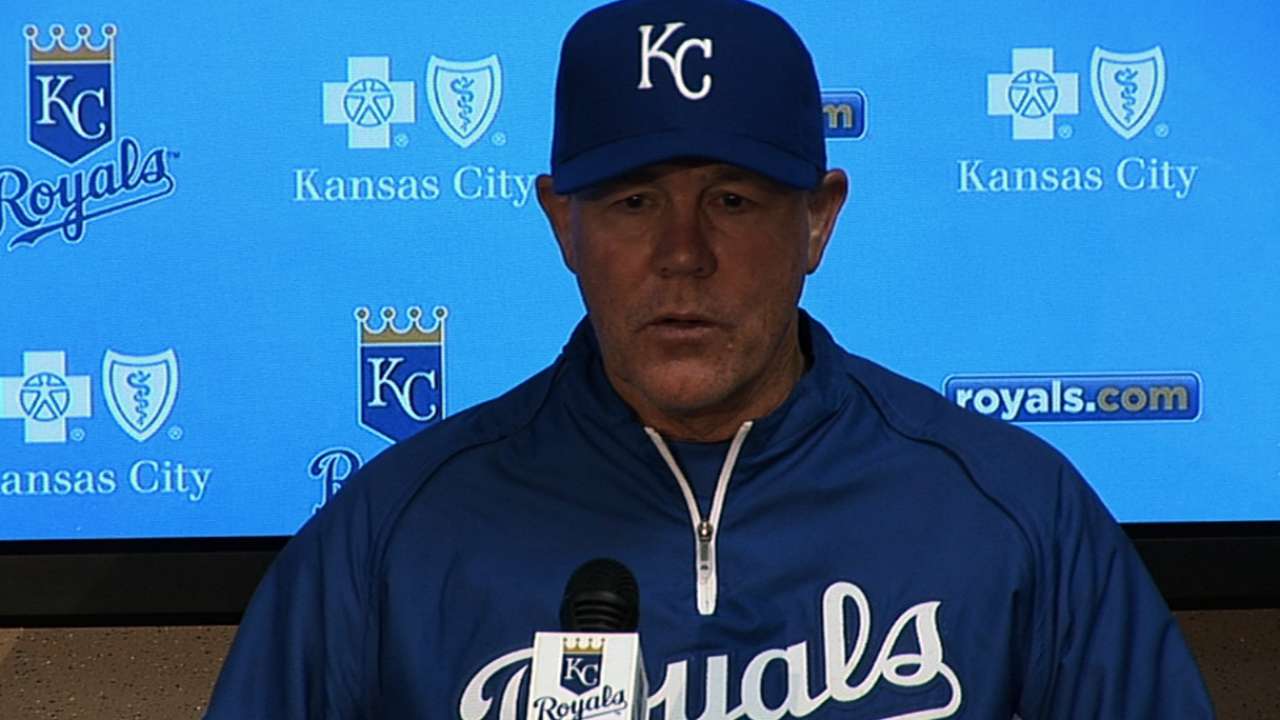 KANSAS CITY -- Who says an old manager can't be taught new tricks?
Ned Yost's new starting rotation is teaching him something almost every day. In the Royals' first 22 games, his starters have gone six or more innings 17 times. In eight of those games, the pitcher has logged at least seven innings, and four times he's gone at least eight innings.
That translates to a lot of no action on the bullpen mound, something that was rare in recent seasons.
"It's a whole new learning process for me," Yost said. "Last year, you get past the fifth and you start looking at matchups [opposition batters against your relief pitchers]. Now with these guys, you let 'em go. You don't worry about matchups unless they're just getting absolutely hammered or until the 90- or 100-pitch mark."
On Saturday night, Yost was fully prepared to send Ervin Santana out for the eighth inning with a 2-0 lead over the Indians -- until the Royals spent so much time getting a third run in their half of the seventh.
"Last year, we probably wouldn't have let our pitcher go out with 97 pitches," Yost said. "Santana was going back out easy. You've got to let those guys do their job. They're good. You want to make sure that you maximize their effectiveness on a given night."
But after an inning in which the Indians made four pitching changes and a lot of pitches were thrown, Yost changed his mind. The inning took so long that Santana went into the cages behind the dugout to throw in an attempt to stay loose. Then, a couple more batters came up and Yost decided to bring in Kelvin Herrera for the eighth.
But Yost is enjoying his new approach with his durable starters. This was his thinking on Santana after six innings of Saturday night's 3-2 win:
"In the seventh, I'm sending him out and he's not coming out of that game unless he gives up the lead," Yost said. "I mean, he's throwing good, his pitch count was really good and I wasn't going to go get him.
"In the eighth, it's a different story. I'm not going to put him in a position to lose the game in the eighth inning. I was going to let him go out but, if two guys got on, I was going to bring in Herrera."
Dick Kaegel is a reporter for MLB.com. This story was not subject to the approval of Major League Baseball or its clubs.