Tejada excelling as mentor, part-time player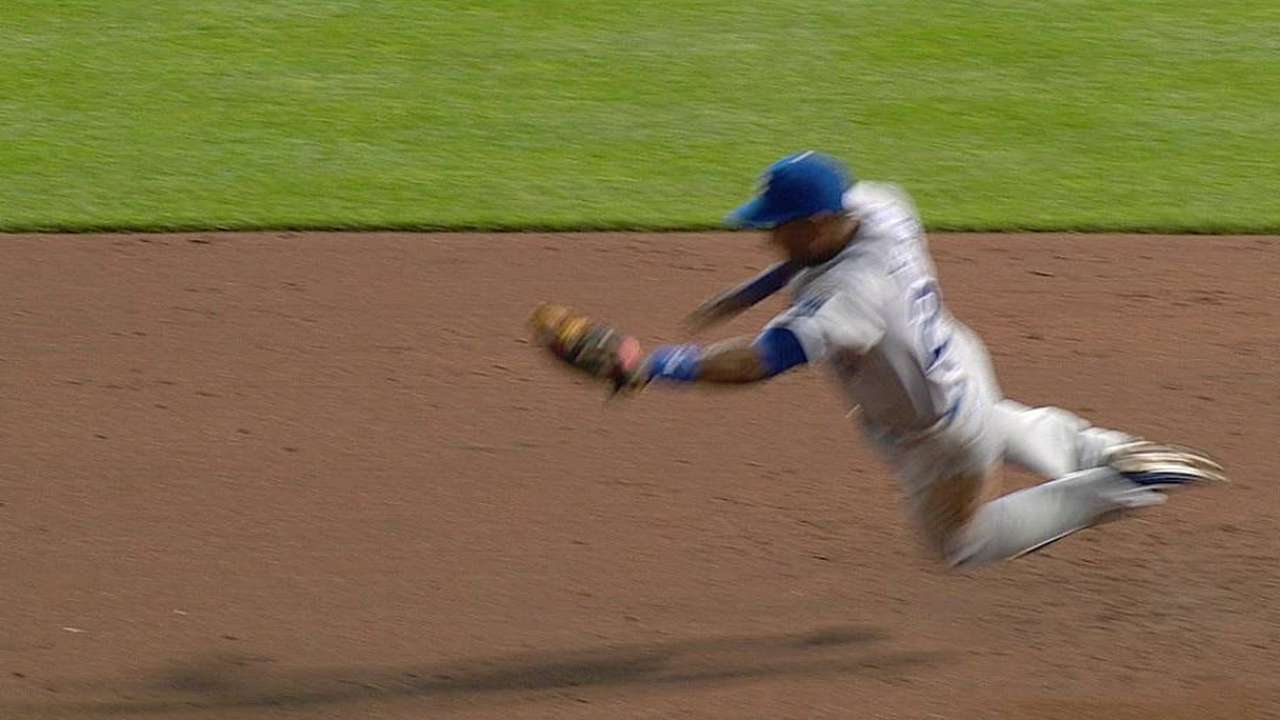 BALTIMORE -- Miguel Tejada made Baltimore fans remember his glory days with the Orioles as he returned with the Royals on Tuesday night.
Ned Yost slotted Tejada at third base instead of Mike Moustakas for three reasons.
"He had a really good game the other day, it's a lefty and it's Baltimore," Yost said.
Tejada was a star for the Orioles in 2004-07 and came back to play again in 2010. He marked this return by smacking two singles, scoring two runs and making a dazzling play in the field. That came in the third inning when he speared Adam Jones' sharp bouncer, hit the dirt as he spun around and fired a throw to first baseman Eric Hosmer. Jones was out to end the inning.
"Tremendous," pitcher Ervin Santana said. "He played like a Gold Glove."
Tejada raised his average to .368 in nine games and, at age 38, relishes his role as a part-time player and mentor to younger players.
"It's good for me. I always liked to help everybody, even when I played every day," he said. "Now I have time to see each one of the young guys and talk to them about how to be in the big leagues for so long and be doing good. This group of guys wants to learn and they listen."
Before the Royals' 4-3 loss on Tuesday night, Tejada said he was pleased to see the Baltimore club playing well.
"They're doing great, and I'm really happy for them, especially those guys that were playing with me here. They grew up under my wing," he said.
In addition to utilizing Tejeda's right-handed bat against Orioles left-hander Wei-Yin Chen, the Royals had switch-hitter Elliot Johnson at second base instead of left-handed-hitting Chris Getz.
"I'm just going keep him in the mix," Yost said. "I want to get Getzy going a little more offensively. He's not swinging the bat like I know he can. You take your opportunity when guys aren't swinging well to get your bench guys in, because when they do swing well, they're not going to get in."
Johnson also had two hits and is 4-for-10 in his last three games. His average is up to .259.
Getz, .216 overall, was in a 4-for-34 slide in his last 12 games. Moustakas was up to .198 after going 8-for-26 on the homestand, but he flew out to end Tuesday night's game and saw his average dip to .196.
Dick Kaegel is a reporter for MLB.com. This story was not subject to the approval of Major League Baseball or its clubs.