Yost mulling lineup changes to spark offense
Royals entered Wednesday's contest 12th among AL teams in runs scored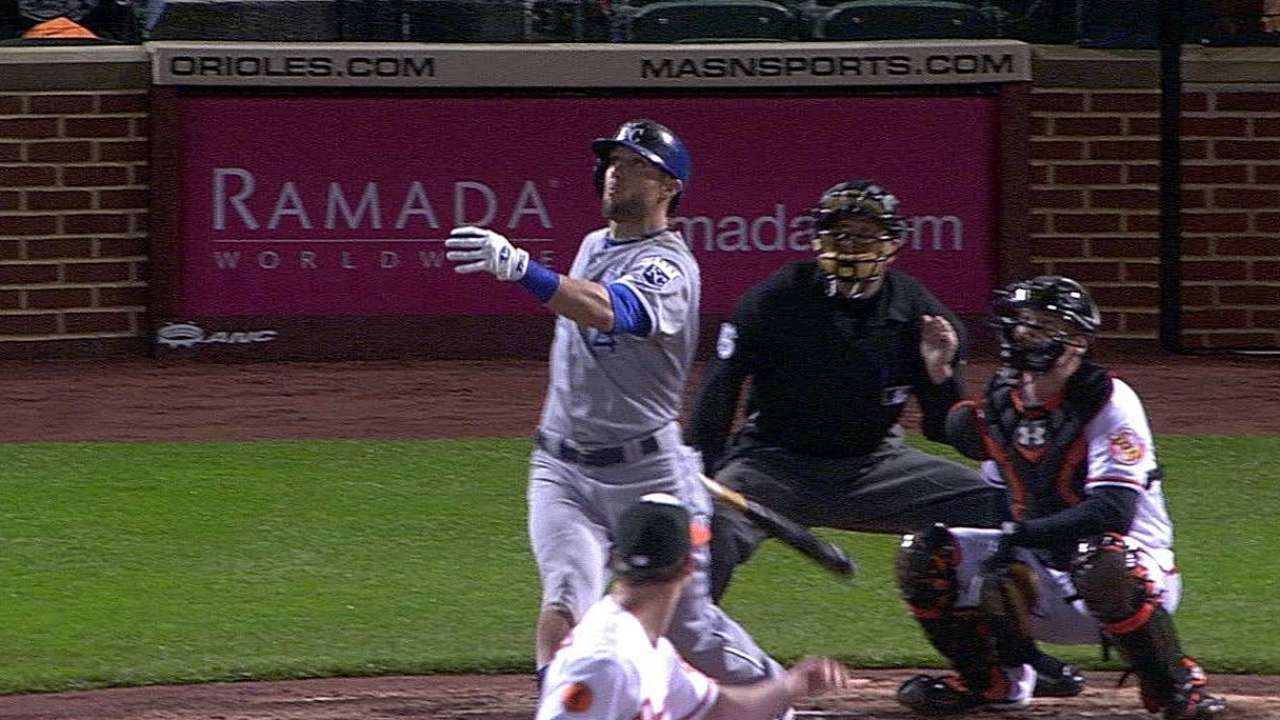 BALTIMORE -- The Royals' offense hasn't been quite as productive as manager Ned Yost had expected and he's pondering some lineup revisions that might help.
"I've got a lot of confidence in this offense. You just have to wait it out. I'm looking at different scenarios," Yost said.
For Wednesday night's game against the Orioles, he took slumping Jeff Francoeur (1-for-16) out of the lineup, moved Lorenzo Cain to right field and brought Jarrod Dyson off the bench to play center field.
Cain, ranking sixth among American League batters, has been among the Royals' most productive hitters. Dyson, in addition to possessing great speed, was hitting .300 in a reserve role.
Yost also had Elliot Johnson, in a 5-for-10 spurt, back at second base and used George Kottaras at catcher to give Salvador Perez a break. Mike Moustakas was back at third base after Miguel Tejada gave him a night off.
"For the first time, at least in my mind anyway, I've got guys on the bench that are really good players that need to be involved more, too," Yost said. "Dyson, Johnson, Tejada, Kottaras -- they're all good players. So I need to juggle it and keep everybody going, everybody involved."
Going into the second game at Baltimore, leadoff batter Alex Gordon was leading the Royals with 22 RBIs and four home runs, so Yost was mulling a change for him.
"I'm thinking about maybe putting Alex back into [No.] 3. And I'm just trying to look at it and see what benefits us the best," Yost said.
That likely would mean moving Billy Butler into the fourth spot and Eric Hosmer fifth. And who'd lead off? Yost mentioned Alcides Escobar, Cain and Dyson as possibilities. But don't write down any lineups just yet.
"I've got about nine different scenarios I'm looking at," Yost said. "I'm not big on changing the lineup from day to day. You've got to have some movable parts, but the least amount of movable parts the better for me."
So far this year Gordon has batted first and Escobar second in every game and Butler has been third in every game but two (in National League cities where there's no designated hitter). Hosmer has batted fourth most often.
"I'm talking to the coaches, thinking it through," Yost said. "I don't want to do anything rash. That's the last thing you want to do -- is do something in a hurry just to do it. It's something that's got to be well thought out."
The Royals ranked third in AL team average, but 12th in runs scored.
"We're playing good baseball and the offense has been fine," Yost said. "Do we want more offense? Sure we do, everybody wants more offense, but I've got a bunch of confidence in this offensive unit and I think they're going to score a bunch of runs."
Dick Kaegel is a reporter for MLB.com. This story was not subject to the approval of Major League Baseball or its clubs.