Yost shuffles batting order, and Royals respond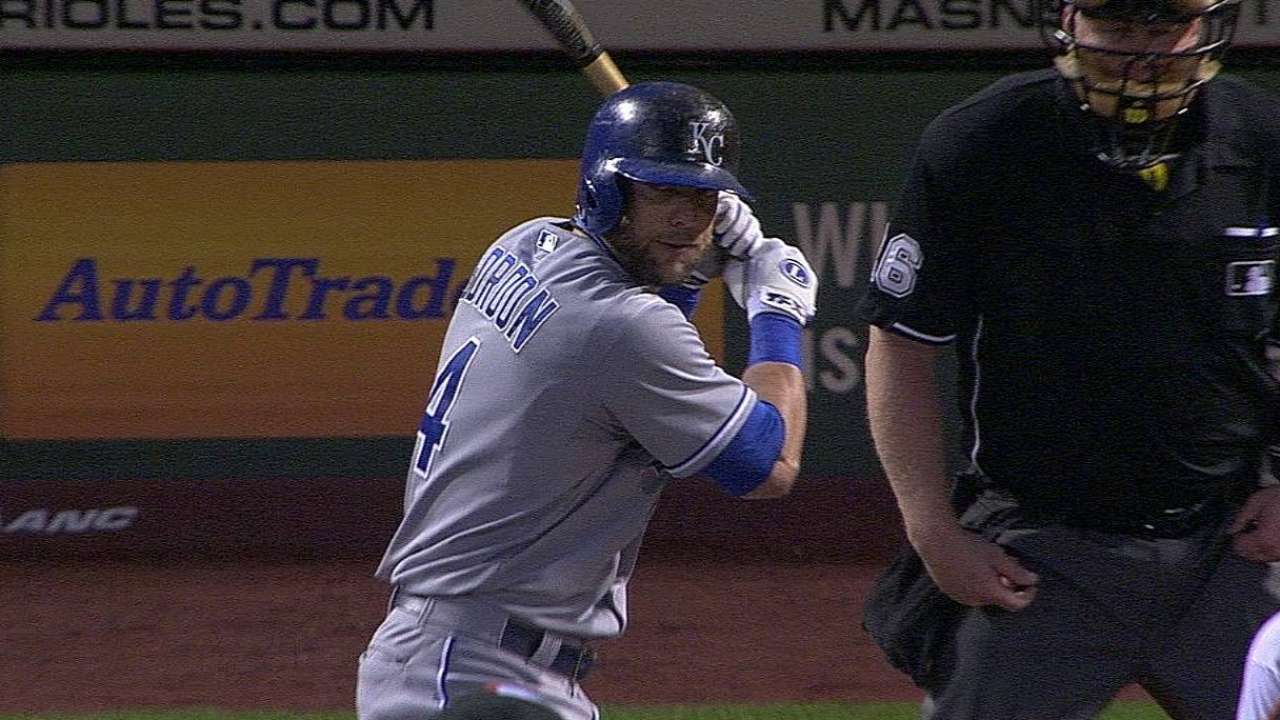 BALTIMORE -- It didn't take manager Ned Yost long to act on his idea to move leadoff hitter Alex Gordon into the third spot in the Royals' batting order. Twenty-four hours after Yost said he was considering it, it was done.
So Gordon was slotted No. 3 against the Orioles on Thursday night. Alcides Escobar moved to the top from second, and Lorenzo Cain moved from the lower portion to No. 2.
Billy Butler moved from third to No. 4, and Eric Hosmer dropped one slot to No. 5 followed by Salvador Perez, Mike Moustakas, Jeff Francoeur and Chris Getz.
For the first try, things could not have gone better, as the Royals rolled to a 6-2 victory over the Orioles on Thursday night.
"It looked good," Yost said. "I mean, we broke out and hit some homers tonight, which was good."
Gordon and Hosmer both hit two-run homers, and Moustakas had a solo blast. It was the Royals' first three-home-run game of the season.
"I don't think it matters where anybody in this lineup hits," Gordon said. "I think we're going to stay the same hitter whether it's one through nine. I think we've got enough flexibility with every hitter that we can make some adjustments. Our offense was struggling, and we needed to change it up so that's what Ned did."
The hope, of course, was that this lineup would generate more runs that the previous configuration, which held through most of the 30 previous games.
"Did OK with it, did all right with it," Yost said before Thursday's game. "I just think the most important two spots we have in the lineup now should be manned by Gordy and Billy, three and four. Everything else is kind of interchangeable, matchups, who's producing.
"We wanted to give Esky a shot at the [No.] 1; he was successful at it in winter ball so he's got some experience with it. It makes sense. He's a kid that can bunt, he can steal, he can do some things."
Escobar batted leadoff in the offseason for Cardenales de Lara in the Venezuelan League, where he hit .348 in 26 games with a .398 on-base percentage. He's batted first just four times in the big leagues, twice for the Royals and going 3-for-10.
Escobar's reaction when Yost approached him with the idea?
"I'll do the best I can. I've done it before. Let's do it," Escobar said before Thursday's game.
Escobar said that as a leadoff batter in Venezuela he looked at more pitches and drew some walks (seven).
"I like it, it's nice," Escobar said. "Honestly, I like No. 2 because I'm hitting No. 2 all the time. Now it's a little different. Let's see what happens."
Hitting third is old stuff for Gordon. This was his 167th career start in that spot, where he now has a .264 average, 21 homers and 94 RBIs. He has started as the leadoff man in 200 games, and his numbers are .307/29/112.
Cain batted second just three times in his injury-shortened 2012 season, so the change will be fairly new for him.
"The 2-hole, I kind of like Cain there a little bit," Yost said. "He's the best available. He's a run producer, and if Esky's on, if the bottom of the order is on and comes back around, I like our 1-2-3-4-5. It's got speed at the top, speed at the bottom and it's got the kind-of power guys there in the middle."
After Escobar and Cain, both right-handed hitters, the lineup alternates from left to right all the way through. That is designed to keep opponents less sure of when to make a pitching move.
Yost figures he will try this batting order for a while.
"I think this lineup has got some balance, got some sequence and the ability to score some runs," Yost said. "We'll see."
Dick Kaegel is a reporter for MLB.com. This story was not subject to the approval of Major League Baseball or its clubs.