Mariano a role model for fellow Panamanian Chen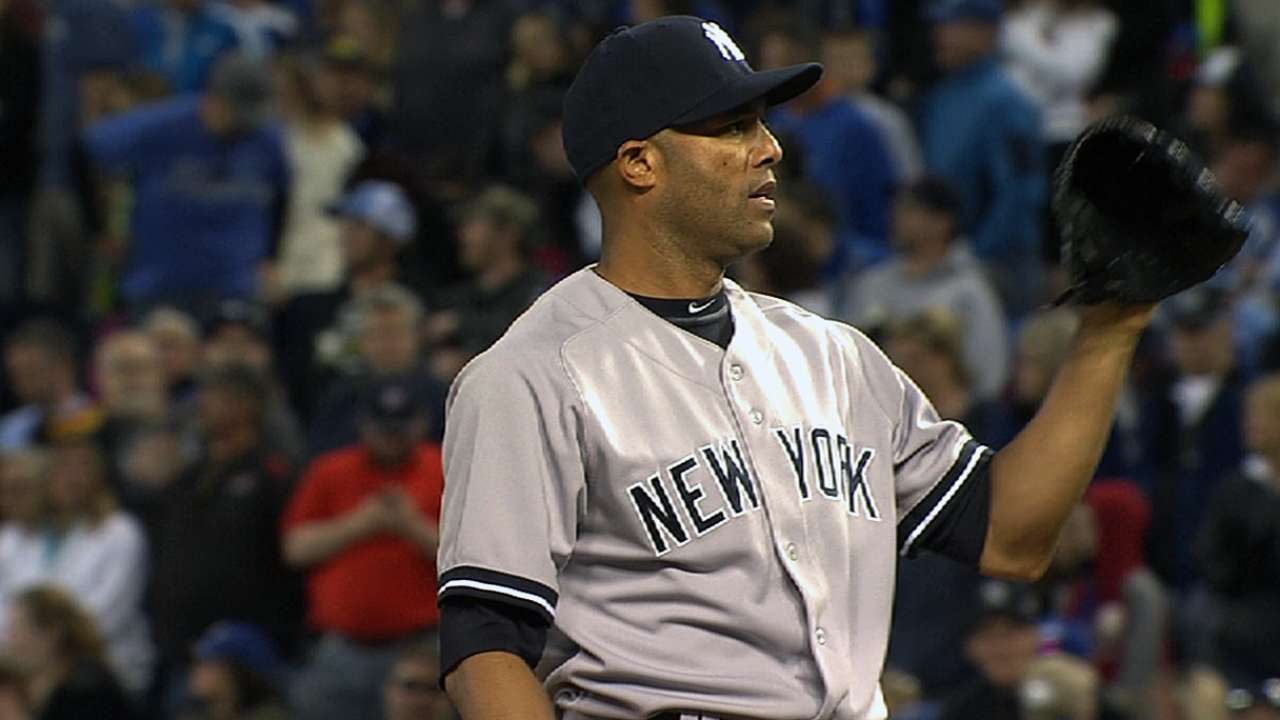 KANSAS CITY -- Mariano Rivera has touched many people during his brilliant career as the Yankees' closer. One of them is fellow Panamanian pitcher Bruce Chen of the Royals.
"I trained with him when I was younger, and he was an influential player in my life because he taught me how it took hard work and determination to get to the big leagues," Chen said. "For me, he's the greatest closer in the big leagues -- postseason, regular season, everything."
Rivera is retiring after this season, so this is his final trip to Kansas City as a player, barring possible playoff competition, of course.
"He's an inspiration for a lot of people in Panama," Chen said. "They look up to him, and in the community, he does a lot of work. Not only in Panama, but where he lives in Tampa, [Fla.], and in New York. So his impact in the game of baseball goes beyond his numbers. What he does off the field is just as remarkable as what he does on the field."
The Royals have experienced Rivera's effectiveness often. As of Saturday, he had converted 27 straight save chances against them, last blowing a save in 1998.
Chen noted that while some closers punctuate their success on the mound with gestures or maybe even a put-down, Rivera does not.
"I've never seen him try to humiliate the opposing team or anything," Chen said. "He plays for a team that probably has the most pressure to win, and I just think it's remarkable for him to do what he's been able to do consistently for so long over all these years."
It was just over a year ago that Rivera, 43, injured his right knee while shagging balls in the outfield during batting practice at Kauffman Stadium. He missed the rest of the season.
"It was bad, but knowing Mariano, he always looks at it on the bright side," Chen said. "He's at least showing that, even as he's aged, he can have a serious injury like that, miss almost a whole year and come back and pitch like he hasn't missed a beat. He's just amazing, one of the best pitchers who has ever pitched in the big leagues."
Royals pitching coach Dave Eiland was Rivera's teammate and also his coach with the Yankees.
"As a player-coach relationship, he always wanted information -- 'How did I do? How did I look? How was my arm slot?' Every time he'd pitch, he'd come up and say, 'What'd you see? How was it?' He was nails, but if he saw anything, he wanted to know." Eiland said.
"Very humble, and as great as he is, very coachable -- always wanted information," Eiland said. "And that probably played a part in the reason that he's as good as he was, because he never thought he had it all figured out."
Even with 621 saves, the most in Major League history.
"A class act all the way around," Eiland said.
Dick Kaegel is a reporter for MLB.com. This story was not subject to the approval of Major League Baseball or its clubs.