Top prospect Starling undergoes laser eye surgery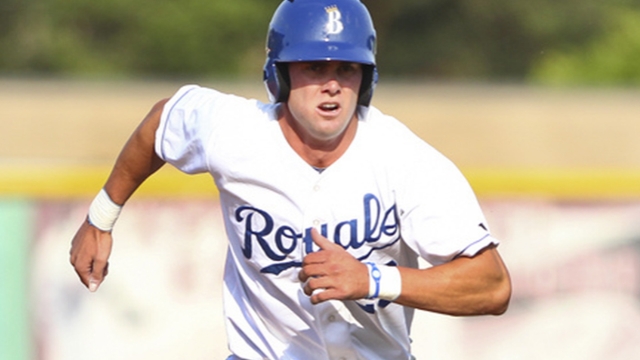 OAKLAND -- Outfielder Bubba Starling, the Royals' No. 1 Draft choice in 2011 and top prospect, underwent Lasik eye surgery on Thursday in Kansas City and is expected to return playing almost immediately.
Starling underwent the laser procedure after he complained of not being able to see the ball well during night games, according to J.J. Picollo, the Royals' assistant general manager of scouting and player development.
In 35 games for the Class A Lexington Legends, Starling was batting .213 with four home runs and 17 RBIs. He had struck out 41 times in 127 at-bats.
"It's amazing how much technology has changed even in the last couple of years. There's a decent chance he might even be in the lineup [Saturday] night," Picollo said. "We'll see how he feels. We're not going to rush to get him in but if he's feeling good, there's a decent chance he'll play. Where a couple years ago, we felt it was at least seven days and maybe even up to 14."
Picollo said a change in Starling's vision was noticed from last year to this year. In the last few weeks, he had complained of dry eyes and tried drops but the problems persisted.
"There was a significant split in his numbers from night games to day games," Picollo said. "We think it's something that's going to benefit him and he was pretty happy to get something done."
This is Starling's second pro season. From Gardner, Kan., near Kansas City, he debuted with a .275 average, 10 home runs and 33 RBIs in 200 at-bats last year with the Rookie club at Burlington, N.C. But the right-handed slugger was struggling early this season.
"It becomes a little bit of a mental thing, like you're battling something else, and this will clear his mind and I think he'll see a definite difference when he gets in and takes some batting practice," Picollo said. "That's pretty much the feedback we've gotten from other players -- it's like the difference of night and day, no pun intended, but they say it's a major difference."
Royals first baseman Eric Hosmer underwent successful Lasik surgery early in his Minor League career as well.
Dick Kaegel is a reporter for MLB.com. This story was not subject to the approval of Major League Baseball or its clubs.