Lough called up, makes quick impact with Royals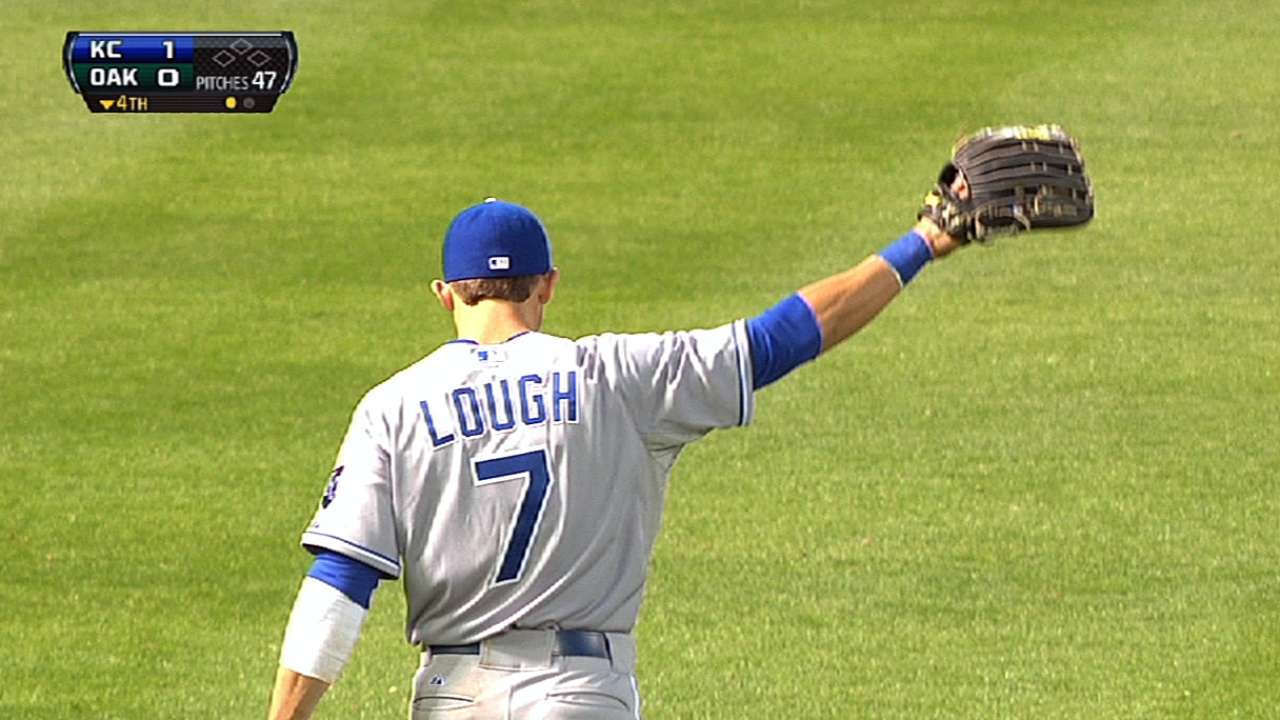 OAKLAND -- There was no delay in getting David Lough right into the Royals' lineup when he reported on Friday.
Called up to replace injured outfielder Jarrod Dyson, Lough was playing right field and leading off against the Oakland A's. It was a hurry-up trip from Omaha, where he was playing for the Royals' Pacific Coast League club. For a while on Thursday, Lough wasn't sure he was heading for the West Coast when he got a call from Storm Chasers manager Mike Jirschele.
"It wasn't for sure, it wasn't 100 percent at first. He called me and told me to pack my bags up, get ready, come to the field," Lough said.
Then word came that Dyson's sprained right ankle was sorer and Jirschele was back on the phone.
"He called me back a couple of hours later with the comfirmation that I was going up," Lough said. "I flew out at 5 o'clock and didn't get in until about 2 a.m."
Lough had a terrific spring camp with the Royals. Of players who were in five or more games, he was the team's top hitter with a .455 (20-for-44) average. He had six doubles, one triple and five RBIs. But the Royals went with Dyson as their fourth outfielder.
"Tough cut," manager Ned Yost said. "He had a great spring and went down and did what you ask all young guys that have good springs to do -- he continued it."
Lough was leading the Storm Chasers with a .340 average and was batting first in the lineup.
"Things lately have been going super-well for me lately," he said. "The first week I struggled down there and I just tried to get back to what I was doing in Spring Training, trying to stay consistent and obviously the weather doesn't help you out at all. For a while, it was pretty bad."
Despite the weather, Lough stayed with his plan.
"Just trying to stay consistent, stay in good counts. I think that's most important for me: Be able to get a good pitch and be able to drive the ball," he said.
Rated 20th by MLB.com among the Royals' top prospects, Lough got his first taste of the Major Leagues as a September callup last year.
"I felt confident going into Spring Training this year. Getting the call up last year and getting your feet wet I think just makes it easier," Lough said. "Getting sent down -- I don't think anybody likes to get sent down or anything like that. You also don't want to see anybody get hurt, but I'm going to fill that role that Dyson had and try to help this team win games."
Although Lough was in right field on Friday night, he had played mostly left field for Omaha.
"I did play center. I was kind of flip-flopping, playing two games in left, one game in center. But mostly left field," he said.
Yost decided to use Lough, a left-handed hitter like Dyson, immediately with right-hander Jarrod Parker starting for the A's.
"I know with the lefty [Tommy Milone] going tomorrow, he wouldn't play," Yost said. "I just didn't want him sitting here for two days until I gave him the opportunity to play. He's been hot, he's been doing well, hitting .349 in the leadoff spot in Triple-A and I wanted to get him in and get him involved."
Lough certainly got involved, going 2-for-4 and throwing out a runner at second base. His double drove in the Royals' only run in their 2-1 loss.
Dick Kaegel is a reporter for MLB.com. This story was not subject to the approval of Major League Baseball or its clubs.