Bats leave Shields hanging in all his defeats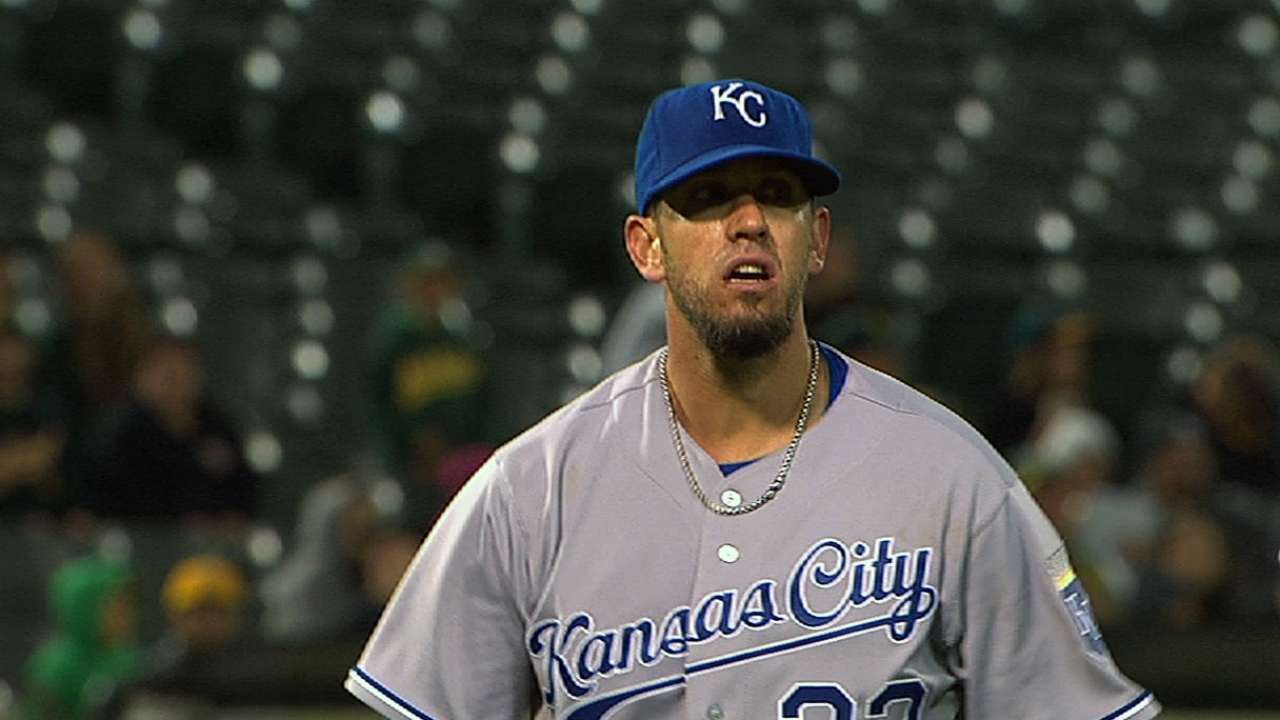 OAKLAND -- When it comes to getting support from his Royals family, James Shields is stuck in the Great Depression. It's, "Brother, can you spare a run?"
All four of Shields' losses this season have come by one run: 1-0, against the White Sox in Chicago on Opening Day; 3-2, to the Blue Jays and Yankees at home; and 2-1, in Oakland just Friday night. Oh, and he also had a no decision after going eight frames in an 11-inning, 2-1 loss to the White Sox.
"Our offense has been terrible for Shields every time he pitches; I don't know why," left fielder Alex Gordon said. "I can't explain it. Maybe we get too comfortable because he pitches so well; maybe in the back of our heads we think we don't have to score that much. For whatever reason, we really need to help him out because he really does pitch his tail off every time he goes out, and we're not helping him at all. It's frustrating when you see him give up just one or two runs and we can't help him out."
One factor, of course, is that Shields' turn often comes against one of the other teams' top pitchers, such as Chris Sale (twice), Clay Buchholz, Andy Pettitte, R.A. Dickey or Justin Verlander.
Shields, after the loss to the A's, to his credit passed it off as "that's just baseball," adding that all he could control was his part of the game. He has done quite well in that area, as his 2.45 ERA and 62 strikeouts in 66 innings indicates.
"I wouldn't expect him to say anything else, but it would be nice the next couple of starts to run some runs out there for him early and let him just kind of cruise," right fielder Jeff Francoeur said.
Three of Shields' other four starts have resulted in Kansas City victories. He got credit for two of the victories, with two no-decisions.
Shields has done his work, going six innings three times, seven innings once, eight innings four times and nine once -- his 66 innings lead the American League. He has lost both of his complete games. He has thrown at least 100 pitches in each outing, topping out at 122 on Friday night. And he said he could have gone another inning, but, alas, the A's did not have to bat in the ninth.
"I was joking with him last night, 'We gave you one run; what more do you want?'" Francoeur said. "But it is frustrating, because we know how good he's been pitching. It's bad because I'm sure he feels if he makes one mistake it could cost him."
Bottom line: Shields' average run support per game is 3.55, sixth lowest in the AL. Brother, can you spare a run?
Dick Kaegel is a reporter for MLB.com. This story was not subject to the approval of Major League Baseball or its clubs.