Lough latest to man leadoff spot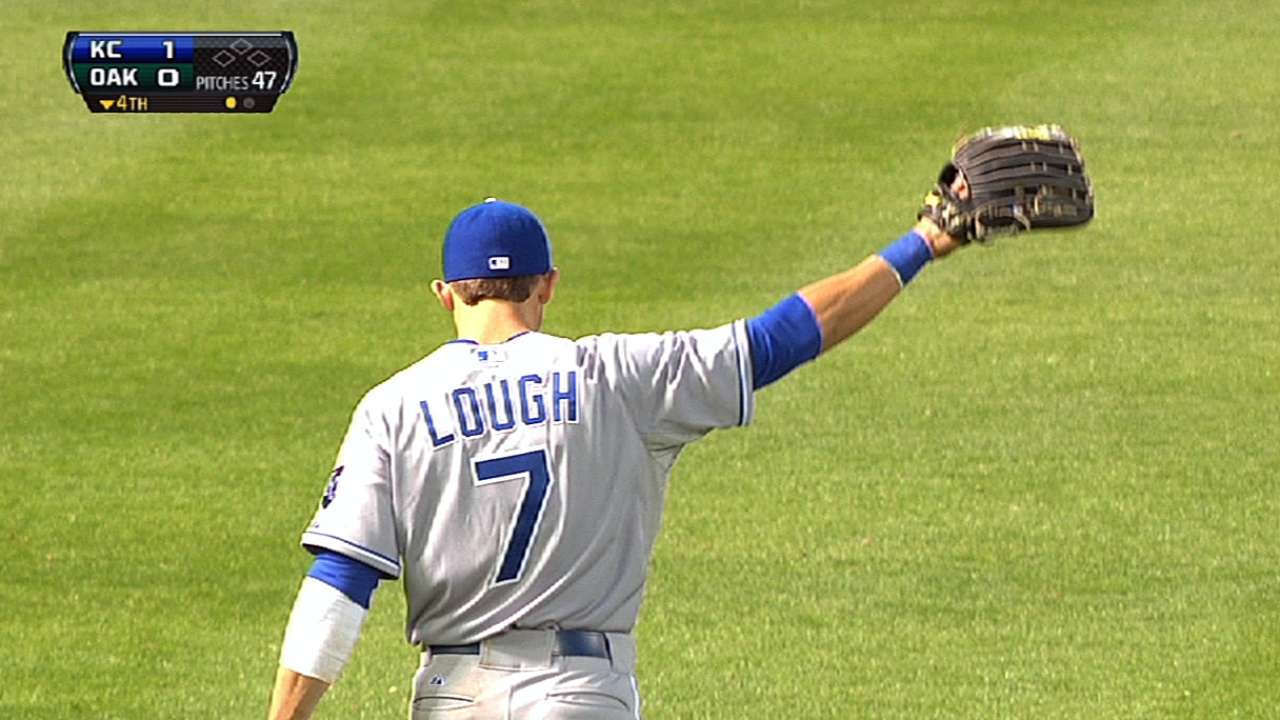 OAKLAND -- Manning the leadoff spot in the Royals' batting order has been something of a challenge the last couple of years.
It has mostly ended up being Alex Gordon, 81 times of 162 games last year and 30 of the first 40 games this year. Eventually, though, Gordon always seems to gravitate back to the No. 3 slot.
So last year, manager Ned Yost had nine different players in the No. 1 slot. This year, in addition to Gordon, Yost has tried four others -- Jarrod Dyson, Lorenzo Cain, Alcides Escobar and now David Lough.
Lough, just up from Triple-A Omaha for the injured Dyson, got his second shot at the job Sunday against the A's. That is where he batted this year for Omaha, though in 2012 he was mostly in the fifth slot. But being No. 1 is not new to him.
"I've done it in previous years, coming up through the system," Lough said.
"I don't mind it at all. You get a lot more ABs, people watch you a little bit more, being the leadoff guy. They take away the bunt, they pick over more, being the speed-type guy in the leadoff position. I think they worry about you a little more. Which I like -- I like to make teams worry about me."
Quite often, of course, the leadoff batter actually leads off an inning just once -- in his first at-bat. With that in mind, Lough talked to Omaha manager Mike Jirschele about being aggressive on the first pitch of the game.
"That first pitch they always just kind of throw it in there sometimes," Lough said. "He said if it's a good pitch and where I like, swing at it. But I think taking pitches is better for me in the long run, get in a better count or at least try to and get a better pitch rather than swing at the first pitch. Because you could just waste an at-bat swinging at the first pitch."
Lough had no success Sunday, going 0-for-4 before being lifted for a pinch-hitter.
Gordon has prospered since his switch to the third spot May 9. After four hits in Sunday's 4-3 loss to the A's, he was hitting .450 (18-for-40) as the No. 3 hitter.
"It's nothing I haven't done before," Gordon said before Sunday's game. "The last three years, it's either the one-hole or the three-hole, so I've made the switch the last three years. I really don't have that different of an approach. Maybe take a few less pitches and getting more RBI situations, so I'm more aggressive."
Dick Kaegel is a reporter for MLB.com. This story was not subject to the approval of Major League Baseball or its clubs.