Hochevar geared up for action in bullpen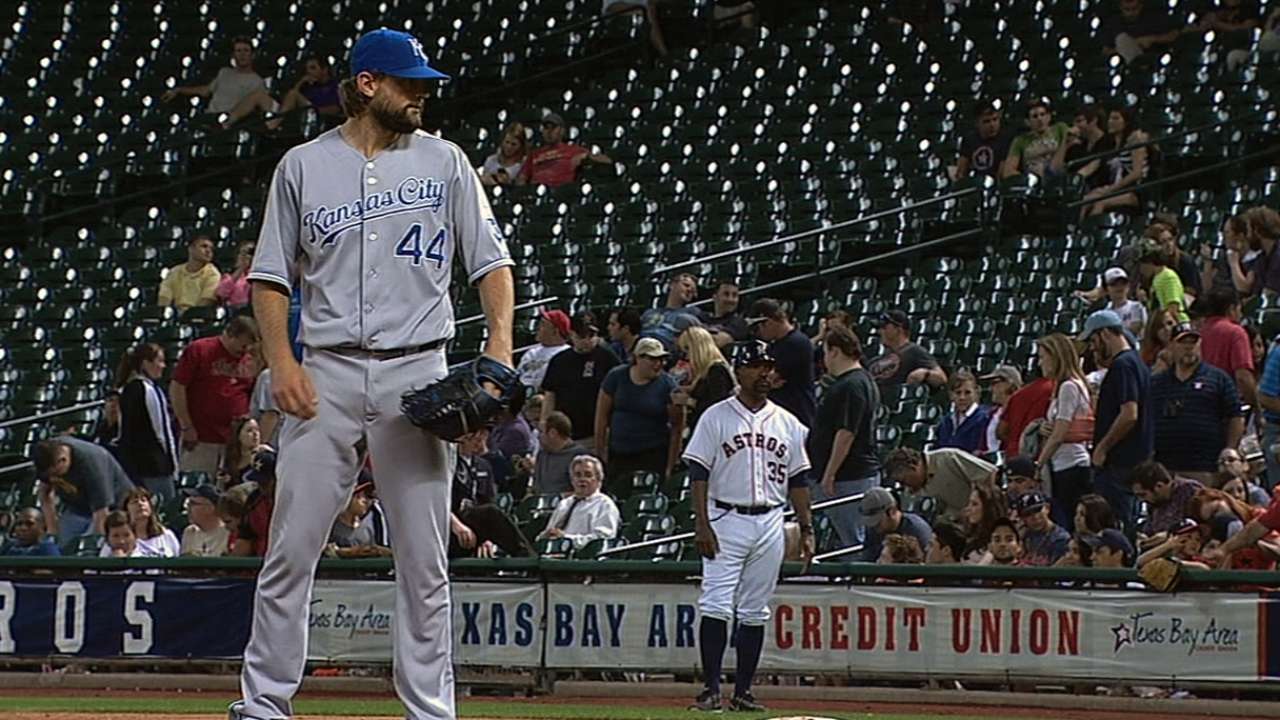 HOUSTON -- Royals right-hander Luke Hochevar tried to take a good attitude with him when he was moved from the starting rotation to the bullpen this season.
He did not look at the switch as a demotion.
"If you walk around and mope, that's what it's going to be, a demotion," Hochevar said. "I view it as an opportunity."
Hochevar, 29, spent the last five years in the Royals' rotation. He made only one relief appearance in that time. But his 38-59 record and 5.39 ERA wasn't what the Royals were looking for from him.
"It's different," Hochevar said of the mindset required for a reliever. "You know you're coming in for three or six outs. You're not going to face guys three or four times. You don't save [any pitches]."
Hochevar has made 11 appearances this season out of the bullpen, picking up one save, with a sparkling 1.10 ERA in 16 1/3 innings. He tossed a perfect seventh inning against the Astros in Monday's 6-5 loss.
Starting pitchers are locked into a strict routine, throwing a bullpen session between starts, getting in their running, working out religiously to stay in shape.
"My routine has changed for sure," Hochevar said. "I work out every other day. Your workouts are more intense."
When you're a reliever, you could be called on to pitch almost any night.
"It's fun coming to the park knowing you might get an opportunity to pitch," Hochevar said. "Part of the routine [as a starter] you miss. Pitching out of the bullpen is fun. It's trying to get outs right away. There's no time for feeling your stuff out. Your focus is heightened out of the bullpen."
Kansas City selected Hochevar with the No. 1 overall pick in the 2006 Draft, the third time he had been drafted. He said that did not put any extra pressure on him to succeed right away.
"I didn't get caught up in any of that," he said.
Royals manager Ned Yost regarded Hochevar's work in the bullpen as "fine." Would he ever consider returning him to the rotation full time?
"Some day," Yost said. "But that's down the road."
"I've been a starter my whole life," Hochevar said. "That's where I see myself. It's the best case for me to help the club [coming out of the bullpen]."
Gene Duffey is a contributor to MLB.com. This story was not subject to the approval of Major League Baseball or its clubs.