Tejada starts, homers in return to Houston
Veteran infielder fills in for Moustakas, played for Astros from 2008-09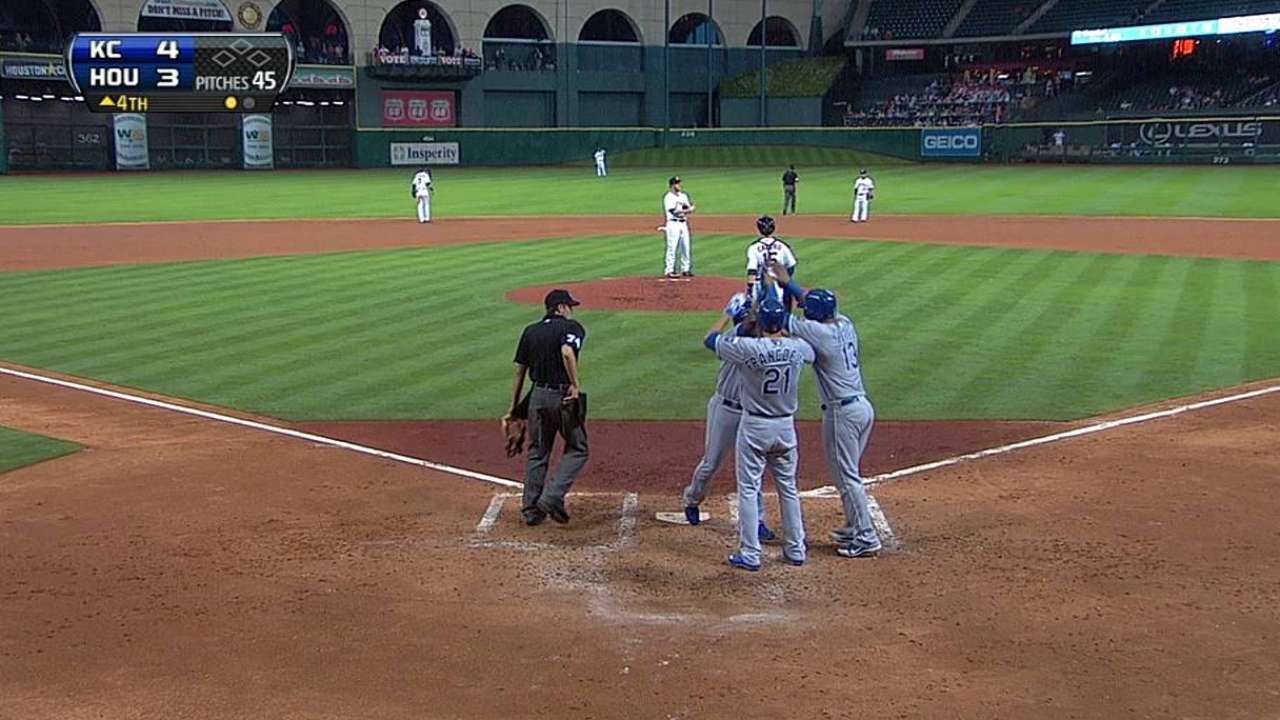 HOUSTON -- Royals infielder Miguel Tejada returned to the starting lineup on Monday night against the Astros, starting at third base in place of the struggling Mike Moustakas.
Tejada also returned to the city where he was the starting shortstop for the Astros in 2008 and '09. He made quite a return, belting a three-run homer in the Royals' 6-5 loss.
"I have a lot of good memories here," Tejada said. "I really, really enjoyed my time here. I was sorry to leave. I'm always happy to come back."
Tejada put together two productive offensive seasons for Houston, hitting .283 in '08 and .313 with 86 RBIs in '09. But the Astros felt he lacked enough range at shortstop and released him after the '09 season.
Tejada went on to play for Baltimore, San Diego and San Francisco before signing a Minor League contract with the Royals in December.
Tejada, who turns 39 on Saturday, gradually evolved from a shortstop to a third baseman, a role player for the Royals. He made his seventh start of the season on Monday night.
Tejada's bat is still lively, hitting .333 in 27 at-bats.
"I feel I'm in good shape," he said. "I'm not playing every day. I think I can help us win, help us make the playoffs."
Doug Brocail is the only one of Tejada's former teammates with the Astros still in uniform -- and he's the pitching coach. Astros manager Bo Porter and Tejada were teammates in Oakland.
"My family will decide [when I should retire]," Tejada said. "They're my No. 1 fans. They want me to keep playing, but they want me home, too."
Tejada can still play shortstop, if needed. He pointed out that he played shortstop in winter ball this year in the Dominican Republic.
"You pick your spots to get him in there," Royals manager Ned Yost said. "He's been a great addition to our team. He can play anywhere [in the infield]. He played some at first base in Spring Training."
Tejada should be remembered as one of the best hitting shortstops of all time, with his .285 average -- beginning the season -- 304 home runs and 1,282 RBIs.
"I'm really proud of what I did," Tejada said.
Gene Duffey is a contributor to MLB.com. This story was not subject to the approval of Major League Baseball or its clubs.