With Perez out, emergency catcher Getz to be backup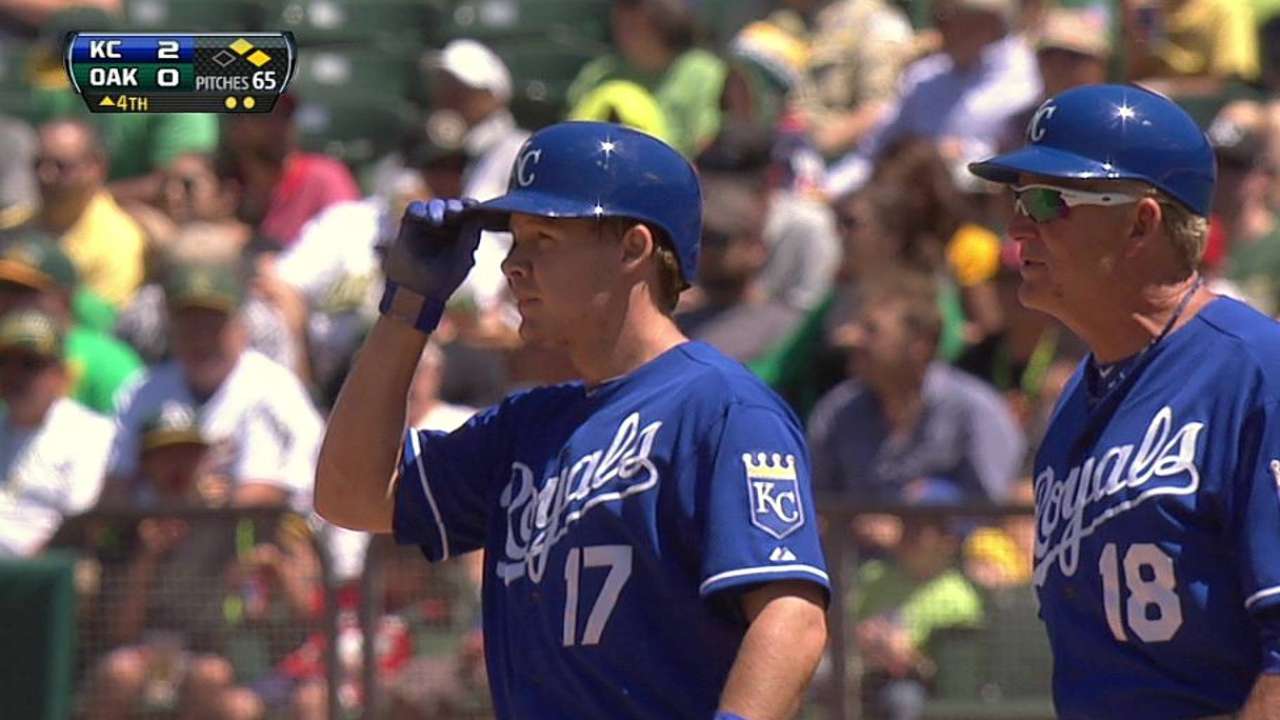 HOUSTON -- Kansas City manager Ned Yost and second baseman Chris Getz are in total agreement when it comes to one aspect of the game. Neither wants to see Getz behind the plate as the Royals' emergency catcher.
With starting catcher Salvador Perez sitting out Tuesday night's game with a minor injury, it raised the question of what would the Royals do if backup catcher George Kottaras was also injured in a game?
"We don't want to think about that," Yost said.
"I don't really want to think about it either," Getz agreed.
Getz said he hadn't caught in a regular game since Little League, when he also pitched and played shortstop. He said his Little League team from Grosse Pointe, Mich., won a championship.
"I must have called a good game," Getz said.
What if Getz had to go behind the plate for the Royals?
"I'm not sure how to put on the catching gear," Getz said.
Getz grew up admiring Detroit Tigers shortstop Alan Trammell, so he was probably destined to be an infielder.
Yost was asked if Getz knew he was the emergency catcher.
"Yeah, I told him yesterday," Yost said.
Perez suffered discomfort in his right hip during Monday's game when he attempted to make a sliding catch on a foul ball and his outstretched leg hit a post in the Houston dugout.
"It's very good news," Yost said of Perez's injury. "We were worried when he jammed his knee; he pushed his socket back and there might have been a tear in it. Well, there wasn't. It's just a bruise. A deep bruise. Which is good news."
Yost said Perez would be available if Kottaras was injured during Tuesday's game.
"We're going to give him a day or two [off]," Yost said. "He might need another day, he might not. We'll just have to go day-to-day and see where he's at, see what he can do."
Getz was in the starting lineup Tuesday at second base, with Elliot Johnson moving to shortstop to give Alcides Escobar some rest.
"Escy's in a funk right now, so we'll give him a day," Yost said. "Just have him take it easy. He's played every game, every day. We might have him back in there tomorrow."
Escobar is hitting .219 on the road trip (7-for-32) with only one extra base hit.
Gene Duffey is a contributor to MLB.com. This story was not subject to the approval of Major League Baseball or its clubs.