Royals reaping benefits of breaks from lineup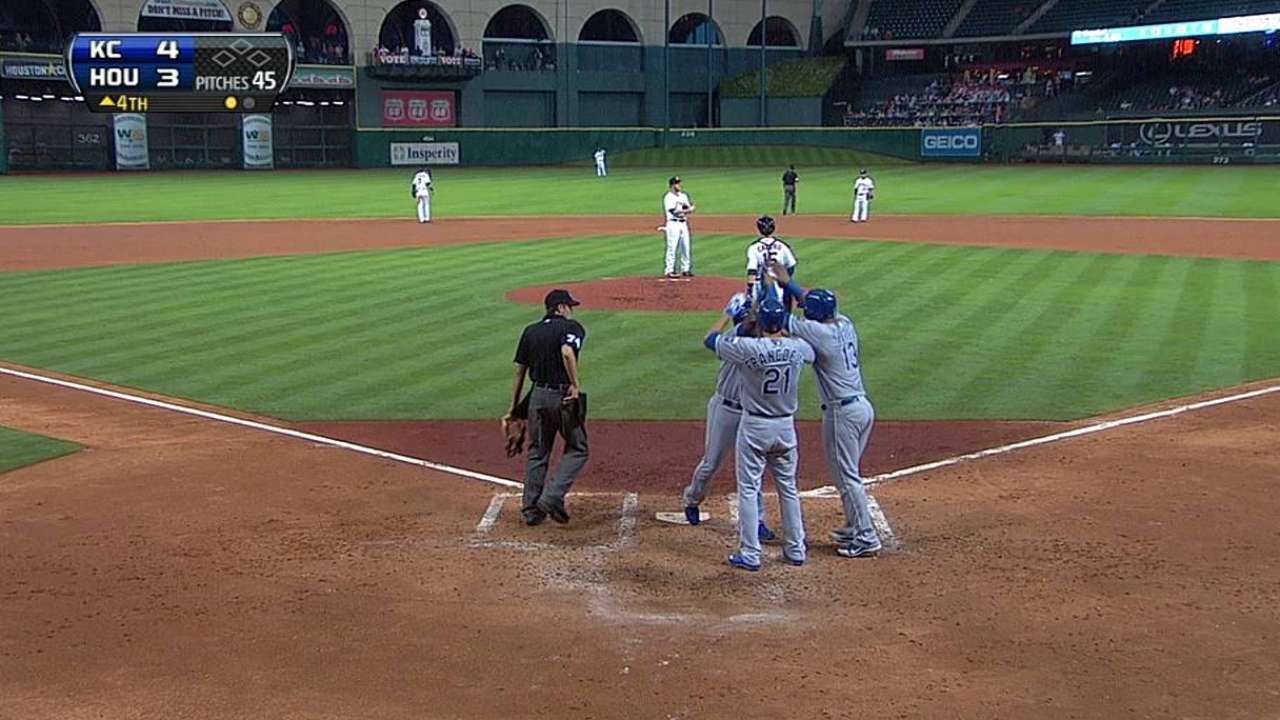 HOUSTON -- Kansas City manager Ned Yost believes in giving his players a day off here and there, partly to get more people in the games. It certainly worked well this week in Houston.
Yost sat third baseman Mike Moustakas, who was struggling at the plate, for Monday night's game. Replacement Miguel Tejada hit a three-run homer in his place and Moustakas followed up by getting a clutch hit in the eighth inning when he returned to the lineup Tuesday night that paved the way for the 7-3 win for the Royals.
"Absolutely [it helped]," Moustakas said. "This game takes its toll on you mentally and physically. When you get a day off like that, it helps you step back and put everything in perspective. You're playing Major League Baseball. You get a chance every day to go out there and live your dream.
"It's nice to have those days to mentally relax, to kick back and watch a big league game from the best seat in the house. I don't like watching, but if skipper gives me a day off, it's not a bad place to watch a game."
Yost decided to give shortstop Alcides Escobar Tuesday night off -- at least for a while.
Escobar drove in Kansas City's first run with a pinch-hit single in the seventh inning, stayed in the game defensively and drove in another with a fielder's choice in the eighth.
"It was half [of] a day off," laughed Escobar. "I love to play. But sometimes you need a day off. I like to play every day. We got a nice win [Tuesday] after four tough losses on the road. Everybody's happy right now."
Tuesday was the first game that Escobar didn't start this season.
"I can play every day," he said. "I played more than 150 games [the last two years]."
"Everybody needs a day off now and then," Yost said. "There's very few players, and Escobar is one, who can play 162 games. You've got bench guys, too, who you need to get in the game. It's more about getting them in the game then somebody needing a day off."
Left fielder Alex Gordon, who is hitting .352, is the only Royal to start every game this season.
Does Yost plan on resting Gordon soon?
"He's swinging the bat too good to get a day off," he said.
Gene Duffey is a contributor to MLB.com. This story was not subject to the approval of Major League Baseball or its clubs.