Moustakas reunites with Astros' Dominguez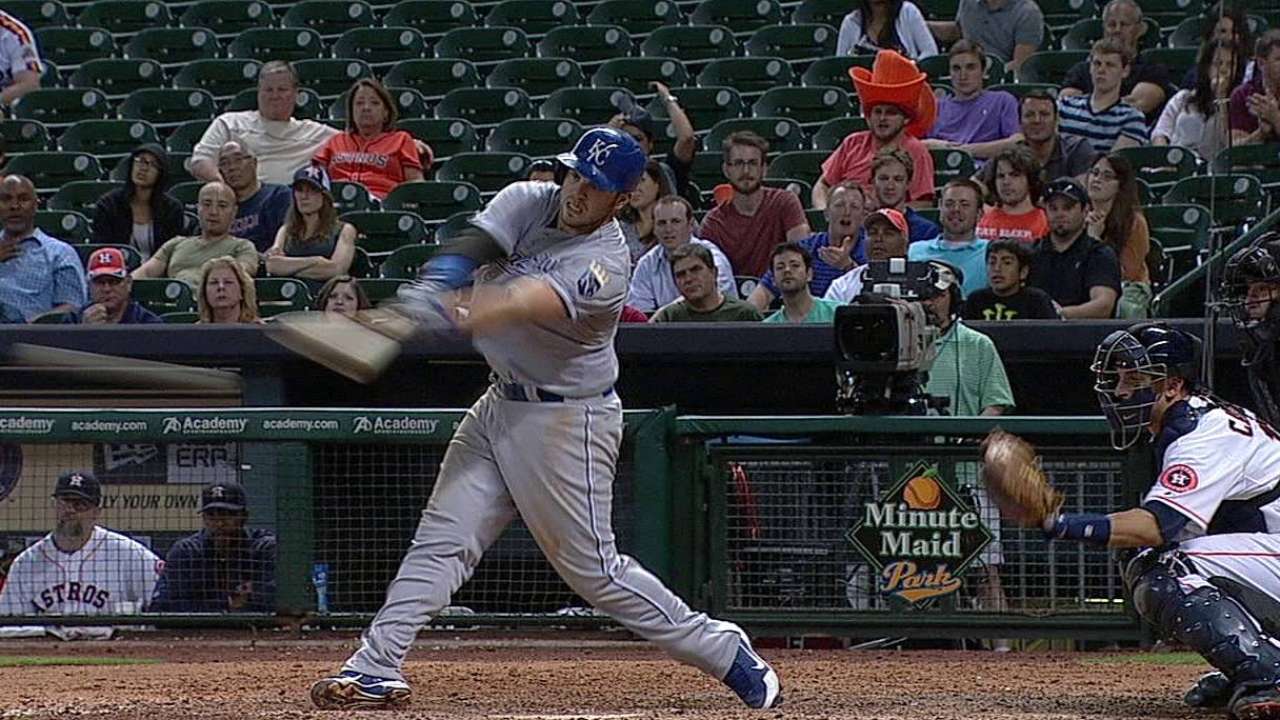 HOUSTON -- Kansas City's Mike Moustakas and Houston's Matt Dominguez went out to a pizza place for dinner after Tuesday night's game at Minute Maid Park.
It was a good night for the third basemen. Moustakas broke an 0-for-18 skid with a clutch single in the eighth inning that helped the Royals rally for a 7-3 win. Dominguez went 2-for-4.
Surprisingly, they talked about everything but baseball. That can happen when you've been friends with someone since you were kids.
"You play 162 games, you're at the field every day," Moustakas said. "When you get away from it, it's always nice to talk about other things."
So what did they talk about?
"Matt's a big fantasy football and basketball guy," Moustakas said. "I always give him a little trash because I'm not very good at it. He actually kicked me out of his league four years ago because I didn't set my roster. I haven't been invited back. They take it pretty serious."
They grew up 10 minutes from each other in Northridge, Calif., just north of Los Angeles.
"We played Mid Valley Pony League together when I was like 7 or 8," Moustakas said. "We played on a couple of travel teams together and then against each other."
Moustakas originally planned to play quarterback in high school, but he ended up at Chatsworth, a traditional baseball power where Dominguez's two older brothers had gone to school.
They realized they might be better than just pretty good players when they started together on the varsity as freshmen. Moustakas played shortstop then, Dominguez already locked in at third.
"He's the best third baseman I've even seen," Moustakas said of Dominguez. "He makes everything look so smooth, so easy, so effortless. I played more up the middle and let him take everything to the left because he was so good. The only downside to his game in high school was he couldn't catch a fly ball. I had to go catch all the popups.
"We hung out together all the time off the field. We know where we come from. He's one of my best friends."
Still is.
"I knew he was going to be a Major League player since he was a freshman," Moustakas said of Dominguez. "When his stick comes around, he's going to be awesome."
Chatsworth won regional championships their freshman and senior years. They played one game a year at Dodger Stadium. Moustakas hit 54 home runs in his high school career, a state record.
Dominguez was named national Freshman of the Year, setting a school record for RBIs.
They weren't typical teenagers, voicing their dreams of playing in the Major Leagues some day.
"Off the field, we hardly talked about baseball," Moustakas said. "We kind of hung out and talked about the things that 16-, 17-year-old kids talk about."
The two played for Team USA in Cuba before their senior years.
"It was awesome," Moustakas said.
Kansas City picked Moustakas with the No. 2 overall pick in the 2007 Draft. The Florida Marlins selected Dominguez with the No. 12 overall pick the same year.
"If you knew Matt and me, we didn't think it was a big deal," Moustakas said. "We weren't throwing draft parties. I was at home with my family and a couple of buddies.
"I didn't think I would go that high. From what they were saying, I was supposed to be a mid-round pick. I had no clue the Royals were going to pick me. I sat there in shock for a couple of seconds, then started jumping around."
Moustakas continued to watch, wanting to know where Dominguez was selected.
They both made it to the Major Leagues at the age of 22. They text each other now more than talk on the phone.
"Anytime I see him do something good on TV, I'll text him," Moustakas said. "I've always followed my buddies. If he did something bad, I'll make sure I send him a text just to mess with him. It's always fun to talk trash back and forth, especially at this level."
Gene Duffey is a contributor to MLB.com. This story was not subject to the approval of Major League Baseball or its clubs.