Royals excited for chance to salute military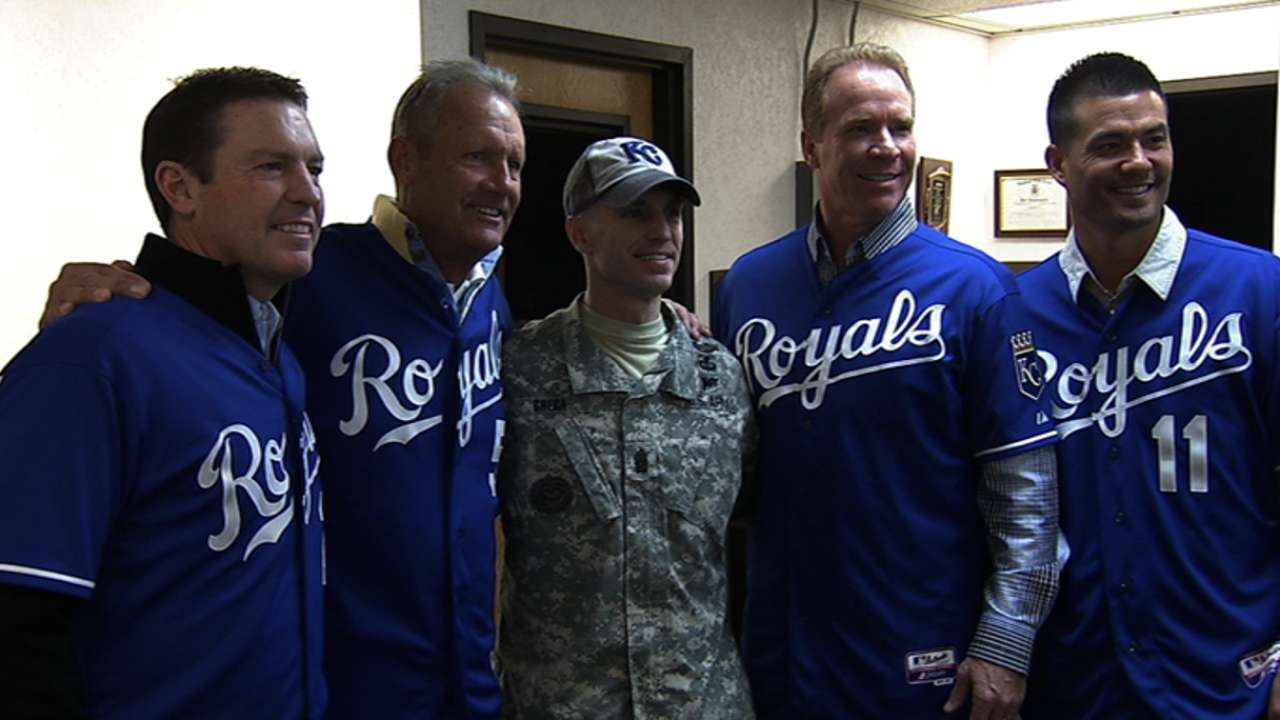 KANSAS CITY -- The Royals and the Cardinals will join all of Major League Baseball in wearing uniforms with a camouflage motif for their Memorial Day game on Monday, honoring the military and those who have fallen in service to their country.
The Kansas City home uniforms will have the Royals' script and numbers and player names in camo topped by a camo cap.
"First of all, the uniforms look great. It's very cool what we're doing," said Royals second baseman Chris Getz. "And obviously what it represents is even cooler because it's a salute to our soldiers, our veterans who served our country, and it's our opportunity to say thanks by wearing that uniform."
The Memorial Day effort is part of MLB's ongoing recognition of veterans, active military and military families. Since 2008, MLB has committed $23 million to Welcome Back Veterans, an apolitical initiative of MLB Charities and the Robert R. McCormick Foundation.
Armed Forces Day at Kauffman Stadium will include a pregame ceremony and in-game features honoring military personnel. The first 20,000 fans will receive a miniature American flag from the National World War I Museum at Liberty Memorial.
"There's always a good turnout on Memorial Day, and it brings families together and it's more of an opportunity to remember the people who have fallen," Getz said.
Teammate Jeff Francoeur salutes the military.
"There are a couple days in baseball, Memorial Day, July Fourth, that are always important for us because you get to honor the troops, and a lot of baseball players enjoy that. A lot of baseball players have good relationships with different troops, Air Force, Navy, different people," Francoeur said.
"I've got a couple buddies that are in the Navy, a couple that are in the Air Force, so it is always fun honoring our troops. I am a big troop guy."
So is Royals manager Ned Yost.
"To honor them is a great thing to do," Yost said. "I grew up in the Vietnam War era and I just missed going over there by two years. And to see the way that the military was treated after that time and to the time right now that, all of sudden, these guys are heroes. And I mean heroes in the broadest sense. To be able to sit back and honor the job that they're doing is a tremendous privilege for Major League Baseball players."
Dick Kaegel is a reporter for MLB.com. This story was not subject to the approval of Major League Baseball or its clubs.