Yost trying to stay even-keeled during Royals' slide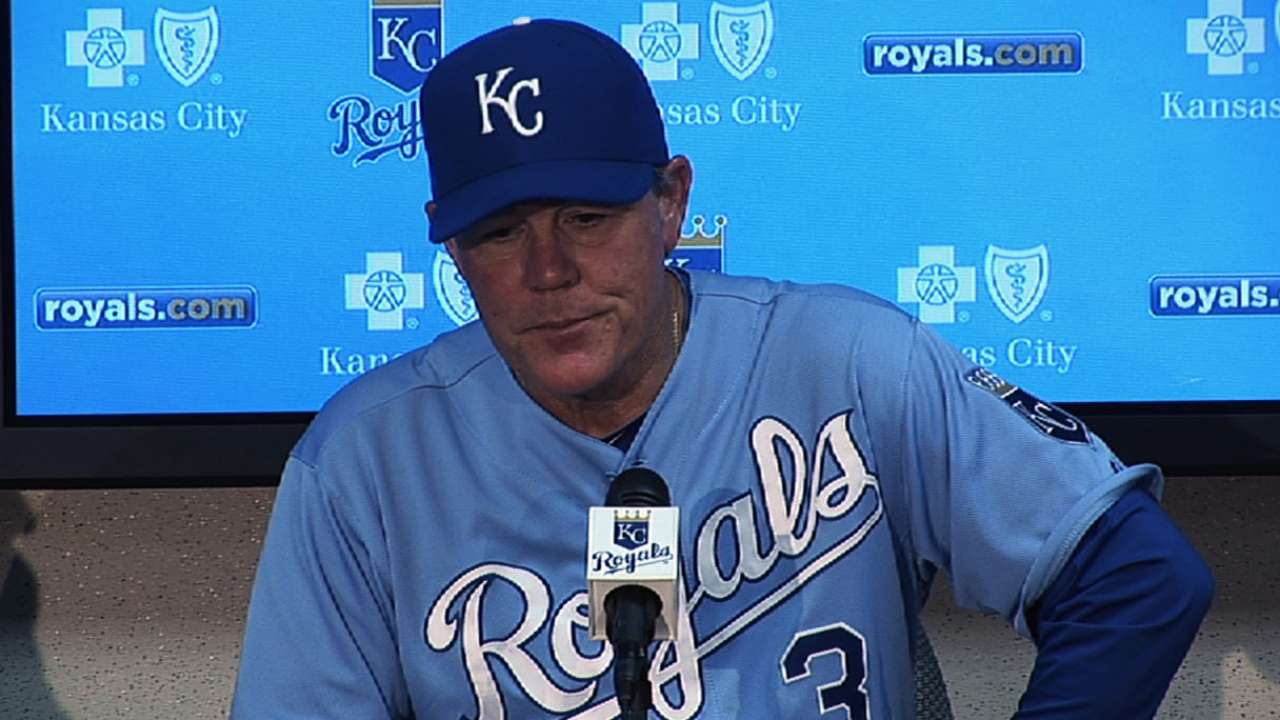 KANSAS CITY -- Royals manager Ned Yost admits it's difficult but he's keeping his cool during the team's recent slide.
"I think you learn that it doesn't do anybody good to vent frustration, which I think we all have, especially after a game like yesterday," Yost said. "It's better to just keep your mouth shut and keep your thoughts to yourself and then get to where you can calm down a little bit and rationally think things through."
Yost was talking to a group of reporters in his office before Sunday's game against the Angels.
"This is the same team that we were having success with two weeks ago," Yost said. "But over the last two weeks or 2 1/2 weeks, we haven't. It's a team that we think can score runs and should score runs. It's just that we haven't. We have to continue to work hard every day to correct that."
It's while that process is going on that Yost has to maintain his composure.
"I've always been a pretty intense guy and, as a player, was always a guy that felt like I could run through the wall. But after you run into that wall 15 or 20 times, you start to understand -- hey, that's not going to happen. You've got to find a better way to do it," Yost said.
"So it's a mindset, something you definitely have to work at. Frustration does nobody any good. It doesn't do me good, it doesn't do them good. [The players] becoming frustrated doesn't do them good. It's something that you really have to fight, day in and day out, and stay within yourself just to do your job. My job is to continue to show confidence and continue to stay patient and continue to work our tails off to get out of this."
Yost had a lengthy visit with club owner David Glass on Sunday, something they occasionally do during the season.
"Mr. Glass has frustrations like all of us. He wants to win as much or more than any of us," Yost said. "The great thing about Mr. Glass is we're all a team, from Mr. Glass to Dayton [Moore, general manager] to myself to the coaches. We're all a team, and we sit from time to time and talk about our frustrations, we talk about our team, we share ideas and it was just a great conversation. I'm glad he came down."
Dick Kaegel is a reporter for MLB.com. This story was not subject to the approval of Major League Baseball or its clubs.