With Moose banged up, Yost relies on veterans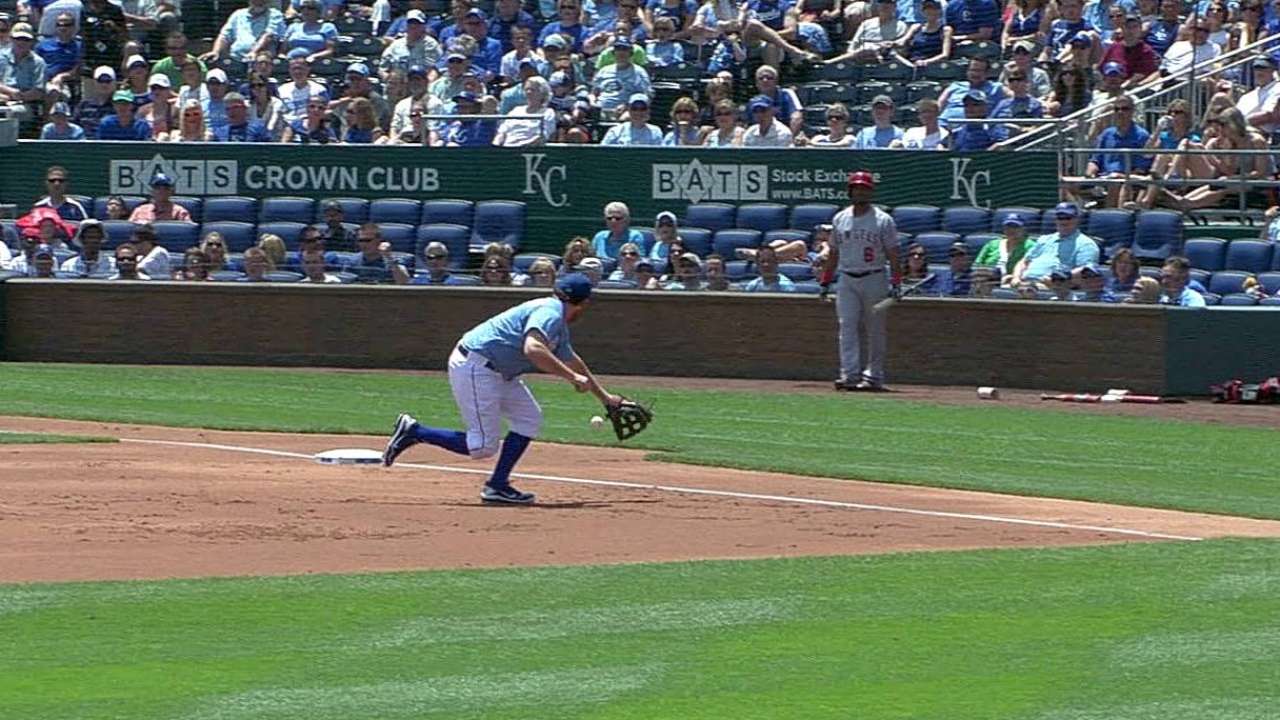 KANSAS CITY -- Mike Moustakas was hurting Monday, and that fit right in with manager Ned Yost's idea to do something a bit different with the Royals' lineup against the Cardinals.
"I wanted to get as many veterans as I can in there today to get us through this thing," Yost said.
Yost revealed Moustakas is about 75 percent with an injured quad -- playable as a pinch-hitter, but still in need of healing. He was out of the starting lineup for the second straight day for Monday's opener against St. Louis.
"He slid at home face-first in Houston and banged it," Yost said. "Then, when we came home, he got hit in the thigh in the exact same spot [Saturday], and it started to tighten up. Then, when he hit the double, he slid into second and banged it again. And those three instances, all in the same spot, kind of tightened it up.
"The problem with a quad contusion is it does get tight, and that could lead to a strain. He was much better yesterday, and there's no sense in pushing it."
So Yost had 39-year-old Miguel Tejada at third base instead of Moustakas, and also had veteran Jeff Francoeur back in right field and Elliot Johnson at second base.
After losing 16 of the previous 20 games, Yost was looking for a breakthrough against the team with the best record in the Majors.
"Today I woke up and I'm thinking, 'OK, I'm going with as many veterans as I can in the lineup today,'" Yost said. "They know how to get through stuff. I'm looking for energy, life, veteran experience, and let's see if we can punch out of this thing. Try something, man, nothing's working. Switching the lineup ain't going to work. Switch the players and see what happens."
The Royals will face left-hander Tyler Lyons on Tuesday night, and Yost said Moustakas will likely sit another day. Moose is in a 3-for-44 slide since hitting home runs in three consecutive games from May 8-10.
After playing four games against the Cardinals this week, the Royals travel to face the Rangers, who have the best record in the American League.
"This is not a good week for us. We're playing two really tough teams," Yost said. "But you've got to find some way to battle through it. Just plugging away, try different things."
Dick Kaegel is a reporter for MLB.com. Kathleen Gier is an associate reporter for MLB.com. This story was not subject to the approval of Major League Baseball or its clubs.