MLB.com Columnist
Mike Bauman
Escobar's brilliant defense gives Royals high hopes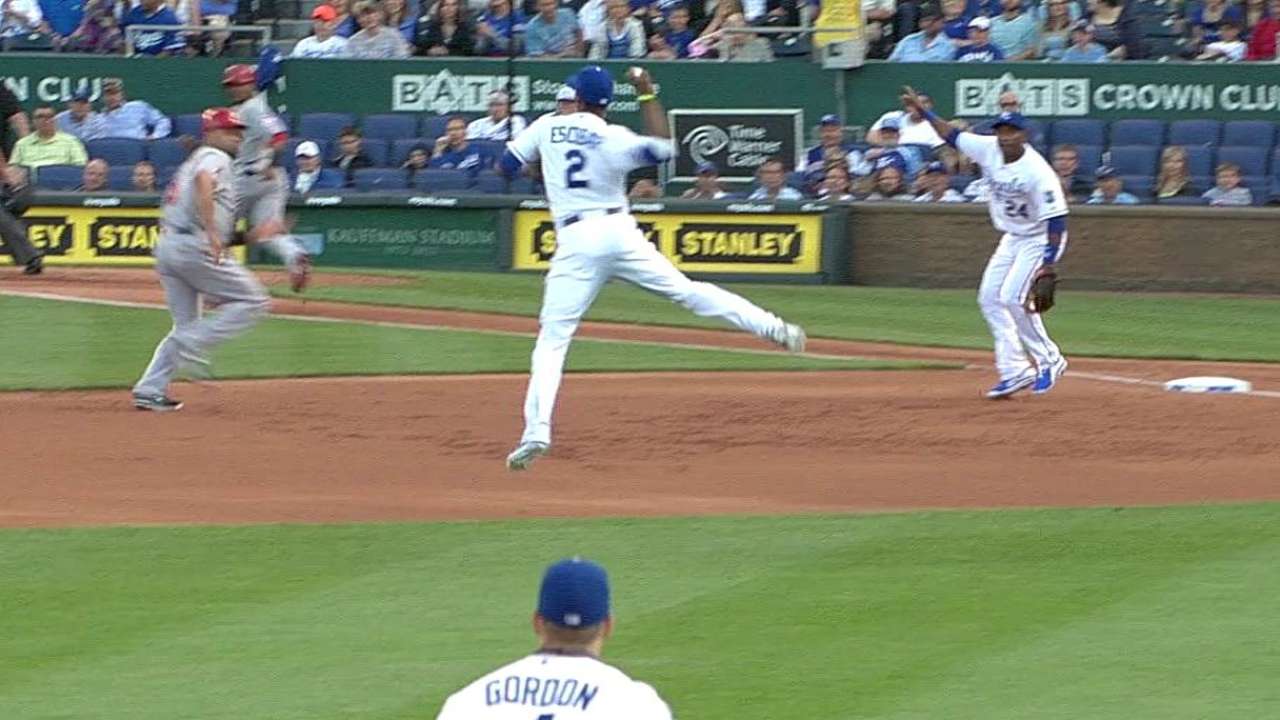 KANSAS CITY -- Alcides Escobar winning a Gold Glove ought to be a question of when, not if.
The Kansas City Royals' brilliant shortstop was at it again over the weekend. His team may be slumping, but Escobar's defense is still operating at peak efficiency.
One Escobar play in particular was worth the price of admission. On a regular basis the stellar defense he plays is the kind of thing that can make a baseball game truly compelling.
In this case, the Los Angeles Angels of Anaheim had the bases loaded with two outs. Howie Kendrick hit a smash deep into the hole. Some shortstops don't get to this ball. Some shortstops knock it down, at best. But this shortstop, Alcides Escobar, backhanded the ball in short left-center field, straightened and threw a strong, true one-hop strike to first in time to get Kendrick, thus ending the threat and inning.
That play could have been a lifetime peak for some shortstops. But it was just another night at the office for Escobar, who makes the incredibly difficult play with the kind of regularity that makes it seem to be routine. But his defense is anything but routine.
When asked about the play, Escobar said: "That's a hard play. I've made that play before."
Exactly. That is a hard play. But he's made it before. And he'll make it again.
There is no metric, no precise empirical measurement, no numerical designation that will provide a pure and totally accurate reflection of the worth of that play. In many other aspects, baseball can be explained through statistical analysis. But the analysis of defense remains a work in progress.
Escobar, playing for a team that has not reached the postseason in 28 years, is not getting the recognition that is due to him. That may change as the profile of this young and talented club becomes more prominent.
In the meantime, those who see him every day, fully appreciate Escobar's rare ability. With the glove, on a regular basis, he makes the nearly impossible into the seemingly commonplace.
"He's as good as anybody," Royals manager Ned Yost said. "He's a phenomenal defensive player. He always has been. From the minute I saw him, he's been making plays like that.
"You know, I liken him to Andruw Jones. When Andruw Jones first came to the big leagues (with the Atlanta Braves), he'd make plays in the outfield, and we'd go: 'Oh, man, did you see that?' And we'd talk about it for days.
"And then he'd do it again. And it just got to the point where those great plays just became routine and nobody even mentioned it any more. That's the same way it is with Escobar. He'll make a great play like that and it's expected, I guess, because he is so good.
"It becomes somewhat routine, even though it never is."
Escobar,26, was always regarded as a superior shortstop. The question with him was whether he would hit at the Major League level. He answered that question with a breakthrough season in 2012.
He came to Kansas City as part of a haul of young talent that the Royals received in the trade with Milwaukee for pitcher Zack Greinke. Now Escobar is in place as one of the fundamental reasons that the Royals have high hopes for the future.
The Gold Glove awards are becoming a focal point for the argument between traditional views and new numbers. This is not about that. The AL voters in 2012 gave the Gold Glove at shortstop to Baltimore's J.J. Hardy.
Hardy would be a conventional choice. At short he is steady, strong-armed, sure-handed. But Escobar can operate on an entirely different level, a higher level, a level occupied by a very few. He has startling range and terrific reflexes.
He can make sensational plays with such grace and apparent ease that it can become difficult to grasp the extreme difficulty of these plays. Maybe that works against him in terms of being recognized as an outstanding defender.
But at shortstop, Escobar is, as his manager says as good as anybody. The Gold Glove would fit him.
Mike Bauman is a national columnist for MLB.com. This story was not subject to the approval of Major League Baseball or its clubs.