Yost tweaks lineup, moving Gordon to leadoff spot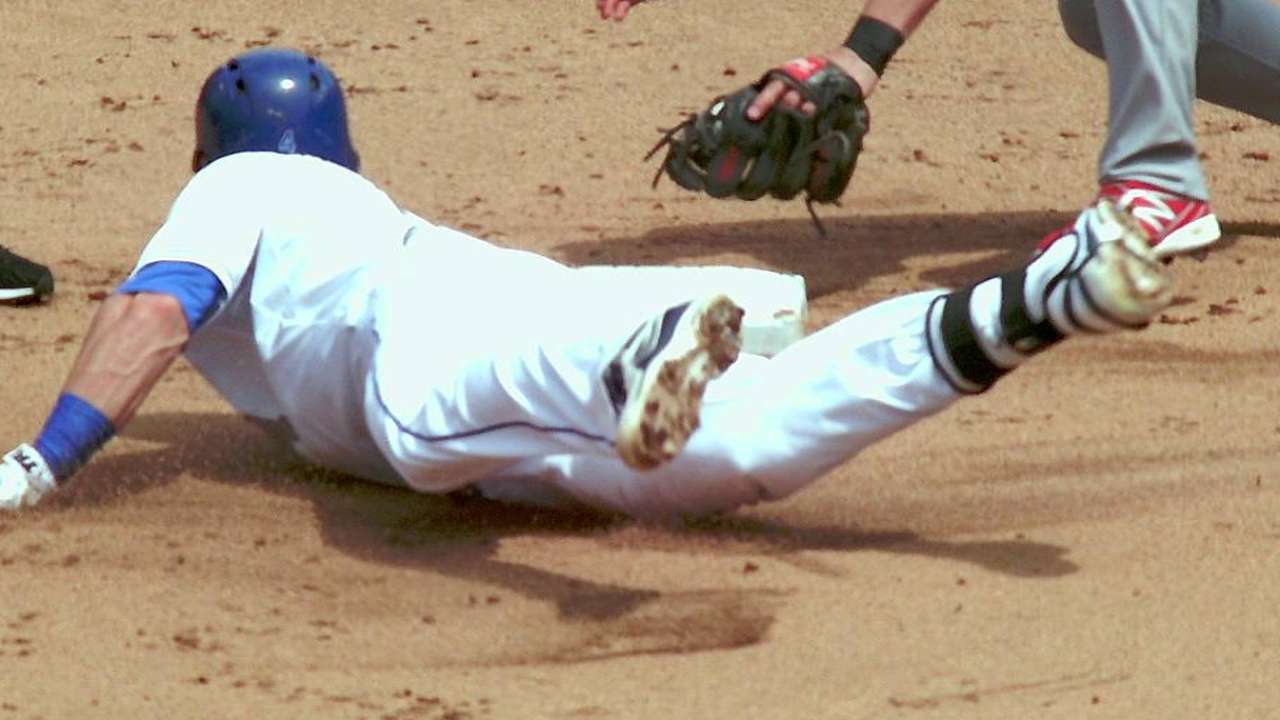 KANSAS CITY -- The first step of a lineup overhaul by Royals manager Ned Yost came Tuesday, when he moved left fielder Alex Gordon back into the leadoff spot for the Kauffman Stadium finale against the Cardinals.
Step Two might come when catcher Salvador Perez returns from his bereavement leave. Perez will likely move into the third spot vacated by Gordon.
"We've got to try something different," Yost said. "Historically, over the last two years, our best production has come with Alex in the one [spot] and Billy [Butler] in the four. So we're looking at different ways to try to jump-start the offense a little bit."
That, Yost said, is just a starting point.
"We'll move Sal up when he gets back, too," he said. "We're going to make a couple other little changes, but we're going to wait for Sal to get here and see if we can't find ways to score more runs."
Although Yost wasn't spelling it out, the indication is that the Royals will try Perez, with a .311 average, in the No. 3 spot for the first time in his short career.
Perez has 15 RBIs with 10 doubles, a triple and a homer in 41 games this year. He had 11 homers, 16 doubles, 39 RBIs and a .301 average in his injury-abbreviated 76-game 2012. So he's shown considerable power- and run-production potential, and the Royals have sorely needed runs lately.
Upon the death of his grandmother in Venezuela, Perez returned home and began a three-to-seven-day stay on the bereavement list. There has been no indication of when he'll return.
Gordon was moved from leadoff to No. 3 in the order on May 9, coinciding with the Royals' recent slide. Gordon hit .391 with one home run and eight RBIs out of the three hole, but the club went 4-14. In 30 games as the leadoff batter, he hit .311 with five homers and 23 RBIs, while the team went 17-13.
So those were happier days.
Rookie David Lough was 4-for-5 in the No. 1 spot in Monday's 6-3 loss, but wasn't scheduled to play Tuesday night with the Cardinals starting left-hander Tyler Lyons.
On Tuesday, center fielder Lorenzo Cain was put in the third spot for the first time this year. He batted there 15 times last season.
"It's definitely different, but at the same time, you've got to get on base, drive in runs, find a way to help the team win a ballgame at the end of the night," Cain said.
With Mike Moustakas still nursing a sore quad, Miguel Tejada was back at third base.
"I imagine Moose will be back in there [Wednesday]," Yost said. "He feels much better today and is in a good spot. He passed all his tests."
Also Adam Moore, called up in Perez's absence, got his first start behind the plate. The lineup shuffle goes on.
"We just have to do something," Yost said. "So we've been looking at it, we've been studying it, we've been putting numbers to it, we've been doing the sabermetric thing, the inside-your-gut thing. We've been doing it all."
Dick Kaegel is a reporter for MLB.com. Kathleen Gier is an associate reporter for MLB.com. This story was not subject to the approval of Major League Baseball or its clubs.