Royals batters excited to learn from new coach Brett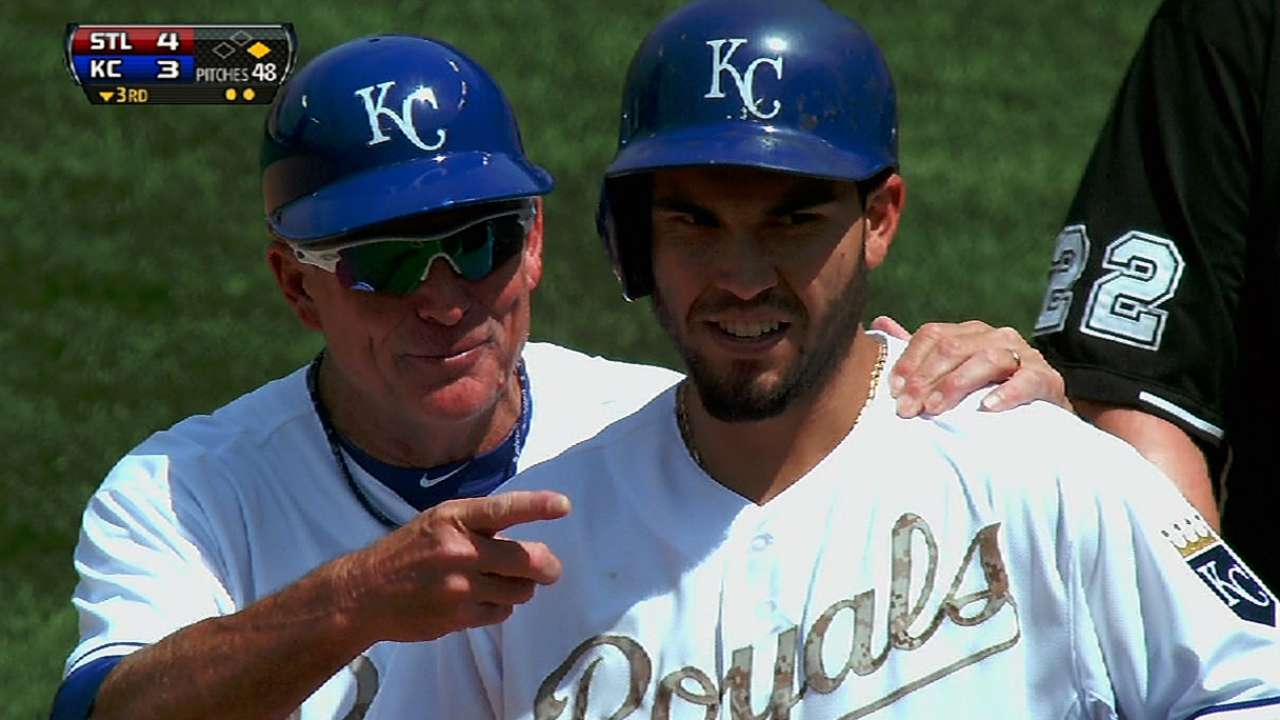 ST. LOUIS -- Royals players who have worked with George Brett in recent Spring Trainings were enthusiastic about his appointment as interim hitting coach. Dismissed and reassigned to the Minors were hitting coach Jack Maloof and his assistant, Andre David.
"It's George Brett, man," third baseman Mike Moustakas said. "He knows so much about baseball. We're lucky to have him here with us full time, for right now. It's going to be awesome to work with him. We're going to miss Jack and Andre -- those are two great guys, and they knew what they were talking about. But something had to happen and we're lucky to get George Brett, a Hall of Famer, in here to help us out."
What didn't work with Maloof and David?
"It's on the players," first baseman Eric Hosmer said. "We've got to go out and start producing. Hitting coaches can help, but they're not out there physically swinging the bat for you, so it's up to us to turn this on. We've gotten pitching and we still have good pitching. We just need to find a way to produce runs."
Moustakas, hitting just .187 to Hosmer's .262, agreed.
"It's on us, and we weren't getting it done as a team and as players," Moustakas said. "We loved having Jack and Andre around. They're great coaches and I got to know them real well my whole career in the Minor Leagues growing up, so those guys are going to be missed."
Veteran Alex Gordon, one of league's top hitters at .340, took up that theme.
"It's kind of a happy moment for us, but, at the same time, we're a little bummed that our two hitting coaches got let go," Gordon said. "As an offensive player, you feel guilty. If we're doing our job, it doesn't happen, so you feel bad for them. But, at the same time, you're excited that someone like George is willing to give up his time and come out here and try to help us out. I guess you've got to look at the positive.
"He's been with the organization. It's not like he left and went off. He's been with us every Spring Training and around the clubhouse. So we know what he brings to the table. ... Experience, great leadership, a lot of enthusiasm. I know there's probably going to be a new sense of energy in the dugout and if you're not doing your job, he's going to let you know. He's going to get on you."
Designated hitter Billy Butler said players tend to listen to Brett.
"He's been through it. He's a Hall of Famer, he has 3,000 hits," Butler said. "Everything he says comes with weight. ... I'm going to listen to everything he says and I know every guy on the offense is going to be doing this just to see if we can't pull ourselves out of this. He'll speak his mind. That's what we need."
The other new coach, Pedro Grifol, will aid Brett and do whatever other tasks manager Ned Yost has for him. Grifol is new to the organization but not to shortstop Alcides Escobar.
"He was my manager for the last two seasons in Venezuela," Escobar said. "I like him. He's a good guy."
Grifol is bilingual, speaking Spanish, so that will help with large Hispanic cast on the team.
Dick Kaegel is a reporter for MLB.com. This story was not subject to the approval of Major League Baseball or its clubs.