Brett gets to know Grifol before Texas opener
Special assignment coach very familiar with several Royals, including Moore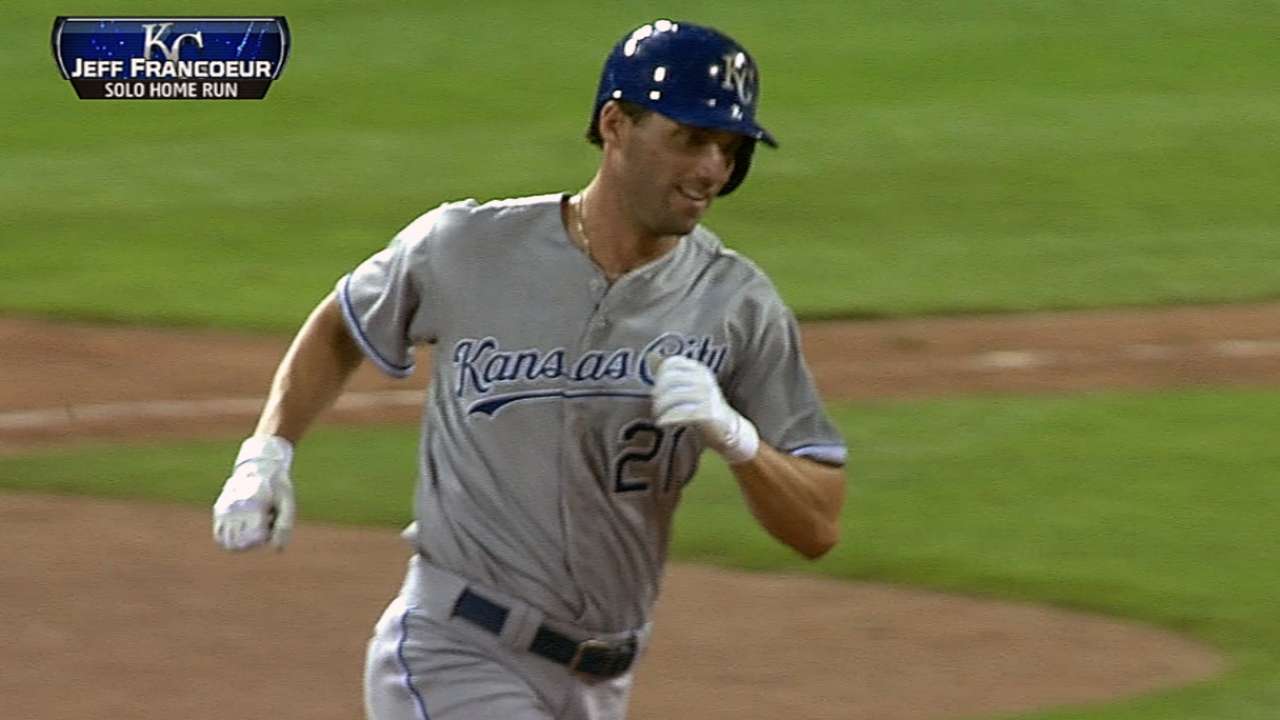 ARLINGTON -- Interim hitting coach George Brett enjoyed a win on his first day on the job Thursday, as the Royals prevailed, 4-2, over the Cardinals in the I-70 Series finale.
While the Royals could only hope special assignment coach Pedro Grifol's first day on Friday against the Rangers ends with the same result, he's already impacted the club before the game.
Brett said he walked around Rangers Ballpark with Grifol for about 40 minutes so they could get to know each other. During their talk, Grifol brought up catcher Adam Moore, who he's known for six years during his tenures with the Mariners and Royals.
Moore was hitting .190 for Triple-A Omaha before being called up last Sunday. Grifol noticed Moore changed his stance since Spring Training, when he hit .320 in 25 at-bats. Moore said he got away from his Spring Training stance in Triple-A, and Grifol told him to stay in on his legs, stay down and drive the ball.
"Sure enough, he went back to that [in the cages] and I was really impressed with what I saw," Brett said regarding Moore, who started behind the plate on Friday.
Brett heard about Grifol from his nephew, Casey, who was Grifol's assistant with the Mariners. Brett said Casey loves Grifol.
"From what my nephew says, he loves to study film, which is something I have no concept in. I have no idea in and he's going to help me tremendously," Brett said.
Royals manager Ned Yost said Grifol is great at breaking down scouting reports. He spent 13 seasons with the Mariners and spent time with the Major League staff for the second half of the 2010 season.
"I'm going to assist this club and the people here in whatever they need me to do," Grifol said. "Right now, I'm coming in to assist George on the hitting side. I'm going to help wherever help is needed."
Grifol also managed Alcides Escobar and Lara Cardenales in the Venezuelan Winter League for two seasons. Escobar said Grifol is a good guy and he's happy to see him with Kansas City.
"He's helped a lot of guys in here," Escobar said. "He can bring his experience to this clubhouse, because he's been in the game for a long time."
Master Tesfatsion is an associate reporter for MLB.com. This story was not subject to the approval of Major League Baseball or its clubs.