Shields lacking wins to show for quality work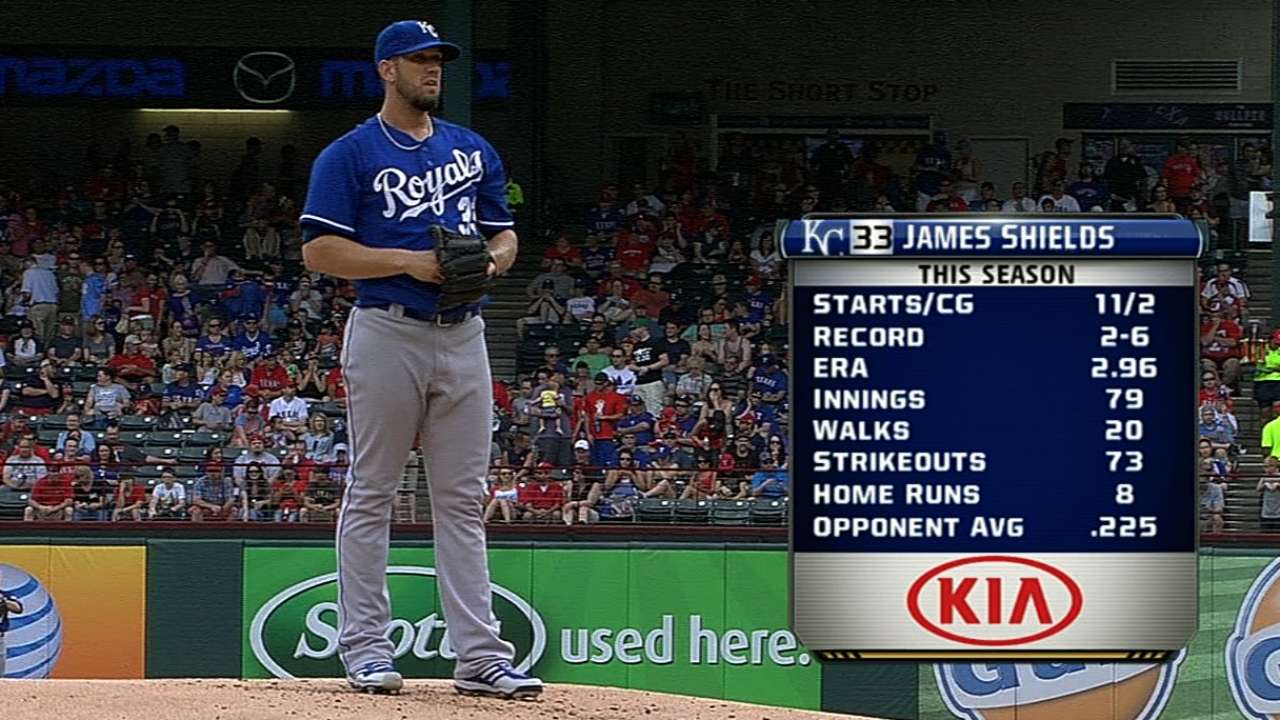 ARLINGTON -- James Shields has 10 quality starts in 12 outings this year, but he's got only two wins to show for it.
The Royals ace came into Saturday's game having lost his last four starts but, after holding the Rangers to one run on five hits in seven innings, the right-hander was saddled with a no-decision as the Royals went on to win, 4-1, in 10 innings. It marked the 22nd straight time that Shields lasted at least six innings dating to last year.
"That's one of my main goals as a pitcher, is to be able to go deep into games," Shields said. "Being able to minimize your walks, minimize your damage throughout each inning and really utilizing your pitches effectively. I think if you stay aggressive, you're going to get the other team in swing mode and you're going to get quicker outs."
Shields has posted a 2.83 ERA this year, but is just 2-6, giving him the worst record among Major League starting pitchers with an ERA below 3.00. The Royals are scoring 3.24 runs per game when he starts, the fourth-fewest in the American League, while teammate Ervin Santana is getting an average of 2.82 runs of support when he starts.
Still, Shields is doing everything he can to give the Royals a chance to win when he's on the mound. And staying on that mound for at least six innings every time he goes out there is a big part of it.
"He routinely goes anywhere between 110 and 120 pitches every time out," manager Ned Yost said. "One, he's tremendously conditioned. Two, he's a tremendous competitor. He's geared for it. He has the ability to get quick outs with his stuff. He manages his pitch count. All those factors allow him to go deep into games."
Christian Corona is a contributor to MLB.com. This story was not subject to the approval of Major League Baseball or its clubs.